News archive
Central Districts' News with George MacLachlan
25 years and going very strong
That's the Hawke's Bay Bridge Congress which, during Queens Birthday Weekend, drew players from all over the North Island and beyond to its new home at The Taradale Club, the building which houses the Taradale Bridge Club. A fantastic weekend and a great credit to the organising team led by Chairperson, Mairi Fitzsimons, and Chief Director, Murray Wiggins. The Weekend included a dinner celebrating 25 years of this great Congress, second only in size in New Zealand to the National Congress.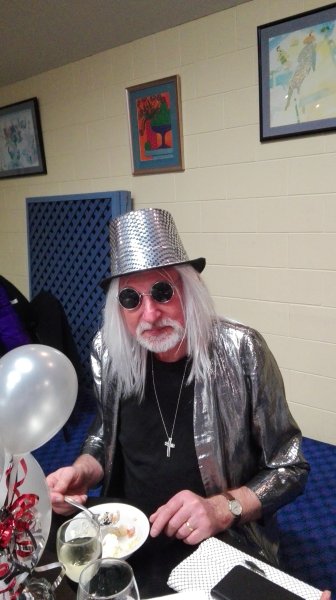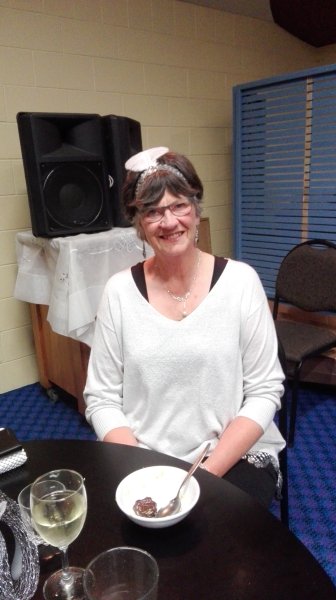 Everyone who is anyone was at the Celebration Dinner. Is this really Mick Fleetwood? Maybe you would recognise his wife, Lorraine?

The Intermediate Pairs was won in style by Wellington's Susan Brown and Jolene Zink with a just under 62% average being over 11% clear of two local Taradale pairs, Sue Tarrant- Judy Tiffen and Judy Inzunza – Robyn Andersen.
Susan and Jolene did the double as they won the Intermediate Teams along with fellow Wellingtonians, Karen Eriksen and Jude Lucas. The winning margin was just 0.5 vp ahead of locals, Megan Eddy, Trish Peters, Bridget Willcox and Jennie Turbitt. A further 2 vps further back were Napier's Erica Pearson, Barbara Twyford, Anne Crowfoot and Karen Cowley.
There were just 10 pairs in the Junior Pairs competition. The top pairs all came from Hawke's Bay, Havelock North's Rachele Bertoldi and Vivienne Gordon winning with a 63% average from Hastings' Kathryn Loughlin – Sue Mitchell and Taradale's Annette Rowe- Clem Christensen.
The most important Novice Pairs was won by Havelock North's Sally Livingston – Gaye Robertson from two Taradale pairs Jean Donnelly- Johanna Schinkel and Joyce Chapman – Margarete Hurrelbrinck.
Some of those who took part in the Novice Pairs: Margarete Hurrelbrinck, Bob Maidens, Joyce Chapman Sandy Maidens.....and some more new players: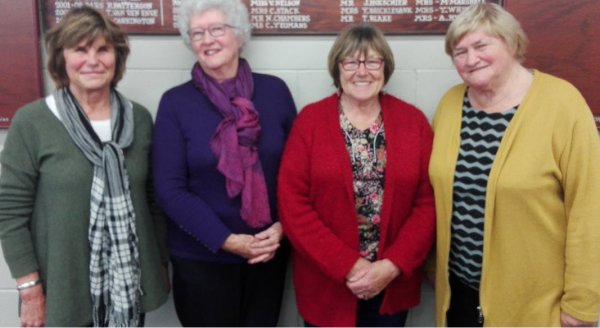 Sally Livingston, Gaye Robertson, Jean Donnelly and Johanna Schinkel
In winning the Open Swiss Pairs, Noel Woodhall has become a Gold Grandmaster. He partnered Ian Clayton. They were 0.49vp ahead of Evelyn Hurley- Deb Smith while Ken Carmichael and Gwen Cowie performed very well to finish third.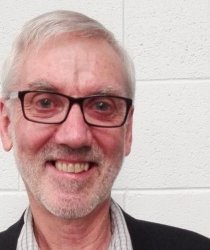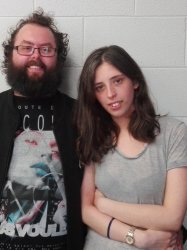 Noel Woodhall, new Gold Grandmaster Young Wellington visitors, Clinton Scott and Alice Watts, at the Congress for the

first time.
The team of Rachelle Pelkman – Murray Wood, Brett Glass – Gary Foidl had a wonderful final in the Congress Teams where they won all five matches to win by over 21vps. Second were John Pitts- Andrei Sharko, Mairi and Matthew Bristow with Russell Wilson- George Masters and Jenna and Christine Gibbons finished 3rd.
Finally, the Matchpoint Swiss Pairs was won by Pat D'Arcy- Dean Sole from Noel Woodhall- Ian Clayton and Mairi and Matthew Bristow.
Other Tournament winners
Recent tournaments in our region have seen the following successful:
| | |
| --- | --- |
| Feilding Intermediate Pairs | Joan and John Key |
| Hastings Junior Pairs | Gaye Robertson – Sally Livingston |
| Palmerston North Intermediate Pairs | Stuart Malcolm – John Hogan |
| Palmerston North Junior Pairs | Annette Yates – Janet Oliver |
| Waipukurau Intermediate Pairs | Bridget Willcox – Trevor Gane |
| Waipukurau Junior Pairs | Beverley Fullerton Smith – Jane Harding |
| Taihape Intermediate/Junior Pairs | Roger Calderwood- Cath Cooper |
| Tierney Teams (Taradale) | Claire and Noel Woodhall, Carolyn Yeomans, Alister Buchanan |
Cath Cooper- Roger Calderwood at Taihape, along with 2nd placed Garry Hodge – Roxanne Brassington in the Palmerston North Junior Pairs, achieved 70% sessions during these events.
Other News
Ross Quayle, a Palmerston North Bridge Club stalwart for many years, has moved Wellington where he hopes to become an active member of the Wellington Bridge Club. He is both a Past President and Championship Pairs winner at the Palmerston North Club. Thanks for your great support of that club, Ross. Many happy retirement years in the capital.
As with other Regions, mid- May saw our Region's Inter-Provincial Trials. Congratulations to the following who were successful and will head to Wellington in November:
| | |
| --- | --- |
| Open | Les Gould, Steve Baron, Wayne Burrows and George Masters |
| Women | Lynne Feather, Cecile Gyde, Sarah Green and Lyn Muller |
| Intermediate | Henny French, Diane Pye, Doris Chapman and Humphrey Symons |
| Seniors | Mairi Fitzsimons, Alister Buchanan, Alan Doddridge and Jenny Wilson |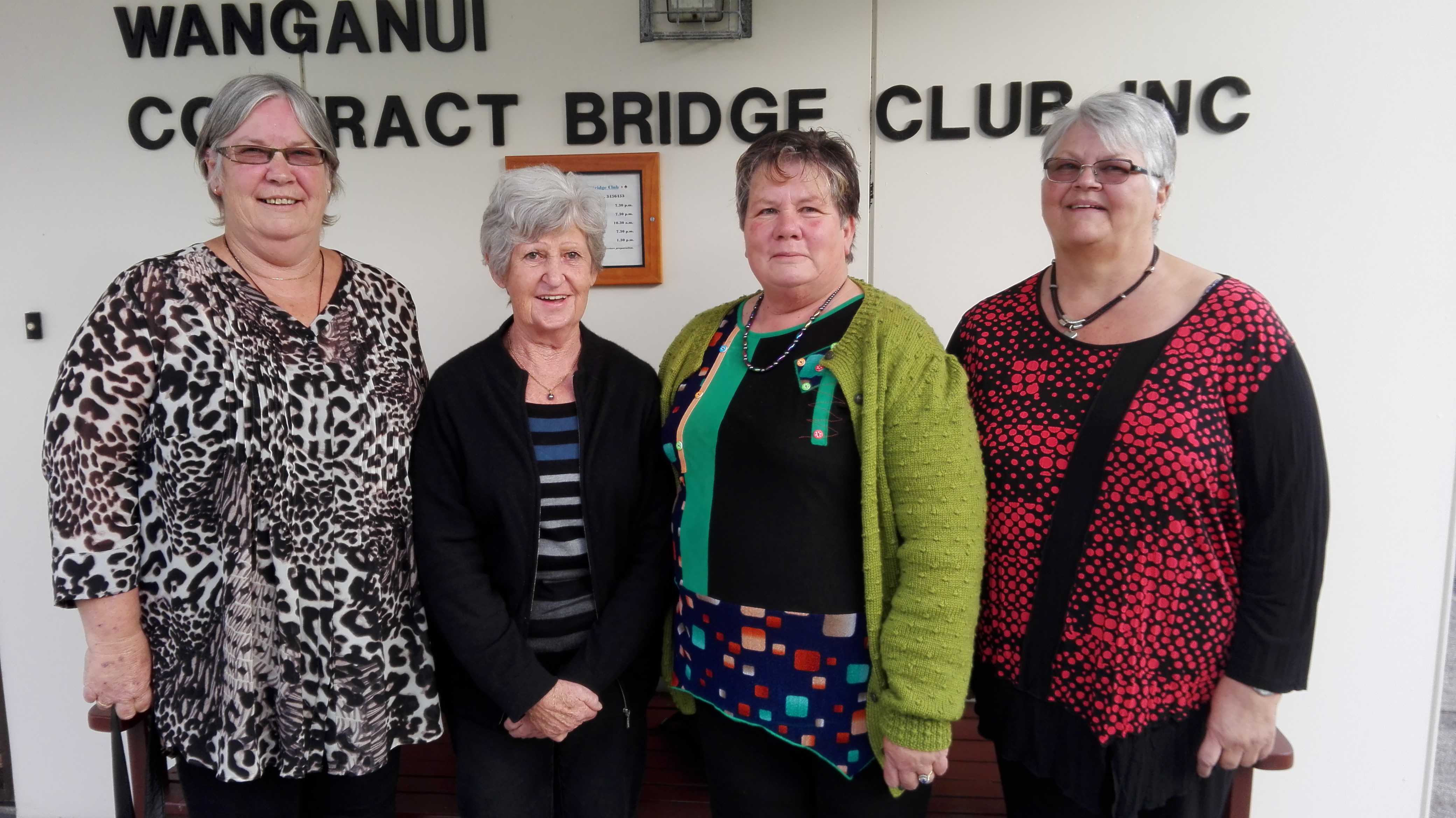 Central Districts' Women's Inter Provincial Team: Lynne Feather, Cecile Gyde, Sarah Green and Lyn Muller