News archive
National Bridge Congress update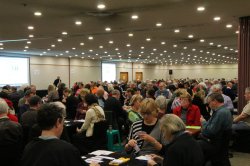 Counting down the days….
It's less than two months until the Congress gets under way. So, if you have not done so, now would be a great time to start entering the events you want to play. You can do that without reaching for your credit card….but….remember if you are playing the full week, or just taking the New Zealand Pairs/Restricted Open Pairs or New Zealand Teams packages, then…..
It is cheaper to pay by 31st August than in September.
Remember the two stages:
Enter each event. click here

Pay for a Package or an event individually, whichever is your choice.
If you need help with entering or paying, please contact me, Richard Solomon on
Richard.Solomon@nzbridge.co.nz or on 09 2328 494
Distinction Hotel update. Hotel bookings are going well, so well that if you want to book a room for the last few days of the week (certainly the Thursday and Friday nights) that subject to cancellations, you will now need to book one of the superior upgraded rooms at 160.00 per night.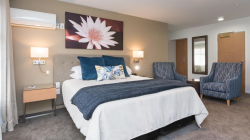 Remember, rooms in the 100 and the 600 (by swimming pool) wings are 120.00 per night (that's 1/2 person rooms) while rooms in the other wings are 160.00 per night.
Again, enquiries to me or just fill out the email on-line form.
Numbers Coming. So far, just over 300 players have registered for at least some part of Congress which is about the same as in previous years. Last year, we had 680 take part during the week and it would be great to see that number again. You can look on-line for yourself at entries for each individual event though so far, we have 50 teams entered in New Zealand Teams and 75 pairs in the New Zealand Open/ Restricted Open Pairs. That's pretty good two months out.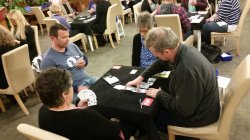 We all be back very soon.
Need a partner or team-mates? We have some players who need both. So, if you are in need of a partner or some team-mates, please fill out the on-line form or contact me.
Calling Intermediates, Juniors…and Novices. There are important places for you all at our National Congress. There's three events especially for Intermediate and Junior players (special prizes for Juniors) (please check out the programme for the Thursday-Saturday period) while the Novice players have their own event on the afternoon of Saturday September 30th (2pm). Every club has Novice players. If yours is within driving distance of Hamilton, please let your new players know about this event, a great introduction to both tournaments and a huge bridge event, from within their comfort zone of playing.
New New Zealand Pairs award. We have a new award in the New Zealand Pairs, both trophy and prize money. This is for the highest finishing Veteran Pair, that is where both players are 70 + (age, that is, not session scores!) as at the start of this event. We may all be surprised when a youthful looking pair comes up to collect this prize. There will be self-nomination forms available at the start of the New Zealand Pairs.
"Back To The Future" for New Zealand Teams final stages. That means after last year's experimental format for the final stages of The New Zealand Teams, we are back this year to a "tried and true" format from the past. 16 qualifiers with the top qualifiers having their choice of opponents for the Round of 16 from those who finished 9th through 16th and thereafter a structured knock-out draw. Both Round of 16 and the quarter finals will be over 36 boards with the semi-final 48 and as usual 72 boards for the final.
Losing quarter finalists will be allowed in part way through the Point A Board Teams, as long as the teams are made up of players eliminated at that stage though they will not be allowed into the other Teams events which are taking place at the same time (e.g. Seniors Teams).
New Congress Sponsor Welcome to the new sponsor of The New Zealand Intermediate Teams, Pianola, the international computer software which helps players analyse and improve their game. Its founder, James Ward, will be at our Congress this year to present the trophy and to demonstrate Pianola to anyone who is interested.
New Zealand Youth Teams. Friday September 29th. for those under 30. start 9.45am. Travel subsidies available. If you would like to play and do not have a partner or teammates, please let me know. I should be able to help.
That's all for now.
Don't forget those entries
Richard Solomon
pp New Zealand Bridge Congress Organising Committee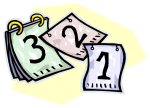 counting down