All News
Central Districts' News with George MacLachlan
Val Gardiner returned to her home town to win the Wanganui Open with fellow Aucklander Michael Whibley. They were first in each of the early sessions but had a slightly nervous third session .. but had enough in reserve to hold off the challenge from Evelyn Hurley -George Masters and Colin Carryer - Wayne Burrows.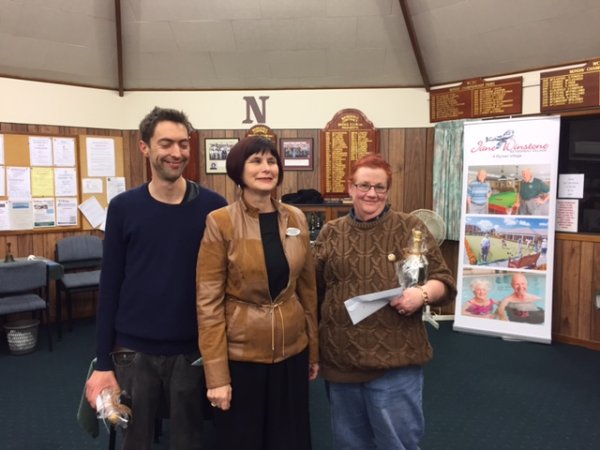 Michael Whibley, Maureen Johnston and Val Gardiner. Maureen represented the tournament's
very generous sponsors, Jane Winstone Retirement Village.
Michael's international partner, Matthew Brown, teamed up with Wanganui's Steve Baron and led almost from start to finish to win the North Island Pairs held in early August in New Plymouth. They won with a fine 59.6% average from brothers Charles and Anthony Ker and Peter Delahunty and Chris Bolland.
The Feilding club rooms can only accommodate 15 tables and tournaments there are usually over-subscribed. Several pairs missed out for entry into the recent charity tournament. So whenever you see a notice for any Feilding tournament make sure that you don't dilly dally!
Plenty of Grand Masters and Open players took part .. and all did very well, finishing 2nd, 3rd, 4th and 5th. Chris Smith and Benjamin Gibb are two local players who stole the limelight and won the event with an average of 61.19%. Chris is an Intermediate grade player with just 6 rating points. Benjamin Gibb is a Junior grade player with just 8 rating points..! Benjamin took up bridge about three years ago after workmates suggested that his experience at playing "500" would be a handy lead-in to the formal lessons. He plays as often as work commitments allow, about once a week , and looks to have a bright future at the game.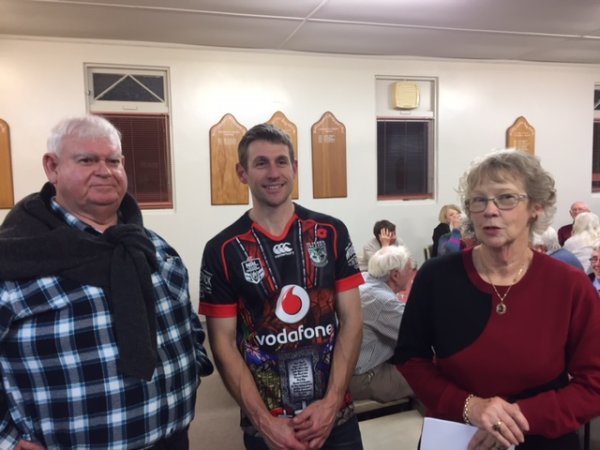 Chris Smith, Benjamin Gibb and Feilding Club President, Janice Coleman.
The annual Daffodil Day charity tournament held at the Hokowhitu club on August 13th also attracted a capacity crowd. $1,600 was raised for the Palmerston North branch of the Cancer Society. Grand Masters prevailed this time! Alister Stuck has held the unique trophy several times previously and this year Alan Doddridge lent a hand to give them first choice from the magnificently stocked prizes table. Elizabeth and Ray Kemp finished a close 2nd followed by Jan Whyte and Ken Bateman who won in 2016. The club is to be congratulated on the fine job of making this tournament a most enjoyable occasion ...and for the 3A status!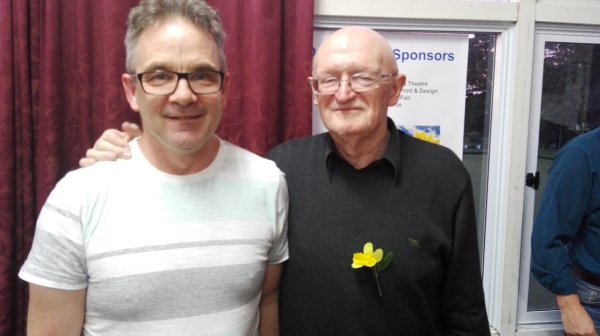 Daffodil Day winners, Alister Stuck and sporting the appropriate yellow, Alan Doddridge
Hawera chimed in with a charity tournament of its own on August 13th. Funds were raised for Cystic Fibrosis.
Joan Smith and Kevin Upson have been stalwarts of the Hawera club since time immemorial and won narrowly from Jan Langford (a past-President) and Sheila Linskill with perennial performers Effie Gallie and her brother Malcolm McDonald in third place.
Finally, Les Gould and Pieter Verhoek will be the region's representatives in the Rubber Bridge finals in Hamilton at the end of next month.