All News
WAIKATO BAYS NEWS with Anna Kalma
The Ever Popular Cambridge 6's
The highlight of the Waikato Bays bridge calendar was the Cambridge 6s held in August at the expansive venue next to the Lake Karapiro. The format is a team of six plays in three concurrent Swiss Pairs competition in their respective grades – Junior, Intermediate and Open. This year a record 44 teams entered … which translates to 66 tables (or 22 tables for each section). Of course it is important who wins each event with the top teams recognised for their combined effort; however for sometime, the ultimate accolade is winning the Trivia and for others all their efforts go into to dazzling the judges with best outfit and each year the bar seems to be raised further – you might also notice the photos are a tad better than usual … professional photographer even (the unsuspecting husband of a new Cambridge bridge player!)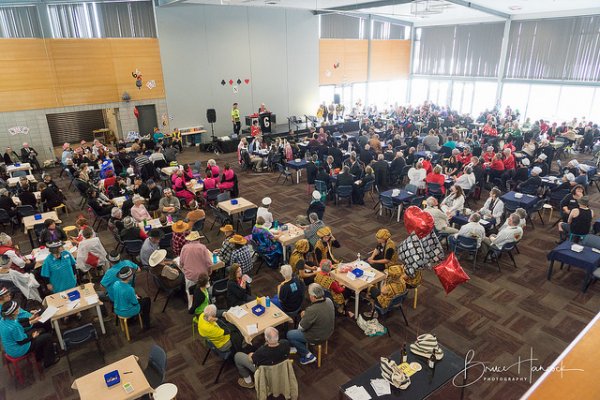 The top team in the dressing up respect were the Turkish Delight beauties from Mount Maunganui…unfortunately you can't see the matching pink pants in the waist up photo but they certainly stood out! I hope the pink bras get another outing at some stage.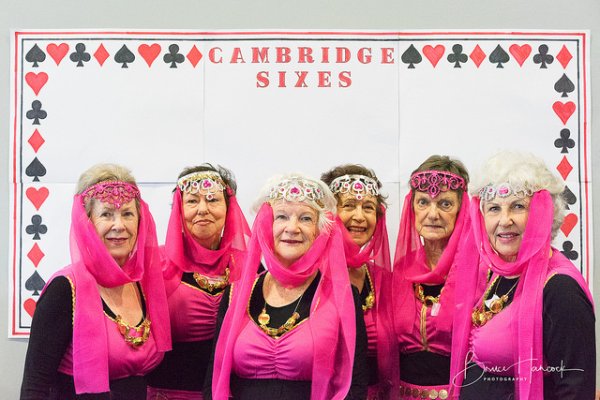 But for others, their sole focus is to win … Successful on this front was the Alice in Wonderland Team from Auckland who were the overall team winners of the event. Alice Young & George Sun (Open) Tony Jiang and Julia Zhu (Intermediate) and youngsters Eddy Tan and Yiwei Qi (Junior). They didn't let dressing up in a silly outfit distract them from their job at hand … although it is good to see they went to an effort with their hats!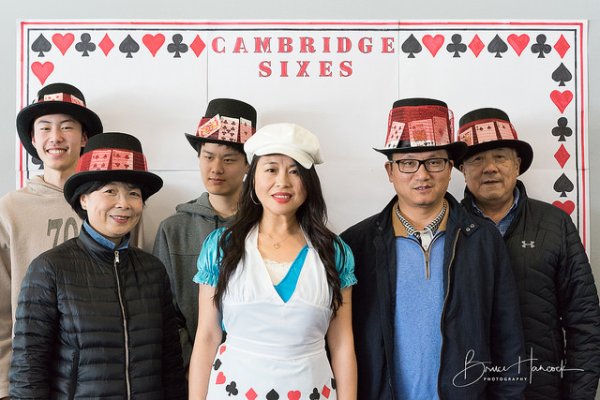 Pretty good at Bridge...and top hats too, that's Yiwei, Julia, Eddy, Alice, George and Tony
Well done Cambridge for putting on another slick performance. Great food, venue, lots of prizes and a well organised competition to boot. Looking forward to next year already.
Rubber Bridge
Jo and Sam Simpson get to represent the region for the second year in a row at the National Rubber Bridge competition at Congress.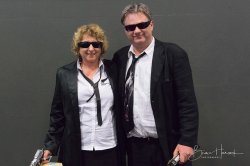 This wasn't how they dressed when they came to play the final against Matamata pair Lesley Quilty and Anna Kalma… but perhaps it is a fitting representation of how they could have been feeling after trouncing their opponents. It was a good week for Jo and Sam – the above photo is actually how they were dressed at the Cambridge 6s where the Simpsons were ultimate winners of the Open Swiss Pairs.
WAPS and BAPS
The Waikato and Bay Area Pairs wrapped up … Murray Wood and Rachelle Pelkman of Tauranga were the winners of the Bay Pairs. For Rachelle it was a trip down memory lane – she first won the Bay Pairs back in 1981 partnering with Ib Thulin from the Rotorua club.
Meanwhile, the WAPs wound up in Morrinsville after 6 rounds with pizza and wine for all the attendees. At the start of the competition, there were lots of contenders and while several fell by the wayside there were plenty left standing and it was nice to see Clare Coles and Kevin Whyte of Cambridge at the top of the pile at the end.
Congress is just about upon us and we are looking forward to good representation from our members to the 'local' event. To encourage those who haven't recently attended Congress the Waikato Bays sponsor three members who are regular tournament goers to take up a three day package at Congress. Winners of this were Tim Rigter (Te Aroha), Sharon Barton (Taupo) and Lauren Lehndorf (Taupo).
Modelled on similar competitions in Wellington and Auckland our TWITs (The Waikato Interclub Teams) has proven to be a fun evening aimed mainly at Juniors and Intermediates. We have had 24 teams playing each other in their own grades at the Hamilton club on seven Friday nights near the end of months March to September. The big finale takes place as a gala occasion on Friday 22nd of September - reports may been seen on our regional website. Di Emms of Cambridge produced three take-home mascots for the winners of each grade. Most clubs in the Waikato have enjoyed bragging rights with one of these to display for a month or two.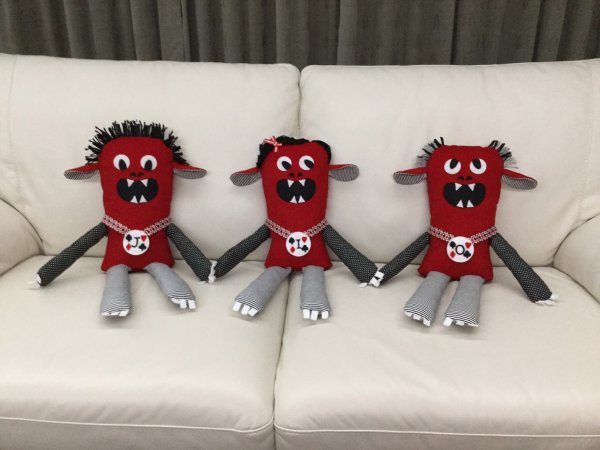 Di Emms's mascots