All News
March 2018. Val Darragh, Hastings
Our Volunteer of the Month is a quiet achiever, the kind of person every club needs.
A Quiet worker

Val has been a member of the Hastings Bridge Club for many years and while she has held no formal post she is one of the members who works quietly and efficiently behind the scenes.
That lovely garden
Many years ago Val took on the responsibility of keeping the grounds around the club rooms looking neat and tidy. This task requires a considerable time commitment every month. Most club members take for granted that the Club a well- kept garden which provides an ambience to the club, but it is thanks to Val.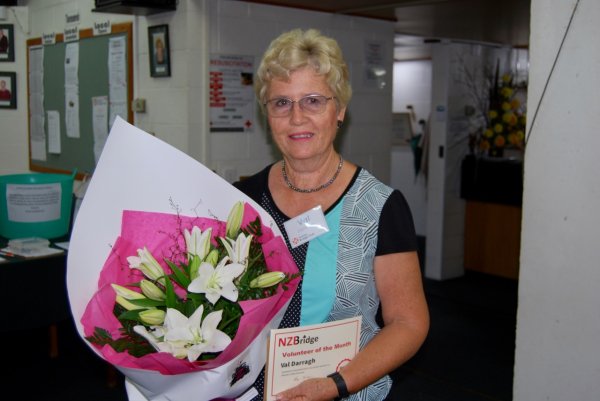 Val, the type of member every club needs
When help is needed, call Val
She is also the "go to" person when the club hosts tournaments. Val is always there lending a hand in the background and contributing delicious food for our guests. The success of Club tournaments is due in no small way to the effort that Val makes to ensure that the kitchen and playing room run smoothly.
Board Dealer
Val also is one of the club's dealers. Every month Val is part of a dealing team who ensure that there are enough dealt sets of boards for the needs of the club. This can vary depending on the number and types of events the club running. Sometimes it takes hours of work.
In between this wonderful contribution to the club, Val finds time to play bridge at least twice a week and is always the member who will assist committee members to ensure that the rooms are left tidy and well stocked. Val is the epitome of the person who volunteers without any expectation of reward to support the game which she loves to play.
As such, New Zealand Bridge is delighted to make Val our Volunteer of the Month for March 2018. Thanks to the Committee of the Hastings Bridge Club for the nomination.
Richard Solomon