All News
HAMILTON BRIDGE CLUB TAKES TO THE AIRWAVES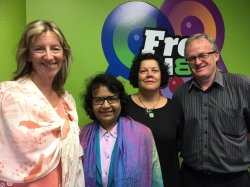 Members from Hamilton Bridge Club were invited to appear on the Free FM show Aapki Mehphile Harmony. You can listen to the broadcast by clicking on the link below. You may like to start 7 mins into the broadcast.
Click here to listen to the interview
Barry Jones, Mereanna Cullen and Jane Stearns endeavoured to meet the genre of Dr Bano's show which focuses on community harmony.