All News
WELLINGTON REGIONAL NEWS with Paul Maxwell
As I write this, we are a few days away from the start of our regular Wellington Regional Congress, which will end, as usual, with a Swiss Pairs on Anzac Day. This year the calendar has started us off with two days of Teams over the coming weekend, then the Provincial Pairs on Monday, leaving Tuesday free for an extra afternoon Walk-in Pairs, before Wednesday's Swiss Pairs.
Entries for the associated Intermediate and Junior events over the weekend started slowly, but have picked up recently.
Local Competitions
The previous newsletter didn't have much to report on in the way of local competitions and I had to add in a few successes outside the region by our regular travelling players. This time I have more local results to report. You will see once more that none of these are featuring myself, but this time I can claim it's more from lack of opportunity than the usual lack of success.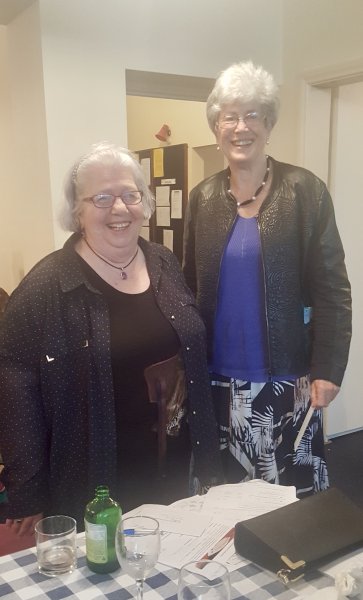 Victoria winners, Naciye Bagci and Christina Mander
The first and second pairs in the Victoria Multigrade, held on the 8 April, were Naciye Bagci and Christina Mander and Val Cooper and Margot Davenport. It's speculated that Margot's glasses (the photo doesn't do them justice) must have helped in some as yet unknown way.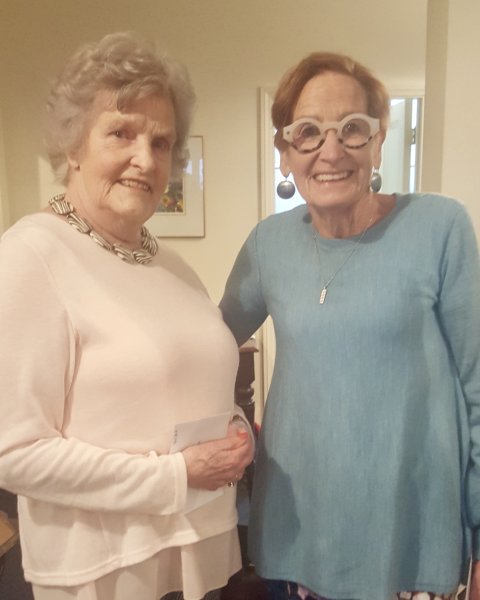 Val Cooper and Margot Davenport, second at Victoria
Maciej Szczesny and Vil Gravis were the first Open/ Mixed grade pair, and Marian Loader and Simon Webber were the first Intermediates.
The Karori Club organised and held the Mixed Sex Pairs on Easter Monday on behalf of the Regional Committee. Ann Tyrie and Ross Quayle won this one (58.1%) , with Anthony and Kathy Ker coming second. John Davidson and Susan Laurenson came third equal with Julia Barnett and Sam Ward.
Frequent partners, Pat D'Arcy and Graeme Norman took out the Paraparaumu Open on the 18 March, with Mindy Wu and Tegan Bennik shading out Sandy McKirdy and Graham Stronach. While I missed this one, I typically try leveraging off Patrick's always willing and friendly advice to become a better player. It hasn't happened yet, but that's not Patrick's fault. Another Pat, (Oyston, of BridgeNZ fame), helped me identify another self-inflicted wound during the Victoria Multigrade.
The Masterton Open was held on the 25 March. Alan Grant and Anthony Ker won this from Mindy Wu and Sandra Coleman. It was a strong field with many other players also having high ratings and often being local winners. So it was pleasing to see Rosa Mishkin and Janet McMenamin coming third.
Also held on that day were the Kairangi Intermediate and Junior Pairs. There were 18 and 10 pairs in these events, so there are players around in these grades. Maybe Congress seems more daunting than a club tournament? It's not so, as there's no great influx of visiting players in the lower grades, just your usual opponents/ friends. Margaret and Graeme Dick won the Intermediate from Dianne Tredger and Dennis McKinlay, then Joanne Gapes and Michael Norrish. Junior winners were Suzanne Keppel and Sue Fish, from Val Buckland and Michael Appleby.
Breaking news (for me anyway) is that there were 15 Junior pairs and 24 Intermediate pairs, another good turnout, in parallel tournaments held on the 15th April at the South Wairarapa club. Andeana Pilalis and Maciej Szczesny (64.1%) won the Junior, from Susan Flavin and Jan Marment. Phillippa Gardiner and Trevor Gane (61.3%) won the Intermediate from Graeme and Margaret Dick.
Yet more "non-elections"
Last time I mentioned that the Regional Committee renewal cycle was about to be upon us. We tend not to need elections, so if you have ever had ambitions to help advance bridge and support local clubs by being on the regional body, now is the time to organise your nomination. Or, if you think things can/ must be improved, come and help us do that.
This year, it's a little more pressing as Tony Sutich, who has been on the Committee and its predecessor since before I came back to bridge almost 10 years ago, is stepping down. Thank the gods of bridge that he is carrying on with running the Interclub and our local rubber bridge eliminations. We are also losing Joan Waldvogel after her second incarnation as a Committee member. Thankfully, Heather Jared is staying on. Heather comes with a bonus; partner Chris, not playing (at present?) but with technical and admin skills (in spades?).