All News
Canterbury News with Max Robb

John Skipper on the Board of New Zealand Bridge.
I have been rather remiss in not reporting this old news, but many in the region will not realise a fellow Cantabrian John Skipper gained a place on the New Zealand Bridge Board as from 1st April this year.
The Skipper family are well known in New Zealand bridge circles as John and Jane and their two sons Daniel and David have competed at the highest level for a long time in the South Island and at Nationals, collectively having some National titles to their credit.
Several years ago John established a network of contacts in the North Island and became known widely. He needed wider support as South Island clubs are overshadowed by the far larger numbers playing bridge in the North.
John first served on the Christchurch Bridge Club committee for about five years in the 1980's. In 2006 he volunteered to oversee a review of the Christchurch Bridge Club's Constitution, always a demanding exercise, particularly as the club had 1,000 members at the time.
After two more years on the committee, he was elected Club President in 2009 and in that year he and the Treasurer decided that the insurance for the club's building required a serious upgrade. They obtained more insurance for less money. How far-sighted was that, for within a short time the Canterbury earthquake rocked the large clubrooms off its foundations. The insurance cover was enough to ensure that the rooms could be completely rebuilt. The current members are very appreciative of the wonderful modern facility we have today. John stayed on as President until 2013 to oversee the start of the rebuild.
Recently John was voted a Life Member of the club in recognition for his long service to the club but in particular his sterling work towards the club rebuild and leadership in upgrading many of the club processes. Through these efforts the club can claim that, despite a national fall in numbers, its numbers have remained stable.
John can now make a contribution to the New Zealand scene. He has run a successful business of his own over decades, undertook an Institute of Business Director's course, all of which should help him in his main interest on the Board, the makeup of the New Zealand Bridge's constitution which has been in the limelight recently. I asked him what he saw as the main issue for New Zealand Bridge. "Without doubt it is playing numbers in the clubs."
Canterbury and indeed the South Island are pleased to have a new voice on the National Association, and we wish him well in this new contribution he is undertaking for Bridge.
The Inter-provincial Trials held recently attracted very good numbers (28 tables in all) from across Canterbury. Like me, they all arrived with high expectations of the possibility of representing our region at the National level.
At the end of the first day, no one was more surprised than the leaders themselves. David and Fern McRae, from Rangiora, who led the field by a small margin. "Could they sustain this for day 2?" Anyway they again held their own, in the main, to eventually be pipped by David Skipper and Tim Schumacher.
The region is to be well served by representatives from Christchurch, Rangiora, Ashburton and Timaru:
Open: David Skipper - Tim Schumacher and Jenny Wilkinson - Shirley Newton
Women: Kay Nicholas - Lesley Andrew and Trish Downward - Mary Buckland
Seniors: Michael Johnstone - Paula Gregory and Fern and David McRae
Intermediate: Grant Patterson - Wendy Taggart and Sue McIlroy - David Tocher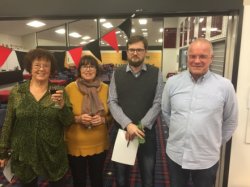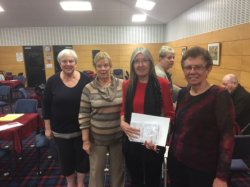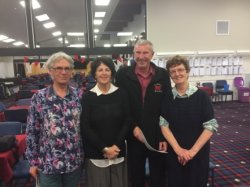 Open representatives: Women's representatives: Senior Representatives:
Shirley, Jenny, David and Tim Kay, Lesley, Trish and Mary Michael, Paula, David and Fern
Christchurch May tournaments
Intermediate Teams: Harsha Sirisen's team defeated the Sewell Team 12/8 in the first round, but just before the last round David Sewell, Michael Holding, Paul Fergus and Pauline Fergus had edged ahead. They won their last round 19-1 to end up clear winners of the Intermediate teams.
Open Teams: Sarah Garland, Neil Phillips, Andrew Purvis and Theo Smits won their first match. I do not think they were headed over the day, eventually winning by the smallest of margins. They can be very pleased with their success in a field that had no less than eight experienced teams.
2nd Trish Downward, Mary Buckland, Sue Rosevear, John Fechney [Ashburton]
3rd Moss Wylie, Glenn and Sam Coutts, Bradley Johnson [ Invercargill and Dunedin]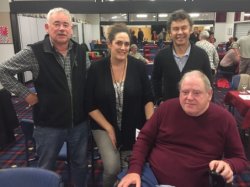 Open winners in Christchurch: Neil Phillips,
Sarah Garland,Andrew Purves and Theo Smits
Junior Pairs Ant Lilley and Gail Hallams won the morning and were consistent enough in the afternoon to win the tournament. Sue Glue and Michelle Gunn had a stellar afternoon with 66% to finish 2nd for the day. Congratulations to both of these pairs for their success.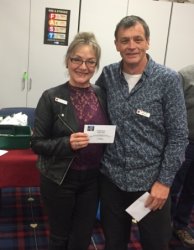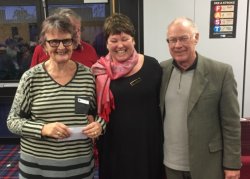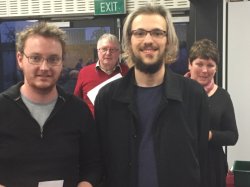 Junior Pairs winners: Intermediate Pairs winners: Open Pairs winners:
Gail Hallams and Ant Lilley Linda Baker and Michael Holmes Sam Coutts and Bradley Johnston
Intermediate Pairs Linda Baker and Michael Holmes were very pleased with their morning's work [66%] and it was just enough to just head off Alex McGarry and Lex Franklin who averaged 60% for the day. Both pairs can be pleased with their consistent results.
Open Pairs Bradley Johnston and Sam Coutts had two strong sessions to win the Open Pairs.