All News
Wellington News with Dean Sole
Paul Maxwell, your usual correspondent, is having fun in France as I write.
TOURNAMENT RESULTS.
Wellington Bridge Club's two premiere events that are open to players from all clubs were completed in December.
Winners of the Epic Journey Premier Teams were Annette Henry, Anna Herries, Peter Newell, Stephen Blackstock, Martin Reid, and Stephen Henry, runners up being Charles Cahn, Ross Quayle, Peter Benham, and Brian Cleaver.
Martin Reid and Peter Newell won the Poppy Roberts Trophy 5A Pairs, from Nigel Kearney-Karl Hayes, Graeme Norman-Ray Gruschow, Anthony Ker-Alan Grant, and Dale Lacey-Robyn Freeman-Greene.
Wellington Bridge Club ran its traditional three nights Suzanne Duncan 5A Pairs tournament on 27-29 December, won by John Patterson and Kate Davies, from Nigel Kearney-Karl Hayes, Pavla Fenwick-Brian Cleaver, Patrick D'Arcy-Ray Gruschow, and Joan McCarthy-Peter Delahunty.
Wellington players dominated the TOTS Open 10A Teams in Blenheim on 26 January. Kate Davies, John Patterson, Mindy Wu, and Pamela Dravitski won the tournament narrowly from Robyn Freeman-Greene, Dale Lacey, Steve Gray, and Lyndsey Guy.
Peter Newell and Martin Reid came second in the South Island 20A Teams on 9-10th February with team-mates Ella Pattison and John McAlister, while Alan Grant with team-mates Jane Lennon, David Skipper, and John Skipper were third.
Nelson Procter and John Donbavand won the Waikanae 5A Open Pairs on 10th February from Brian Cleaver-Debbie McLeod, Anna Herries-Tani Blackburn, Mindy Wu-David Macdonald, and Peter Delahunty-Lynda Rigler.
Photos here: https://www.waikanae.bridge-club.org/new-page-37
Hutt player Sylvia Jurkiewicz and her partner, Karori's Barbara Tumiłowicz, came second in the Rookie Pairs at the 2019 Gold Coast Bridge Congress. Hutt's Maciej Szczesny and Karori's Mariusz Tumiłowicz finished second in the Restricted Pairs.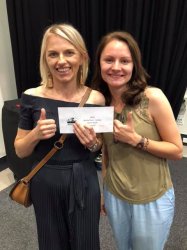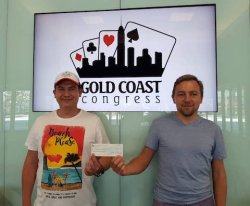 Barbara Tumilowicz and Sylvia Jurkiewicz Maciej Szczesny and Mariusz Tumilowicz

Meanwhile, Jenni Borren and her partner, Margaret Robbie, finished nd in the Restricted Section of the Ivy Dahler Swiss Pairs. It was also nice to see ex Wellingtonian, Liam Milne, win the Open Gold Coast Teams.
WEEL DONE, JACOB
Hutt youth member Jacob Pilalis promoted bridge during Club Day at Wellington College. Over 40 boys expressed interest in learning the game. Well done Jacob and Karori bridger Barbara Tumiłowicz for organising the promotion.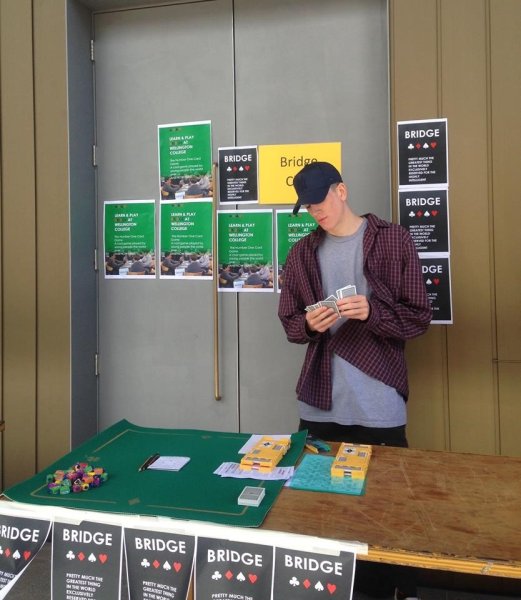 promoting bridge at his school: Jacob Pilalis.

WELL DONE THY GOOD AND FAITHFUL SERVANT
Maureen Pratchett is standing down as Wellington Bridge Club's Chief Director after an impressive six years in the job, handing over to Sandy McKirdy. Maureen's unstinting efforts have revolutionised the club's scoring and IT infrastructure, making it even more of a pleasure to direct and play at the club.
RUBBER BRIDGE
Waikanae's Graham Cheater has taken up Tony Sutich's mantle as the Wellington regional coordinator for the national Dan Gifford Memorial Rubber Bridge competition and is hoping for many entries for this fun competition that is free to enter this year.
It is likely to consist of a Wellington Metro area pool, a Kairangi pool, a Kapiti area pool, and a Wairarapa pool, if sufficient interest is registered.
Entries and enquiries to Graham at grahamlcheater@gmail.com or 04-904 9917 or 027-448 3938
CHESS SUCCESS
Wellington club members Anthony Ker and Russell Dive by virtue of being the highest-placed New Zealanders in the Open Championships held in Auckland January 14-22 are joint New Zealand Chess Champions and share the famous silver rook trophy for 2019. It is the 14th title for Anthony and sixth for Russell. Well done.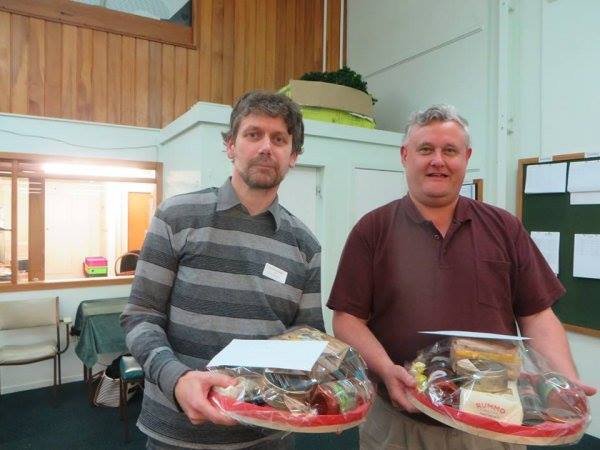 Chess champions, and no slouches at the bridge table either: that's Anthony Ker and Russell Dive
GOLDEN YEARS
Two Wellington clubs are celebrating Golden Jubilees in 2019.
The Upper Hutt Bridge Club is celebrating their 50th with a four-session Jubilee Pairs over Friday 3rd – Sunday 5th May.
The Karori Bridge Club is having its 50th celebration on Saturday 18th May at their clubrooms on Karori Road starting at noon.
Both clubs are keen for registrations from past and present members.
UPCOMING EVENTS
Wellington Bridge Club's inaugural "Sixers" tournament is on Saturday 16th March starting at 9am. Teams of Junior, Intermediate, and Open pairs play their own 3B, 5B, and 3A Swiss Pairs competitions, with prizes for each grade and overall team combined scores, along with a prize for the Best Dressed Team.
A film fundraiser will be held Tuesday March 26th at the Roxy Theatre, Miramar, to help our bridge internationals including Annette and Stephen Henry, Alan Grant, Kate Davies, and John Patterson. The New Zealand movie "Daffodils" will be screened. Tickets are $30 and are available from Kate or the Wellington Bridge Club.
Kapi-Mana are playing Kairangi for their annual inter-club Kerr Cup clash at Kairangi on Friday 1st March.
OTHER UPCOMING TOURNAMENTS
Hutt Multigrade 8B Pairs, 10am, Sunday 3 March ($30)
Kapi-Mana Mulitgrade 8B Pairs, 10am, Sunday 10 March ($25)
Paraparaumu Open 5A Pairs, 9:30am, Sunday 17 March ($22)
Masterton Open 5A Pairs, 9:30am, Sunday 24 March ($30)
Kairangi Junior 3B and Intermediate 5B Pairs, 10am, Sunday 24 March ($30)
Victoria Multigrade 8B Pairs, 10am, Sunday 7 April ($25)
South Wairarapa Junior 3B and Intermediate 8B Pairs, Greytown, Sunday 14 April
Wellington Regional Mixed Sex Pairs, Monday 22 April, Karori
Wellington Regional Congress, Wellington Bridge Club
3A Swiss Pairs Anzac Day, Thursday 25 April
10A Matchpoint Provincial Pairs Friday 26 April
10A Provincial Teams Saturday 27-Sunday 28 April
Junior 3B and Intermediate 5B Pairs Saturday 27 April
Junior 3B and Intermediate 5B Teams Sunday 28 April.