All News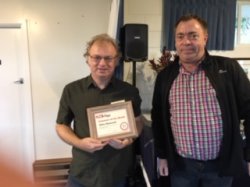 Giles (left) with Tony Biddington.
Giles Hancock, Akaroa.
Giles has been nominated jointly by the Canterbury Regional Committee and the Akaroa Bridge Club. We will hear from fellow Regional Committee member, Tony Biddington, and Gill Lockett from the Akaroa Bridge Club. Firstly, Tony:
Giles is presently the longest serving member of the Canterbury Regional Bridge Committee. By title our secretary, in reality he should be called our executive officer, as Giles will take on more or less anything. None of us are totally certain how long he has been on this committee. There has always been a Giles here to keep us on track. He has been a Committee Member for about five years.
The rest of us are comparatively new and so rely heavily on Giles' expertise to ensure we follow correct process and procedure. Most of our business is done via email discussion. Giles is always the first person to respond. He certainly keeps the rest of us on track with our planning. Club secretaries in Canterbury are also very familiar with his email signature! Giles' considerable administrative experience was recognised recently when he was asked to sit on the National Tournament Review Task Force.
The Canterbury Junior and Intermediate League scheme was more or less "invented" by Giles. These leagues have seen a positive growth in tournament participation by Junior and Intermediate grade players here in Canterbury. The regular updates of league standings he produces are eagerly awaited by all and provide considerable incentive for those in the running for the top places on each ladder.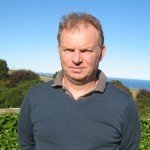 Giles is a dab hand at making applications to various pub charities for funding for inter-provincial teams. Such applications have to be absolutely spot on before they are even considered, let alone approved. As you will see from this rather dated photo of Giles, he has had considerable experience tearing his hair out getting those applications just right! We sure do appreciate your hard work, Giles.
Giles is a long- standing member of the Akaroa Bridge Club. Were you to visit Akaroa, you may find Giles playing bridge, working hard on the committee, getting involved with learners and improvers classes, maybe even directing.
The drive "over the hill" from Akaroa to Christchurch takes about 75 minutes. It is not an easy drive. However, Giles will think nothing about coming over for a meeting, or to offer his services as a director or caddy at a local tournament.
Thanks so much for all of your hard work Giles. It is truly appreciated."
On then to Jill Lockett:
"What would we do without Giles at Akaroa club?
Giles is a passionate bridge player, mostly self-taught. He willingly shares his knowledge having run the Wednesday afternoon bridge for years by himself and encouraged beginners to play there. He keeps us all interested in the club/ bridge by sending out hands of the week and other useful information. He has run beginners' lessons in the past and now regularly runs Improvers lessons and brings teachers over from Christchurch for more advanced classes. He is a trained director and is always very supportive of other, non trained, directors on club nights. He directs our big tournament in May and others in the region.
As a long -standing member of Canterbury Regional Committee, he keeps us well informed and up to date with regional news and is a great promoter of our club at regional level. He's computer savvy and sorts out most of our hiccups with tablets/ computer problems. He is always willing to help anyone to improve their bridge, shares bridge programs, lends bridge books and plays with the beginners.
He has done so much for our club. He is a great asset and much appreciated by all the members."
It is thus a pleasure to have Giles as our Volunteer of the Month for March 2019.
Richard Solomon