All News
Wellington News with Katherine Gough

It's been a busy couple of months with tournaments in the Wellington Region.
The Regional Bridge Mate for Wellington, Katherine Gough, ran a Novice Tournament at Wellington Bridge Club while Wellington Bridge Club ran their inaugural Wellington 6's Tournament. Both of these events were new events this year.
Hutt, Kapi Mana and Victoria have held their Multigrade Tournaments and Paraparaumu and Masterton held Open 5A Tournaments.
Kairangi ran Junior and Intermediate Tournaments
These tournaments have been very successful with numbers attending have increased significantly from previous years. The Wellington Tournament scene is in great heart!

Bridge in Schools
In the last Wellington News, Dean Sole mentioned the Initiative of Barbara Tumilowicz and Jacob Pilalis in setting up a lunch time Bridge Club at Wellington College. They asked A.J..Jennings, bridge teacher from Hutt Bridge Club, to come and teach the boys and he agreed .Each week they have about 20 boys attending – great work!
Novice Tournament on 24th February at Wellington Bridge Club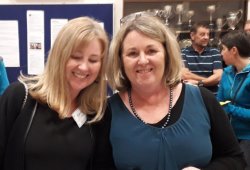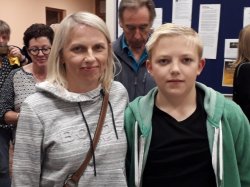 Emma Holland and Caroline Hull Barbara and Tymek Tumilowicz
Barbara and Tymek were the North-South winners while Emma and Caroline won East-West.

Hutt Multigrade on March 3rd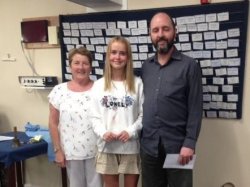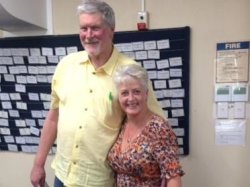 Tegan Bennik and Nigel Kearney....just a little ahead of Peter Benham and Denise Barnett
Hutt Multigrade was a battle between mother and daughter! The eventual winners were Nigel Kearney and Tegan Bennik (Wellngton) but close on their heels - 0.27% behind - were Peter Benham and Tegan's mother, Denise Barnett.
On 16th March Wellington Bridge Club hosted the inaugural Wellington 6's tournament. It was a great success. They hoped to foster connections and comradery among the different Wellington clubs and grades and this quote below confirms they did just that. A Junior pair from South Wairarapa who were teamed up with an Intermediate pair from Wellington and an Open pair from Victoria , said "The Wellington 6's were so much FUN! We can't wait to go back next year"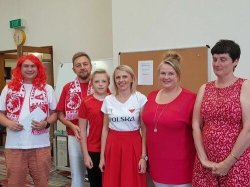 The winners of the Wellington 6's for 2019 were the " Polish Club"
Maciej Szczesny (Hutt), Mariusz Tumilowicz,Tymek Tumilowicz. Barbara
Tumilowicz (Karori), Andeana Pilalis and Marion Loader (Hutt).

Three Tournaments on 24th March
Three Tournaments were held in the Wellington Region on the 24th March.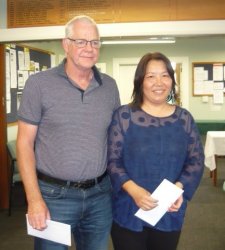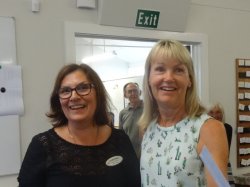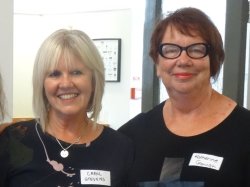 Masterton winners, John Wilkinson Kate Reeves and the representative of Angus Winners at Kairangi, Carole Stevens
and Mindy Wu Retirement Village, the Kairangi event sponsor and Katherine Gough

Masterton Open – The trip over the Remutakas worked well for the top three placegetters.
Mindy Wu and John Wilkinson and Sandy McKirdy and Graham Stronach from the Wellington Club were first and second respectively.. Lynda Rigler and Peter Delahunty from Karori were third.
The journey over the hill worked the other way too as Katherine Gough (South Wairarapa) teamed up with Carole Stevens from Kairangi, for the first time. They played two good sessions to win the Kairangi Intermediate.
Kate Reeves and Flora Edwards ( Kairangi) also played two good sessions and won the Kairangi Junior Tournament.
Rubber Bridge in Wellington
The Wellington Region Rubber Bridge heat of the national event has started.There are three pools this year – Wairarapa, Wellington and Kapiti.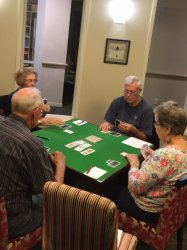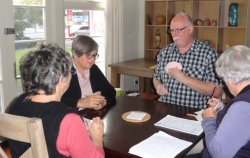 In Waikanae, Prior and Peter took on Barbara, Jill, Paul and Sheridan battle in Greytown
Ann and Vicky with the men winning. with Barbara and Paul winning.
Two clubs in the Wellington Region are celebrating their 50th Anniversaries in May.
Upper Hutt – on 3rd to 5th May - http://www.upperhuttbridgeclub.org.nz/
Karori – 18th May - www.karoribridge.com
Wellington Region Tournaments coming up
Wellington Region Congress
25th- 28 April
Full Programme http://www.wellingtonregionbridge.nz/congress.html
Wellington Region Mixed Sex Pairs
Karori Bridge Club
22nd April
Wellington Region IP Trials
http://www.nzbridge.co.nz/clubs.html?filter_club_id=159
11 and 12th May