All News
Wellington News with Paul Maxwell
Firstly, a thank you to Dean Sole and Katherine Gough for each writing an update while I was away for 3 or so months.
When in "France"...
I did drop in for a few sessions at the local club in our temporary home (Hyères). For those of you who are happier filling out system cards than doing sudoku, you could follow in our footsteps and have a go at this one. Hint : Sans Atout or SA is our NT.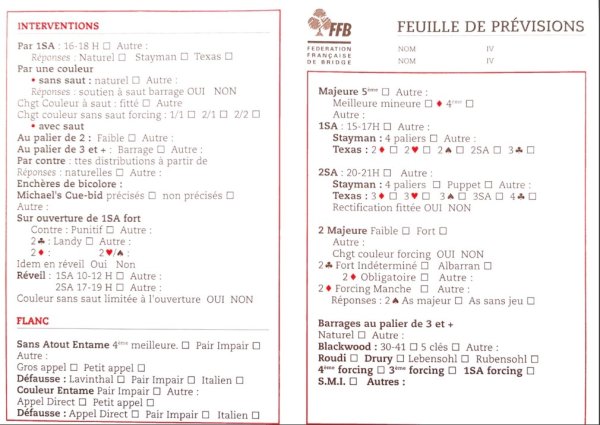 This bridge language went a bit better for us than our meagre French. (My bad with the latter was trying to explain that I had just realised that my laboured description of partner's bid was incorrect.) I do like barrage as a term for a preempt, and faible for a weak bid.
Recent Tournaments

First up are the South Wairarapa Intermediate and Junior tournaments in Greytown. The SWBC is perhaps the biggest little bridge club in our region. I've had to do some reconstruction from the session results, so am tentatively saying that Eslyn and Andrew Beck won the Intermediate, from our Regional Bridge Mate (RBM is the abbreviation), Katherine Gough and Martin Connelly. In the Junior, Dora Aw Yong and Paul Baines had a big first session of 67%, which led to them winning from Liz Cheetham and Tash Kyle. There were 20 and 8 pairs in the two tournaments, including a few travellers from over the big hill down south.
The Mixed Sex Pairs were run by the Karori Bridge Club on the 22 April, Easter Monday, three days before the start of the Wellington Regional Congress. Nigel Kearney and Joan McCarthy were first, and Peter Delahunty and Lynda Rigler, who seem to appear somewhere in the prize list for this popular event since forever, came second.
The Wellington Congress was held on four days starting ANZAC Day (Thursday 25th through to Sunday). This time, the tradition of having the Swiss Pairs on Anzac Day resulted in them being first up. As usual, Chris Bolland read the verses ending ".... we will remember them." The Kers, Kathy and Anthony, won from Max Morrison and Paula Fenwick and 68 other pairs.
The Provincial Teams trophy was won by the Cleaver team (Brian, Peter Benham, Nigel Kearney and Karl Hayes). The Burrows and Grant teams were next. Because we could spread the rounds over the two day weekend, there is less pressure getting through the required number of boards. This is generally appreciated, but the most keen players ask why we don't fill both days to the max. A list of past trophy winners since 1973 can be found at http://www.wellingtonregionbridge.nz/uploads/1/5/0/5/15058094/winners_wgton_prov._teams_trophy_1973_on....pdf. The equivalent list for the Open Pairs goes back to 1958. For some reason unknown to me, the Open Pairs weren't contested in 1976, though there was a Teams event.
There were 6 Intermediate teams and 4 Junior/Novice teams competing on the Sunday. (Compare the number of players with the Greytown Pairs tournaments. Why, we ask?) The Massey team (Keith, Susan Brown, Jim Brough and Jude Lucas) took out the Intermediate, and the Tumilowicz team (Barbara, Tymek, Wiktor and Brian Hoy) won the Junior (good to see the young players do well).
52 pairs had earlier fought it out in the Open Pairs on the Friday, with Grant Jarvis and GeO Tislevoll first, and Murray Wood and Rachelle Pelkman second. The Intermediate and Junior Pairs were held on Saturday, with Valerie Cranfield (Intermediate) and Helen Ritson (Junior) winning from Pauline and Mike Murtagh. Andrew Cushnie and Martyn Rew were third. As an aside, Martyn has taken over from Tony Sutich in running the popular monthly Interclub contest. My reading of the result sheet suggests that Helen and Murray Climo were the first Junior pair.
Katherine Gough, as our RBM, worked hard to get a big field of 12 pairs in the Novice Pairs. Neil Sargisson and Jacob Pilalis scored 64%. Kate Lang and Bhagwanji Rama were second, with just under 60%.
Next up were the local Inter-Provincial trials. The Director on the day had a busy time of it; Open, Seniors, Women and Intermediate all trialling, and the scoring system not working as it should - lots of manual entry needed, taking the detail from lists not well-ordered for the task. So, we have a team, and now a Chef de Mission, (details on the NZBridge website). I'm not going into much detail as, given a third win in a row was chalked up in last year's final, we should be keeping our powder dry, metaphorically speaking.
Three events were held on the 19th May.
| | | | | |
| --- | --- | --- | --- | --- |
| Club | Event | First Pair | Second Pair | No. Of Pairs |
| Paraparaumu | Intermediate | Angela Banks and Caroline Strachan | Mark Noble and Vicki Maugham | 28 |
| Hutt | Junior | Yvonne and Graeme Fisher | Helen and Murray Climo | 16 |
| Hutt | Open | Nigel Kearney and Joan McCarthy | Peter Delahunty and Lynda Rigler | 24 |
TOP TWO IN HUTT OPEN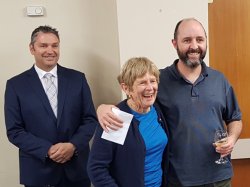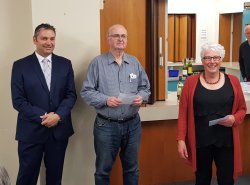 Winning were Joan McCarthy and Nigel Kearney....... followed by Peter Delahunty and Lynda Rigler
Also featured is Gavin Murphy of Gee and Hicton, long time sponsors of the event.

If you're alert, you will notice that the top two pairs in the Hutt Open are a replay of the Mixed Sex Pairs result.
Complements to the Otaki Club for the ease with which I was able to get the detailed result summaries for their Multigrade held on the 26th May. Usually, unless I'm in a Multigrade, I have trouble finding out the various winning combinations.
| | | | |
| --- | --- | --- | --- |
| Group | Winners | Number in Group | Overall Place |
| Junior - Junior | Yvonne Fisher and Flora Edwards | 4 | 31 |
| Intermediate - Junior | Lynda Bateman and Christine Harris | 4 | 22 |
| Intermediate - Intermediate | Basia Arnold and Helen Walshaw | 7 | 11 |
| Open - Junior | Hannah and Phil Revell | 1 | 40 |
| Open - Intermediate | Graham Potter and Suzanne Duncan | 18 | 2 |
| Open - Open | Tom Horner and Anne Baird-Horner | 14 | 1 |
Sadder Notices
Sue Wright, who started the South Wairarapa Bridge Club with some others, and was its only Life Member, died unexpectedly in mid-April. Sue was obviously very entrepreneurial, She came across a computer in the early days and managed to use it for scoring. Another achievement was housing the club sessions in a bowling club for a while, good for functions as the bowlers would come down and open the bar. Sue was on the Committee and was President in earlier years. She was also playing and doing well in club tournaments late in 2018.
Ted Dashfield also passed away at the age of 92. Ted was a vicar, well known in the area (this time, the Masterton club).
Rubber Bridge
I will finish with the local Rubber Bridge progress. We have now come down to eight pairs about to enter the quarter finals. All the details are on the Wellington Regional Bridge website. The top two pairs from this process will go on to Hamilton for the national finals at the end of September, which means that once more, the Wellington Region had the most entries.