All News
Canterbury News with Naomi Hannah Brown
Bad weather but great Bridge on Banks Peninsula.
Beautiful Banks Peninsula was shrouded in cloud for the Canterbury 10A Pairs tournament in September, but despite the cold and persistent rain, the warmth inside the Duvauchelles Golf Club was very welcome. Keith Harris (Akaroa club president) set the tone for the tournament with a friendly greeting. 28 pairs played every other pair in movements well managed by Allan Joseph. Birthday boy Tony Fitzgerald and Moss Wyllie emerged overall winners, with Katherine Tennant and Hayden Seal coming second. Julia Thomas and Catherine Fitchett won 'under 100 Combined A points'. Several pairs stayed in Akaroa to make a weekend of it, with sunny weather on the Sunday.
The 8B Waimate Tournament on 8 September was a close fought battle, with 0.8% separating first and third. Dennis Johnston and John Kelly scored 58.97%, Alison Price and Joanne Paterson 58.71% and Trish Downward and Mary Buckland 58.17%.
Local players won both the Intermediate and Junior bridge tournaments in Ashburton on August 31st. Audrey and Jim Rooney won the Intermediate event with an average score of 57.58 % across the two sessions of play. This gave them a 1.70% margin over the Christchurch pair of Mike Bunce and Jean Rath.
In the Junior section Debbie Seddon-Sewell and Janine Havis won both sessions of play for an average score of 59.67% and a clear 3.57% margin of victory over second place-getters Wayne and Jennifer Pierce from Ashburton.
The event was well attended with 80 players from around the Canterbury region participating together with one visiting pair from Franklin in the North Island.
Ashburton Winners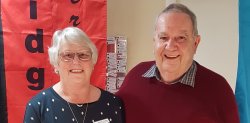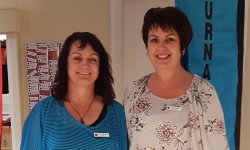 Intermediate winners, Audrey and Jim Rooney Junior winners, Debbie Seddon- Sewell
and Janine Havis
The Canterbury Interclub teams challenge, on 21st September, was won by Ashburton this year. The "Misfits" – so named because this Christchurch team was roped in to make up the numbers,won the intermediate section (Judy Parkinson, Carol Singh, Margaret Fraser and Robyn Findlay) and the Timaru Open Team (Lesley Andrew, Kay Nicholas, Paula Gregory ,Michael Johnson) blitzed the field, but the clear lead of the Ashburton Junior team (Maryke Blignault, Colin Clemens with Christchurch ringins Nancy Buxton, Hedley Bamford) assisted Ashburton to take the trophy home.

InterClub Winners, Ashburton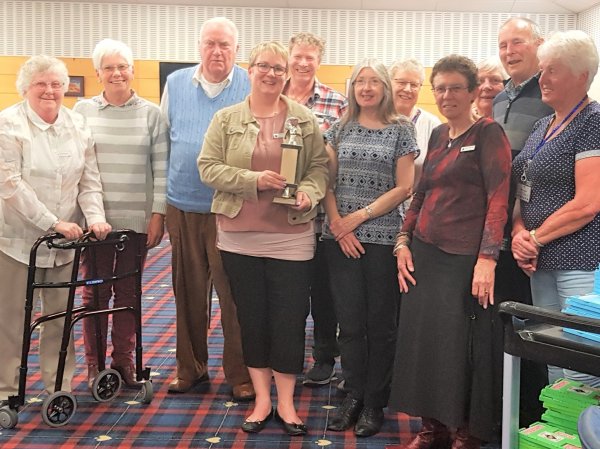 Rona Brownlie, Bev Turton, at back John McDonald, David Sewell (Intermediate). Further at back Kay Robb and Rosemary McLaughlin and in front Trish Downward and Mary Buckland (Open) Holding trophy Maryke Blignault and second from right Colin Clemens (Junior) and the Christchurch players for the Junior team, Nancy Buxton (far right). Hedley Bamford was absent from photo.
To Hamilton they did go
Some 40 Cantabrians made their way to Hamilton this year for some intensive bridge play – and three for directing. David Stephen, Craig Shannahan, and Stuart Edwards joined the capable directing crew. In the NZ Pairs Plate John and Jane Skipper were the highest ranked Canterbury pair with a 7th placing. In the Congress Pairs, Richard Lapthorne and Mehboob Chiba finished 6th and this pair were 3rd in the Match point Swiss Pairs event. Stuart Grant and Tony Quinlivan, who were knocked out of the rubber event, were the top placed intermediate pair in the Open Restricted Pairs with an average of 53.29%. Pavla Fenwick came second in the Mixed Pairs event with Wellington partner, Brian Cleaver.
The NZ teams' event is a hard fought battle, with some teams having six members. Canterbury teams had four members but put up a great fight. Max Morrison, Pavla Fenwick, Mehboob Chiba, and Richard Lapthorne qualified for the knockout finals but lost in the round of 16. Congratulations go to Jan Alabaster, Pam Livingston, David Skipper and Tim Schumacher who reached the semi-finals.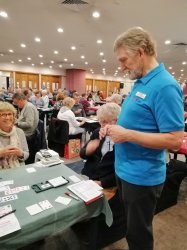 David Stephen ruling at the Congress


Canterbury Regional 8B Pairs
October 12th and the Canterbury Regional 8B Pairs tournament had entries from Akaroa, Rangiora, Ashburton, Kaikoura and Christchurch. Overall winners were Neil Hawkins and Richard Lapthorne (Christchurch) with David Sewell and John McDonald (Ashburton) collecting the Intermediate prize and Colin Clemens and Maryke Blignault (Ashburton) the Junior prize. Lyn Mould, the Christchurch Club's chief gardener, was asked to hand out the prizes.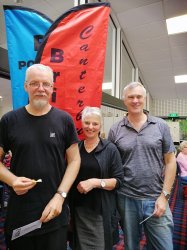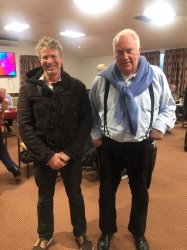 Overall Winners, Neil Hawkins Intermediate winners: Junior winners: Maryke Blignault
and Richard Lapthorne with David Sewell and JohnMcDonald and Colin Clemens (with Lyn Mould)
prize giver, Lyn Mould
Photo Captions;
Junior Winners: Maryke Bignault and David Clemens with prize give Lyn Mould.