All News
Auckland News with Douglas Russell
First, many many thanks to our great team of 5 million for working so hard together to ensure that we can start to play live bridge again! Seriously, we must be the envy of the bridge playing world to be able to reconnect with friends and rivals across the table. Face-to-face tournaments got under way as soon as we got the word that Level 1 lockdown rules would allow this.
A few words from clubs around the Region about how they have coped; all are now open for regular sessions and tournaments. As many of you will know, Auckland were delivering daily on-line Pairs tournaments and two series of Teams competitions as well as teaching almost from the start.
Thanks again to the likes of Patrick Carter, Julie Atkinson, Sylvester Riddell and co for their huge efforts.
At the North Shore Club, we were able to complete our series of Intermediate lessons courtesy of Zoom, with almost 50 joining in. East Coast Bays report that player numbers have reached almost pre-lockdown numbers, and that they have instituted a cashless table money system. Royle Epsom have seen a substantial uptick in their Beginners' class with over 50 newbies, with more to come later in the year. At Papakura, there has been good attendance at all sessions, including a Charity Tournament that raised $2,200 for Save the Children. All clubs, especially those with fixed outgoings, have taken something of a financial hit, but have remained afloat with very welcome assistance from NZ Bridge.
Welcome back to Tournament Bridge
Tournaments wise, first cab off the rank in the Auckland region was Howick, where their Open Pairs was won by Cheryl Winsor and Faisal Alam, and the Intermediate by Hilary Patterson and Maureen MacKenzie; the latter racked up an impressive 68% in the first session, and just hung on with 54% in the second, whereas the former showed their professionalism by clocking up a steady 60% in each.
Auckland's Thursday Swiss Pairs, generously sponsored by Rawhiti Estate, was taken out by Zachary Yan and Kevin Hu. Over to Mt Albert, where the old firm of Setsuko Lichtnecker and Peer Bach walked off with the Open prize, and David Hay and Jacinda Manconi the Intermediate.
A good win for Leah Andrews and Helen Andrews in the North Shore Restricted Pairs, leading the field in both sessions. Finally, down South to Pukekohe and the Franklin club for the Auckland/Northland Regional Pairs and Teams. In the former, Paul Carson and Bill Humphrey dominated throughout, clocking up 63% and 56% in the first two sessions, and sealing it emphatically with 69% in the third. The Teams was a much closer affair, with at least 3 teams in contention with a round to go. However, the quartet of Jan Cormack, Pamela Nisbet, Jonathan Westoby and Malcolm Mayer held on with their 6th win out of 6 to clinch the prize.
Franklin winners and cose behind in 2nd place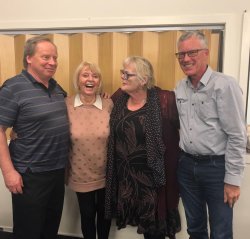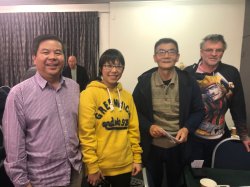 6 wins out of 6 for Malcolm Mayer, Like the winners, Gary Chen, Clair Miao, John Wang
Jan Cormack, Pamela Nisbet and Jonathan and Wayne Burrows won big in their last round, finishing
Westoby. just 0.68 vp behind in 2nd place.


And what of Biritch the Russian Blue? Well, he was anxious to get back to live bridge after his somewhat unwilling exile, but he was very worried about the close association with humans after he heard that cats are also susceptible to infection. He therefore decided that wearing a mask was advisable; unfortunately, he initially misunderstood what was required, and it was only after my gently pointing this out that he donned appropriate protection.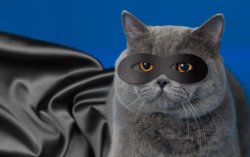 fashionable but ineffective less fashionable but...

However, once at the table he was back to his usual form; here we have him taking an unwary defender for a little ride.
North Deals




None Vul

| | |
| --- | --- |
| ♠ | 9 8 |
| ♥ | K 10 6 2 |
| ♦ | A 7 6 |
| ♣ | A Q 7 2 |

| | |
| --- | --- |
| ♠ | A 7 3 |
| ♥ | J 9 8 3 |
| ♦ | 3 2 |
| ♣ | 10 8 6 4 |

| | |
| --- | --- |
| ♠ | K Q 5 4 |
| ♥ | 7 5 4 |
| ♦ | 10 9 8 |
| ♣ | J 9 3 |

| | |
| --- | --- |
| ♠ | J 10 6 2 |
| ♥ | A Q |
| ♦ | K Q J 5 4 |
| ♣ | K 5 |
Because of Biritch's insistence that his partners never bid no trumps, he ended up playing 3 NT from the South hand, having shown a good hand with diamonds and spades in the bidding. West led a club, and Biritch won the

K in hand. He then unblocked the

AQ, crossed to dummy with

A, and cashed

K to discard a spade. When the

J did not appear, he came back to hand with a diamond, and ran all his winners in that suit, discarding spades from dummy. On the fifth diamond, West had the unenviable choice of discarding from

A,

J and

10 8 6 - apparently (but not really!) a triple squeeze if South had

K. Eventually West chose a club, and The Masked Feline wrapped up 12 tricks.
100 up for Betty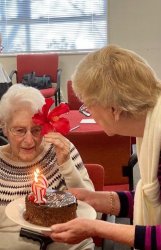 Hibiscus Coast Bridge Club celebrated Betty Thompson's 100-year-old birthday recently with sherry, a cake and a bunch of Edible Blooms – Chocolates!
Betty still plays Bridge most Fridays at the Club. She is never short of a partner and plays an excellent game. She has played Bridge at the Club for 30 plus years. She loves the game and the social side and is a Life Member of the club.