All News
Waikato Bays News from Anna Kalma
Another suspension of bridge means a bit less fodder to write up although there has been a bit of bridge happening in the background, an IP team selected, the Rubber Bridge competition decided and even some tournaments since my last July round up to report on …
Bridge has restarted in some clubs within the region under Lockdown 2.0 with the Matamata Intermediate 5B held on the weekend – the first tournament for a month (and used as my excuse for missing my deadline last week).
Well done toTe Aroha's Peter Daffurn and Victor Kooter who took it out in emphatic form (69.01% in the second session was the key to their success) while a couple of months' earlier, the same club held its annual Open event.
Winners at Matamata
Intermediate Winners Open Winners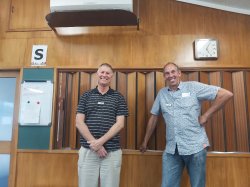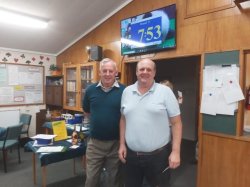 Peter Daffurn and Victor Kooter from Te Aroha Grant Jarvis and Ian Berrington from Franklin and Akarana

(beating them on Sunday was a tall order). not new to the winners' podium

Close to capacity with 19 tables entered to play at the Matamata 5A in late July To make the prize money (top 6 place getters) required an average of at least 60% with the eventual winners Ian Berrington (Akarana) and Grant Jarvis (Franklin) taking the event out with a handy 65% average…
The best session score of the day however, came from 93 year old Sonia Crawford and her youthful partner Neil Dravitzki. They must have taken something performance enhancing at the lunchbreak to post 70% in the afternoon session. This propelled them into 6th place overall so they were also in the prize money (but being in the prize money then sadly disqualified from winning the Kim Crawford wines for best performing Matamata pair … also sponsored by Sonia Crawford!)
Evergreens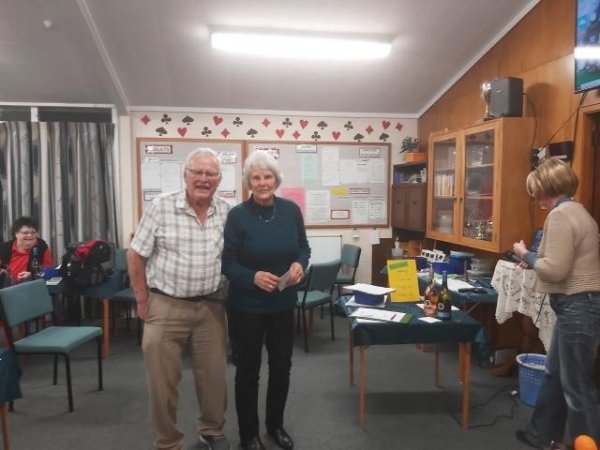 Neil and Sonia, surely about to enjoy a "performance relaxing" substance after their 70.66%
afternoon session

Other notable performances on the day were Barry Jones and Jenny Millington both from Hamilton who came in 2nd and Ken Yule (Matamata) and Malcolm Mayer (Akarana) were 3rd. Judith Howard (Matamata) and Malcolm Kirkby (Te Aroha) were the winners of the eponymously titled Judith Howard League event on the day for best performing pair with less than 100A points.
Hamilton Swiss Pairs
Hamilton ran their 5A Swiss Pairs over three Wednesday nights playing 6 matches of 14 boards and competed by 28 pairs from throughout the region. The final night saw the old guard of Brett Glass (Huntly) and Gary Foidl (Waikato) who were already at table 1 notch up two solid wins to give them the top spot with a comfortable margin over second place Lesley Chubb and Brian Gallaher both from the Waikato club.
What did you last do after winning a bridge tournament?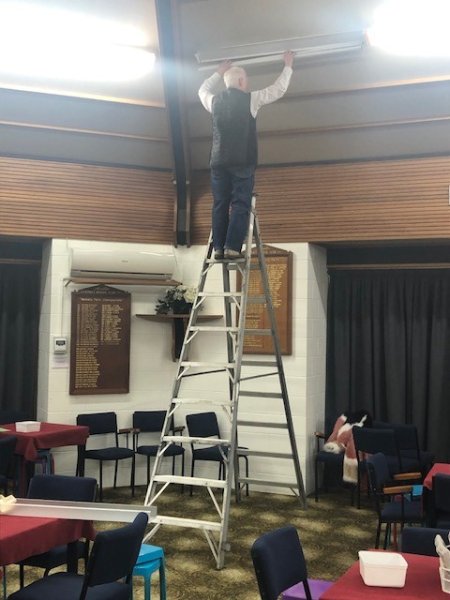 How many men does it take to change a lightbulb? Just the one … and a very tall ladder.
Brett had a few chores to do after winning the Swiss Pairs in Hamilton.
Ladies Pairs in Tauranga
Kate Terry and Judy Pawson combined to take out the 3A Ladies Pairs in Tauranga late in July with a combined average of 58% over other locals, Shirley Bain and Jo Simpson.

True Joy at Tauranga WAP Winners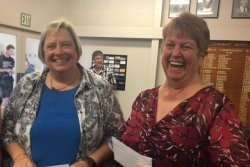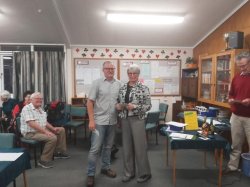 Kate and Judy enjoyed their girl's day out in Tauranga. That's Barry Jones and Jenny Millington

WAP Wrap
The Waikato Area Pairs are usually contested over 6 heats in 6 different locations but this was curtailed to just 3 for obvious reasons.The last heat was held in Hamilton and the best on the day was Tim and Helen Healy who scored a 72% first session which provided enough of a buffer to win comfortably.
However, the overall winners of the 5A event were Jenny Millington and Barry Jones who squeezed past Kevin Whyte and Clare Coles from Cambridge who took second place.
Mt Maunganui Novice, Junior and Intermediate
Way back on 18th July, Mt Maunganui held their combined Novice, Junior and Intermediate tournaments.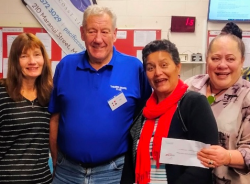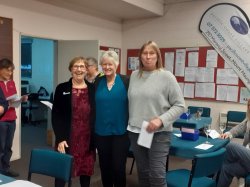 The return trip home to Thames would have been a Michelle Liddell (centre)and Joy Williams (right), Junior Division
jolly one for this lot – taking out the top two places in the winners, seen here accepting their prizes from the tournament
intermediates …From left to Right – Adrienne Donald sponsor.
with Ted Cliffin who were first alongside Sabrina Peters
and Carol Crowfoot, all from Thames.
Novice Pairs winners were Carole Fuller and Kevin Barnes from the Waikato Club.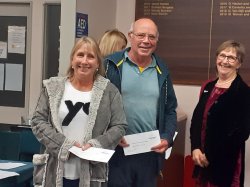 Carole Fuller and Kevin Barnes
Our Waikato Bays Rubber and Inter-Provisional reps
Finally a shout out for our Interprovincial team and Rubber pair who will be representing us at the IP's in November and hopefully the National Rubber event. We wish you all the best and am sure you will represent us with honour😊
Chef de Mission: Karen Martelletti
Open: Barry Jones – Jenny Millington
Liz Fisher – Blair Fisher
Women: Christine Gibbons – Jenna Gibbons
Judy Pawson – Kate Terry
Senior: Noel Grigg – Yuzhong Chen
Murray Wood – Rachelle Pelkman
Intermediate Leanne Curry- Megan Jolly
Jan Gyenge – Stacey Hilton
Rubber Bridge Clare Coles – Kevin Whyte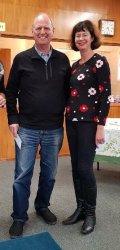 Kevin and Clare – winners of the Waikato Bays Rubber Bridge competition and runners up in the 2020 WAP