All News
Wellington News with Paul Maxwell
Fingers crossed on history not repeating. I started the previous update at level one, but sent it north under the uncertainty of new community cases of Covid-19.
We did have to cancel some tournaments during the second lockdown, and, of course, we didn't manage to get to Congress. That's past now, and our local bridge is booming, with well supported club nights and tournaments. There's even additional players, newly out of lessons, starting to join in with the regular players.
Two clubs took up NZBridge's offer for extra tournaments to cover the Congress weekends. The Karori club ran a one session Junior tournament in the first weekend. Leigh Roberts and Phillippa Smith (68.3%) were first N/S, and Neil Sargisson and John Roseveare (58.2%) were first E/W.Margaret Carter and Bernice Singh were the top scoring Novice pair.
Junior winners at Karori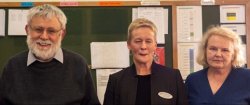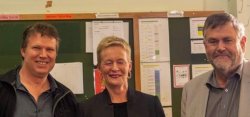 N/S Leigh Roberts and Phillippa Smith E/W Neil Sargisson and John Roseveare
(in the middle is the event sponsor, Ryman Healthcare's Josie McCrone)
Then the Wellington club ran a Swiss tournament of 7 rounds of 8 boards on the second Sunday.
There were 52 pairs chancing their arm. Congratulations to the following partnerships. <<Photos, the first with Club President, Margaret Curnow, in the order of the names below.>>
| | |
| --- | --- |
| 1st | Ray Gruschow & Graeme Norman |
| Top Open Restricted | Malcolm Greig & Brad Tattersfield |
| Top Intermediate | Helen & Murray Climo |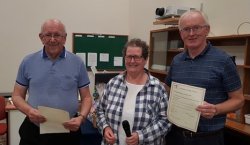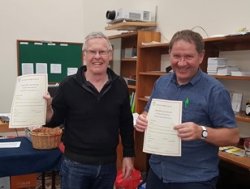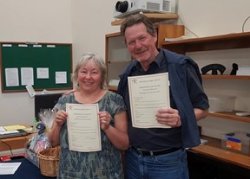 Ray Gruschow, club President Margaret Malcolm Grieg and Brad Tattersfield Helen and Murray Climo
Curnow, and Graeme Norman
Allan Joseph and Rosa Mishkin were second overall, and Ruth Harley and Colleen McCaw were the top Juniors.
We are back on track with our remaining tournaments, save for the Kairangi Club's three day event over Labour Weekend. It could be that the cancellation has as much to do with disappointing numbers in the previous years as it does with the pandemic's uncertainties. Last year, there were 14 pairs who played through all three nights. This is consistent with Wellingtonian practice of decamping all which ways every long weekend,but is small reward for the effort of holding a three night event.
The Wellington club have shed even more of their regular weekly events to leave room for their big Open Pairs and Teams events. This pruning means we'll play enough sessions to sort out high quality fields for the November and early December finals.
Friday night Interclub matches are also resumed, following more rescheduling by our co-ordinator, Martyn Rew. Thanks to the clubs hosting the sessions and directors for their willingness to adapt at comparatively short notice.
Other Local results
The Hutt club managed to hold their Intermediate tournament on the 9th August, just before their shutters came down on the 11th. There were 16 pairs, with Kevin Moar and Wayne Stechman winning with an average of 57.4% over the two sessions. Megan Turner and Sue Storer were second.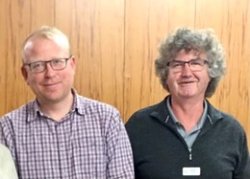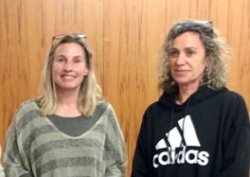 Kevin Moar and Wayne Stechman Megan Turner and Sue Storer
The Wellington club switched their Intermediate of the 6th September to a Swiss format. Andrew Cushnie and Martyn Rew met up with Sandy Connon and Hilda Burgess in the last round. Andrew and Martyn prevailed with a narrow win of 0.28VPs for the tournament, despite losing the match 11.9 to 8.1. I looked up some of the gradings and worked out that Jane Humphries and Kath Jones must have been the top Junior/Junior pair. They were 6th out of the 24 pairs.
Once we were well back into level 1, the Paraparaumu Multigrade attracted 44 pairs on the 27th September, 5 days after the club reopened. Sandy and Christine McKirdy (OI), averaging just under 65%, were over 4% ahead of Angela Gattsche and Judith Jackson (OO), in turn 4% ahead of the third placed pair. Cath Cooper and Valerie Cranfield, the first all Intermediate pair, came in 8th. Tony (Club President) and Andra Davies were the first pair in a combined IJ / JJ group.
Looking ahead, Wellington is hosting the Inter-Provincial finals on the 21st November. Let's hope this trophy is a little stickier for the current holders than the Ranfurly Shield has been in recent weeks.
Farewell Max
Some of you might know Max Wigbout, who passed away recently. Max started off in New Zealand as a strong chess player, able to match it with emerging players such as the young Russell Dive and Anthony Ker. They improved, and Russell says Max then took up bridge. (If that move was to escape Russell and Anthony, it didn't work.)
He and his partner Joan successfully took part in many tournaments over the years, travelling from their base in Wellington. They both progressed up to Grand Master rankings,and would be well known to their peers. Chess players can have a liking for the unexpected move, and I've heard that Max added this element to his bidding.