All News
2021 National Bridge Congress Update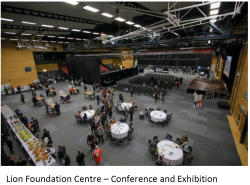 Firstly, a reminder of our new home, Lion Foundation Centre, Bay Park, Mount Maunganui, Tauranga….and the dates of the Congress:
Saturday September 25th until Saturday October 2nd 2021
Changes covered in our previous update
No night play (unless you are involved in the National Rubber Bridge finals)
Standard Start Times well, that is "standard" 9.30am from Monday onwards. The first two days (Saturday and Sunday) will have 10.00am start times.
AGM of New Zealand Bridge Inc will be the previous Friday evening. (September 24th)
Changed method for entering and paying events. There will be a 10% early payment discount (payments by 31st August). Pre-enter all the events you expect to play in and pay if you choose at the same time. We ask players to enter events which run alongside the knock-out changes of NZ Open Teams and should your team qualify for these rounds, your entry will be transferred with no further payment necessary.
Cost of Congress Packages will no longer apply. Each event is individually priced with the cost of 8 days being $520, reducible to about $470 with prompt payment discount. South Island subsidies will no longer apply but 50% youth rate does.
New Format for New Zealand Open and Restricted Open Pairs Now, two-stage 5 session events with two session qualifying and 3 session barometer finals consisting of 28 pairs per group for all.
More Changes in 2021
Farewell Mixed and Same Sex: welcome to Senior Match-Point Swiss Pairs and a new Open Teams event
The Thursday to Saturday program has had to be revised, if only because of the abandonment of night play. The Mixed Pairs has been at Congress throughout though in recent years, the Committee felt it had lost its popularity. The same could be said of the Same Sex Pairs, an event established to fill the gap created by the Mixed Pairs.
So, instead of Mixed and Same Sex Pairs, we will have the New Zealand Match-Point Swiss Pairs along with a newly created Seniors version on Friday 1st October. We had a Match-Point Swiss event in the 2019 Congress and it seemed to be very popular. These events are scored as match-points but played as 6x 8 board Swiss matches. They will both be 5A events.
Meanwhile, Congress will conclude on the Saturday with Teams events, all 48 boards (6 x 8 board matches). There will be the Intermediate and Senior Teams as per previous years but a new Open Teams event as well.
Prize-Giving after Play
In previous National Congresses, about 200 players have stayed on the Saturday night for the final Prize-Giving Dinner. We want to give all players, even if they have to drive/ fly out of "The Bay" on the Saturday the opportunity to attend the prize-giving. Thus, this year there will be finger food after play on the Saturday and this will be followed by the final prize-giving and closing of the Congress. We expect play to finish by 3.30pm and the function to start soon after though time-limits with respect to the scores of the final events will need to be observed. The prize-giving and food selection will take place in the playing-room area.
New National Congress Sponsor: Apex Car Rentals
Apex have been around New Zealand for many years and have strong nationwide coverage. They will come on board as a Congress sponsor this year. They will provide transport for players to be picked up from and taken back to Tauranga Airport. More details of that in future issues.
Also, if you book your Congress car-hire with Apex, you will receive a 15% discounted rate whether you book your rental for pick-up in Tauranga or in Auckland.
So, if you are planning on using a rental car during the Congress period, please go to Apex…good service and vehicles and save yourself a bit of money, too. There will be a unique code for Congress players booking a vehicle from early next week.
Campervans at Bay Park
Fully compliant self- contained campervans can park at the venue, but need to be booked in before the event starts, so a dedicated area can be assigned for this purpose. If this is for you, then please contact me so that arrangements can be made.
That's all for now. More and more information about this year's National Congress will appear in future months on the Congress part of the website and in further updates here.
Whether you are an Emerald Grand Master or a Novice player, there is something at the National Congress for you. We missed out in 2020. Let's make 2021 a great Congress to remember.
Richard Solomon, Chairman New Zealand National Bridge Congress Organising Committee