All News
Wellington News with Paul Maxwell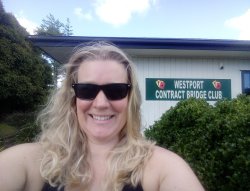 Sharleen's been on the move. See below.

Congratulations to our newest Silver Grand Master, Brian Cleaver. His most recent tournament was the Paraparaumu Open, just a few days ago on the 28th March. He started off well, topping the EW pairs in session one with partner John Luoni. Faded a little in the afternoon though, and Alan Grant and Anthony Ker came through, averaging 63.73% to win. Brian and John were second with 61.98%.
The "complete" team National Swiss winners

Karl Hayes, Brian Cleaver, Pete Benham and Michael Ware and Grant Jarvis, part of
Nigel Kearney "the Auckland invasion"
Above is a photo of Brian, second from the left, from a few years ago, when he was in the complete team. So complete, it even took its own photo.

National Events
The Wellington Club hosted the 15A National Swiss Pairs in mid -March. This event went down to the wire, in terms of racing against the lifting of COVID-19 levels. It was touch and go as to whether the word "National" would be expunged from the tournament booklet. Many Auckland pairs chose to hang on with their travel plans, betting on the levels being lifted.
That gamble, and perhaps some others they made during bidding and play, came off, as the northerners took away nearly all of the prizes. On the second day, one of the locals looked around and suggested the Pipitea Room (tables 23 to 40) might be more properly renamed the "Wellington Room", such were the number of local pairs he could see.
Still - we have the Hurricanes, and Kate Davies and John Patterson, who came in 12th. The inter-region traffic hasn't been all one way. Kate and John, and Sandy McKirdy and Graham Stronach, have been travelling to neighbouring regions, and both pairs have had a lot of success.
Back to the National Swiss. Michael Ware and Grant Jarvis lived up to their rankings as top all-time master point earners, with a large winning margin.

Local Tournaments
The Waikanae Bridge Club always gets good turnouts for its tournaments across all the grades. 46 pairs entered its Open on the 7th February. Alan Grant and Anthony Ker won by quite some distance, scoring in the high 60s in each session. Graeme Norman and Patrick D'Arcy repeated their 2020 second placing.
The Hutt Multigrade attracted 36 pairs, with locals Vil Gravis and Lynne Bruce coming first, and also being the top Open Intermediate pair. Rosa Mishkin and Hilda Burgess were second. Other placings were:
| | |
| --- | --- |
| Tani Blackburn & Ambrose Fok | Open Junior |
| Jeffrey Craanen & Simon Webber | Intermediate pair and 5th overall |
| Alice Watts & Phillip King | Intermediate Junior |
| Bernice Singh & Margaret Carter | Junior pair |
Another tournament affected by COVID was the Wellington Sixes, scheduled for the weekend before the National Swiss. This time, the unavoidable cancellation of the Taranaki Congress left many local players looking for their next bridge fix. So, club manager, Bridget Hannaway-Willcox, already working on both the "sixes" and the coming Swiss 15A, had to cope with extra demands from players searching for others to form a team of six.
There were eventually 10 teams taking part, with the following winning pairs within the three grades.
Junior Pairs Richard Gawith & Ambrose Fok
Intermediate Pairs Stephanie Smith & Susan Brown
Open Pairs Nigel Kearney & Bridget Hannaway-Willcox, bridge skills, as well as organisation!

Top Open pair "The Rising Stars" "Victoria Queens"


Nigel Kearney & Bridget Hannaway-Willcox Ross Quayle,Ambrose Fok
with Wellington Past President, Susan Brown, Stephanie Smith,
Margaret Curnow Pam Hancox and Richard Gawith

Ross and Pam were the Open pair in the team.

The best dressed team was the Victoria Queens (clearly from the Victoria Bridge Club).

The Kapi Mana Multigrade, held the next day, also had an increased field (32 pairs). Jenny Delany and Carolyn Black won narrowly from Kate Davies and John Patterson.
The Masterton Open, held on the 21st March, had just the right number of pairs (28) for an interesting format. In the morning, each of the 14 NS pairs played 2 boards against each of the 14 EW players. In the afternoon, the NS players took part in a Howell movement, and ditto the EW players. After those 26 boards, each of the 28 pairs had played 2 boards against all the other 27 pairs. No lucky breaks in that format - e.g. no one could avoid the eventual winners, Sandra Coleman and Mindy Wu. Ray Gruschow and Peter Delahunty were second, with the leading locals Ngaere Webb and Judith Nicol coming 6th.
The second half of March also had plenty of challenge for Intermediate and Junior players. Kairangi tested its first Rita Angus Teams competition with 4 Junior teams and an impressive 14 Intermediate teams. I guess the message about practicing for Interclub was taken on board. Both tournaments played 5 rounds of 10 Boards.
The Savage team (see below) came first in the Intermediate with 67.89 VPS, very closely followed by the Hodge team from Palmerston North on 67.47.
Tops at Kairangi
in the Intermediate and the Junior event


Bill Black, Tracey Shields, Sue Fish and Ian and Liam Doonan, Jill Duckworth and
Alan Savage Mary Scott

No need for a Swiss movement in the Junior Teams. With 3 opponents and 5 rounds, you played two teams twice, and the remaining team once. The Scott team (above), all Kairangi players, won handily.
The next week saw many of the Intermediate players travelling to the other end of town to play at Upper Hutt in their Pairs. The event also attracted others from more northerly regions, and got up to a credible 32 pairs. John Roseveare and Neil Sargisson headed the field on 61.5%. Also over 60% were the second pairing of Ivan Luketina and Anne Wiltshire.
Juniors apparently are more "close to home" people, not so much travellers. I didn't see many entries to the Junior tournament early on, and haven't seen any results, so I assume the tournament had to be cancelled.
Other Local Events
We've had the first round of Interclub, with 8 teams entered in the Open grade, 10 in the Open Restricted, 26 in the Intermediate, 11 in Junior and 5 in Novice. Compared to last year, we've lost some Open Restricted teams, but gained more Intermediate teams. This could be due to the boundary changes round the Open grade.
This year, we made some adjustments to improve the conditions for the hosting clubs. While we've lost a few Junior and Novice teams, I suspect it's more the impact of the pandemic on last year's induction of new players, and not so much the $1 increase per player in table money. We had held prices for many years, including our subsidies for the more distant teams. Good for the players, but becoming less attractive for the hosts over time.
Rubber bridge entries are coming in. Our convenor comments that, this year, over a third of the entries so far are Grand Masters, with at least another third being Master and above. So, the competition isn't appealing so much to our local Provincial Masters and below.
Health and Safety
As well as information about COVID-19 responses, many local clubs are emphasising health and safety on their websites. The Paraparaumu club have updated their policies and procedures, as in the following link.
http://www.paraparaumubridgeclub.co.nz/health-and-safety-policy-and-procedures
Wellington Free Ambulance have provided "Heartbeat CPR training" courses to the club in recent times. So, there is both theory and practice.
CPR Training Course
The free CPR Training Course sponsored by Wellington Free Ambulance held on behalf of Paraparaumu Bridge Club on Monday 22nd February 2021 was highly successful. Five club members and eleven friends were in attendance which was a 45% increase over the first course held in November 2020.
1. YOU CAN SAVE A LIFE
2. EVERY MINUTE COUNTS
Every minute that nothing is done to a person who is not breathing reduces their survival rate by 10%.
10 MINUTES = 100% = DEAD?
Immediate CPR Intervention increases the survival rate by 30%.
Immediate Defibrillation Intervention increases the survival rate by 80%.
Building Manager, Alan Stevens, commented that the recommendation was that "we seriously investigate the various options for improved access to a Defibrillator." The club has a sound Health and Safety Policies and Procedures.

"TOUR DE BRIDGE"


Sharleen Grounds

With our borders still closed, Sharleen Grounds (from the Karori & Victoria clubs in Wellington) decided to do a South Island road-trip in her car camper and visit some bridge clubs on the way.

During her recently completed month long adventure she played at 19 of the 37 South Island affiliated bridge clubs.

From Takaka all the way to Geraldine, Mosgiel, Balclutha, Te Anau, and back up to Westport, Sharleen says she had a great time experiencing all of the friendly local bridge camaraderie and wanted to thank everyone who played with her and found partners often at short notice.

She hopes to be back again next summer to play at the remaining 18 South Island bridge clubs but in the meantime plans to visit more of the 74 North Island clubs (she's been to nearly 50).