All News
Karen Martelletti: a personal tribute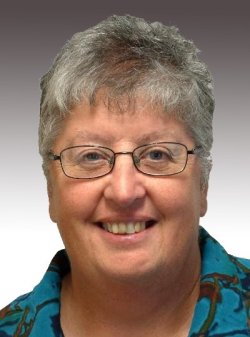 To a damn good sort by Richard Solomon

I am not a member of the Tauranga Bridge Club and thus have not experienced or seen close up Karen's constant positive presence over the running of that club for a period of some 30 years. Nor have I seen close hand her involvement with the Waikato Bays Regional Committee which she served with distinction and enthusiasm for so many years.
I have seen, experienced, benefited from her tremendous experience, knowledge and enthusiasm for the game since she joined the Board of New Zealand Bridge some six years ago. This is my tribute to the passing of one who has done so much for our game, brought enjoyment to so many, who just gave and gave to the game she loved.
Recently, she stood for a third term of three years for the Board. There was some relief around Board circles that Karen had only served for two terms as 9 years without a break is the maximum. It seemed she had been on the Board for so much longer: indeed, we wondered and were very relieved that Karen could stand for re-election. It was absolutely no surprise that she was re-elected.
She summed up her belief for bridge at the start of a very thorough and very professionally put together cv. "I am a firm believer that if you want to get something from an activity you love, you must be prepared to give something back." The only word I would take issue with is "something". Karen gave everything, certainly once she had retired from a lengthy spell, some 37 years, in her job with Livestock Improvement Co. When Karen commits, that's what she does whether it is work, her hobby and passion, anything. "I am committed to this philosophy and have given freely of my time to Bridge for over 30 years."
Her introduction came alongside another well known in our game, Barry Jones. They learnt together at Matamata. Tauranga became her home and the Tauranga Bridge Club a second home. As well as having been club captain for the past 17 years, she was President for two, has been club Webmaster and facilitator for improver classes at the club and others in her region. Naturally and significantly, she was awarded club Life Membership.
At her club, she showed not just her own efficiency and organisational skills but her care for fellow bridge players and her love of fun. Dressing up on special occasions like the club Christmas party was something she loved, introduced to the club and encouraged. She was a member of the club choir. Bridge may be a serious game for some but Karen saw the value in, loved and encouraged the social side of the game.
She chaired the Regional Committee for six years, was on the Regional Committee for 10+ years and provided clubs not just in her region but beyond with technical advice and support. More of that shortly.
It was no surprise when, retired from work, she sought to join the Board of New Zealand Bridge where she has contributed hugely in the technical area. In more recent years, she became Chair of the Teaching Committee and has contributed to and overseen the completion of Beginners, Improvers and Intermediate level modules on this website. These were completed within the last two weeks. She served as a Trustee of NZ Bridge Foundation.
She has also been a very able member of the National Congress Committee. Another recently completed task which Karen has overseen is the revamping of the Congress part of this website in readiness for entries to this year's Congress. Naturally, with Karen's overseeing, this project was completed successfully. There could be no more fitting tribute to Karen than a successful National Congress this year in her home city. She helped find and secure the Bay Park venue for New Zealand Bridge.
She has brought a rare combination of technical and strategic skill and ability and personal warmth to whatever task to which she turned. She also had the utmost patience and the nicest manner which made the most elementary question she was asked seem absolutely real and relevant: she put people at ease and never made them feel small or their question insignificant.
away from bridge (yes, even Karen got away occasionally!), she and Kate could be found motor caravanning or cycling.
She was also a fine bridge player, a Silver Grand Master and a delight to have as your partner. I could verify that only for a small number of times. She was a member of a Tauranga based team which lifted the Cormack Cup with pride (top Women's team in NZ Teams) and played in one of the NZ Women's teams at the 2008 PABF Congress on the Gold Coast.
In lighter mood Waikato Bays chef de mission

She has been chef de mission and more recently a playing member of the successful Waikato Bays Women's Team in our Inter-Provincial competitions. She was to have represented her region once again in 2021.
She loved the game of bridge and put heaps back into the game she loved. Thanks, Karen, for your wisdom, your caring, your drive, your innovation, your plain common-sense, your laughter, your commitment, your passion.
She commented: "when some friends first suggested I might like bridge and persuaded me to have lessons, I never imagined how it would transform my life." Those friends did so many such a great favour.
On behalf of Kate, the Board of New Zealand Bridge and its employees, your Region, those at the Tauranga Bridge Club, all those you have helped, we will really miss you.
Richard Solomon