All News
National Congress Update July 2021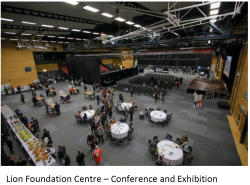 This will soon be full of bridge tables and bridge players.
Congress update July 2021
It is great to see many players entering this year's National Congress with some having paid their entry fees. We have many players entering the full week while others are just choosing specific events. We have also a number of entries from Australia. We really hope that our friends from across the Tasman can come, Covid restrictions permitting.
Why not enter…and pay?
For those of you who have not yet entered, please do so. If you are staying the full week, we encourage you to enter events you would play after the qualifying Swiss of the New Zealand Open Teams, assuming you do not make the top 16. If your team does make the top 16, we will withdraw you from the relevant subsequent event and place you into the knock-out stage of the NZ Open Teams. This approach is to reduce the confusion which has existed in past years with many late entries for subsidiary events.
Discount for 5/6 player teams in Swiss Qualifying of NZ Open Teams and in NZ Restricted Open Teams
As in line with previous years, we have up to now announced per player rates for these events. However, as we are now charging per stage in New Zealand Open Teams, we will put a per team cap of $640.00 per team whether a team has four, five or six players. We will also allow this rate for teams of 5/6 players in Restricted Open Teams.
Where you are playing as a team of 5/6 players, we ask four players to pay the 160.00 per player rate. We will then mark off the other one/two players as having paid. We ask such teams to settle the payment difference between themselves.
Please note in NZ Open Teams, this only applies to the Swiss Qualifying stage and not to the knock-out stages where the rates are per player, irrespective of the number in the team.
Need a rental car during the Congress?
Then, look no further than one of the Congress sponsors, Apex Rental Cars. They are offering a 15% discount on rentals booked whether you rent in Tauranga, Auckland or other locations. The code for bridge players for their website is APXBRIDGE. When you go on the Apex website "enter code" is centre front. Their website address is www.apexrentals.co.nz. Support those organisations which are supporting the National Congress.
New Zealand Bridge AGM and final stages of National Rubber Bridge Competition
These will be held at the Tauranga Bridge Club as follows:
New Zealand Bridge AGM Friday September 24th at 6.00pm
National Rubber Bridge Competition Finals
Quarter Finals Friday September 24th at 7.30pm
Semi Finals Saturday September 25th at 7.30pm
Final Sunday September 26th at 7.30pm
Some differences from previous National Congresses
No night play
Many of you will have realised that there will be no evening play throughout the Congress (unless you make the finals of the National Rubber Bridge competition). Most days, play will finish by approximately 5.30-6.00 pm though on the Monday and Tuesday when the Swiss qualifying of NZ Teams/ NZ Restricted Open Teams take place, we will be playing until approximately 7.00pm.
Tea, coffee and lunches
There will be different arrangements this time for tea and coffee. You will need to purchase hot drinks from one of the coffee carts or from the venue café which is just outside the playing rooms (but inside the venue).
You will be able to buy lunch food at Bay Park. The caterers do want players to pre-order and prepay each morning so that at lunch-time, you can collect your lunch without waiting in a long queue.

The contents of a sample lunch-box which
also comes with a bottle of water.
No cash prizes
We will be publishing a prize list in advance of the National Congress. If you qualify for a prize, you will need to go to the Congress Reception Desk with your bank account number. We will record and pay out the prize amount into your bank account at the end of Congress. You will only need to go to the Congress desk once. Should you win more than one prize, we will already have your bank details recorded from your first success.
So, new venue, and some new ways of doing some traditional Congress things….same friendly Congress as ever.
and we are sure you will love the new venue. Here's hoping you can come for some or all of the week.
If you have any queries, please contact me on any of the following:
Richard.solomon@nzbridge.co.nz 09 232 8494 027 245 5418