All News
Bring on the National Congress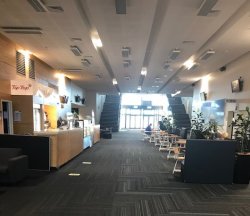 This cafe at Bay Park will soon be full of post-mortemising bridge players.
We may be in orange but it is full steam ahead for the National Congress.
Whether Tauranga is in orange or green, we are confident we will have a National Bridge Congress for you in February next year, 10th until 17th to be precise.
There is still plenty of time to enter any event or even book accommodation. The dates are outside the peak Bay of Plenty but best book soon. Our 10% discount for early payment extends until Sunday January 16th. So, take a look at Congress events by clicking here https://www.nzbridge.co.nz/summary-of-events-1.html
Double Vaccination required under orange or green
We have no choice here. Our Bay Park hosts must follow government procedure. Under orange, only double vaccinated people (or those few with special exemptions) will be allowed into Bay Park. This applies to players and Congress staff. It is likely we will be under orange at the time of Congress.
We must sight your Vaccine Pass. We only need to sight it once but this is a prerequisite for playing at the Congress.
So: Cut down on the queues.
You can email your "My Vaccine Pass" to me at this email address ( Richard.solomon@nzbridge.co.nz ) at any time up to midday on Monday February 7th. You will receive email confirmation of receipt. This will speed up your entry to Bay Park on your first day there.
If you have not sent "My Vaccine Pass" in advance, we will need to scan it at the Bridge Reception Desk near the entry to the Lion Foundation Centre at Bay Park. This desk will be open from midday Wednesday February 9th, the day before Congress starts.
We still would like all players to register at the desk on arrival but it will be quicker if we do not have to scan your pass then.
Mask Wear
While this is recommended in both the public areas and the bridge playing rooms in the Lion Foundation Centre, mask wear is not compulsory and is up to an individual's discretion.
Some Good News
It gives me great pleasure in announcing that the Bay of Plenty (BOP) Teams event which is to take place on Monday February 14th will be renamed the "Karen Martelletti Memorial Teams". Karen has been a huge contributor to bridge in this country and in more recent years to the National Congress. We were very sad to lose her earlier this year. It is thus very appropriate to remember her in the naming of this new event at the Congress venue she helped create for our national event. The event is an Open Teams competition.
and more great news, regarding the Beach House competition
Remember we ran a competition where a group of Congress goers will win free accommodation at the Mt Maunganui beach house below for the duration of the February National Congress. The winners have a few tasks to do in return like social media posts showing them enjoying all the tourist hot spots that The Bay has to offer, finding out and reporting good stories about our bridge players at and away from the bridge table as well doing some hosting of social events at their "luxury pad".
Well, we can announce that the competition winners are three well-known players, Mereana Cullen of "Bridge Zone" fame and the Hangartner brothers, Paul, a dab hand with the camera and Mark who has produced Congress Bulletins, very chatty and pictorial Bulletins in the not-too-distant past.
They will be our chief Congress hosts or "Chief Socialites". We believe they are three excellent people for these tasks. Watch out for what they intend to do and please seek them out with your own stories of the National Bridge Congress whether bridge related or not. We want the Bay of Plenty to be good for the National Congress and in return the Congress be great for The Bay. In this respect, a big thanks to our sponsors, Tauranga Energy Consumer Trust and Tourism Bay of Plenty.

Eating and Drinking at the National Congress
Aside from playing bridge, these are both really important during our Congress. There will of course be free water areas though tea and coffee will only be available for purchase at the stations just outside the playing rooms.
After play each day, a bar will be available for the purchase of both alcoholic and non-alcoholic drinks to have as you discuss the hands of the day.
Lunches. The venue Caterers will supply Lunch Boxes and a BBQ style Smorgasbord daily. The Café cabinet will also be an option for purchases on the day.
Lunch Boxes. There will a daily menu for these and you are encouraged to choose and order for all the days you might like to have a lunch box. An order received 24 hours in advance will be up to $3 cheaper than an order on the same day.
BBQ Style Smorgasbord This Smorgasbord will run daily out in the foyer again if you pre order 24hrs before the cost will be cheaper than an on the same day order.
You can mix these options up order ahead for the whole week, some days Lunch Box, others Smorgasbord.
We will provide you a link to the food options early in the New Year.
and your own food?
You are allowed to bring into the venue a home-made lunch, but you cannot bring in food from another food merchant. So, please eat your KFC's outside.
Bridge Seminars
A new venue for the National Congress and we would like to introduce some seminars where some of our top bridge players and teachers will be spending around 40 minutes trying to improve your bridge.
Primarily, these will be targeted at Intermediate and Junior players. However, most players do not get the opportunity to hear what GeO Tislevoll, Pam Livingston and Malcolm Mayer have to say. So, these seminars are open to whoever wants to come.
We do not think lunch times or after play are good times for such seminars and so we are opting for an 8.30 am until around 9.10 am time-slot on Saturday, Sunday and Monday February 12th, 13th and 14th. Play each day starts at 9.30am.
These seminars will take place upstairs at the Lion Foundation Centre, Suite 4. There is a lift if you struggle with the stairs. These are the days and topics being covered:
Saturday February 12th Malcolm Mayer When to be Aggressive
Sunday February 13th Pam Livingston Defence: What to keep
Sometimes the 'Bridge Gods' give you good cards and you don't want to throw any of them out. Here's a rule of thumb to help you decide.
Monday February 14th GeO Tislevoll Improving our Game with Common Sense
All the seminars are free.
PAYMENT FOR NATIONAL CONGRESS
Thank you to those of you who have entered and paid for the events you intend to play in. For others, remember the 10% cash discount offer expires on Sunday January 16th. Payments received after that date will be at the full undiscounted price.
Some players have so far only paid 144.00 with respect to the New Zealand Open Teams and have not entered other events for the Saturday, Sunday, Monday period.
If such players qualify for the Round of 16 and subsequent stages of this event, or elect to play in any of the subsidiary events during these three days, further payments will be due.
Saturday Round of 16/ Swiss Pairs 80.00 per player
The 80.00 for Round 16 covers the quarter final too.
Sunday Semi-Final/ Match Point Swiss Pairs 60.00 per player
Monday Final/ Senior or Karen Martelletti
Memorial Teams 60.00 per player
(all reducible by 10% if paid by Sunday 16th January 2022)
The Congress will soon be here. If you need help to find a partner or teammates, please ask. Encourage new players to come to the Novice Pairs on the afternoon of Saturday February 12th, midday start. If you have any queries, please contact me on 027 245 5418 or by email to Richard.Solomon@NZBridge.co.nz
Compliments of the season to all and bring on the National Congress. It's been too long!
Richard Solomon
pp National Bridge Congress Organising Committee