News archive
WELLINGTON REGIONAL NEWS with Paul Maxwell
Wellington ANZAC Congress
It seems so long ago, the Wellington Regional Congress held way back around ANZAC Day. We used the extra day from ANZAC Day falling on a Tuesday to run a two day Open Teams. We went for a leisurely pace, rather than adding in many extra rounds. This change was well received, and we now have a challenge ahead of us. With ANZAC Day 2018 on a Wednesday, can we somehow squeeze out a four day tournament once again? Another option, a five day tournament, might be a stretch! (what about a 9 day Congress straddling both weekends and the week days in the middle? Maybe not!)
Naturally, there were quite a few winners and place getters. So, I'll be a little selective in my write-up. Michael Whibley and Matthew Brown won the Open Pairs on the Monday from Nong Li and Jeter Liu. Earlier, over the Saturday and Sunday, Carryer (Colin Carryer, Sandra Calvert, George Masters and Wayne Burrows) had won the OpenTeams from Anna Herries, Annette Henry, Michael Whibley and Matthew Brown, with Charles Ker, Anthony Ker, GeO Tislevoll and Michael Ware coming third.
The George Masters (sponsor) Swiss Pairs on the Tuesday was won by George Masters (player) and Wayne Burrows. Graham Stronach and Sandy McKirdy were second, with last year's winners, Don Nightingale and Robyn Nightingale coming third.
It was a good tournament for George and Wayne as they also came third in the Open Pairs to add to their two golds. (We also now wonder if the 2018 list of sponsors will include a few players hoping to follow in George's footsteps. Causality not guaranteed.)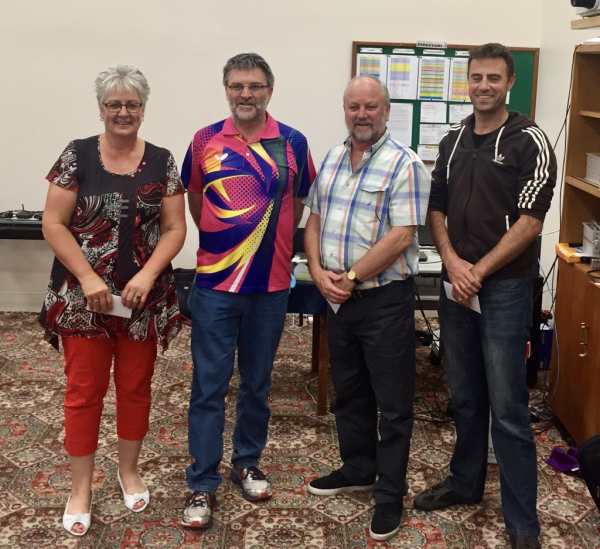 Open Teams winners, Sandra Calvert, Wayne Burrows, Colin Carryer and player and sponsor, George Masters
The combined Intermediate / Junior Teams was won by the Junior team of Adrienne Dale, Eirlys Hunter, Grace Millar and Miriam Lewin. Graham Potter, Mira Trifunovic, Jeremy Morley and Denise Barnett were second. The winning team members had previously topped the field in the Junior Pairs, with Eirlys and Grace winning from Adrienne and Miriam. Graham Potter and John Black shared first place in the Intermediate Pairs with Denise Barnett and Jeremy Morley.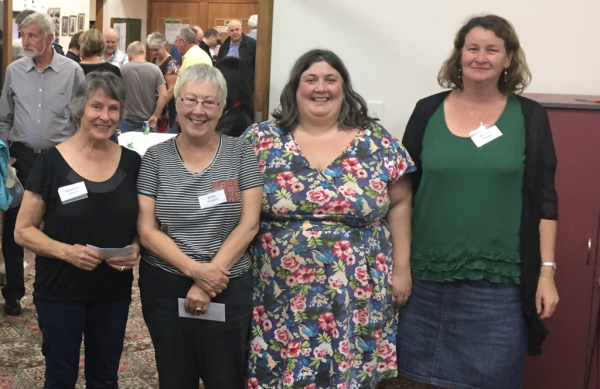 Adrienne Dale, Eirlys Hunter, Grace Millar and Miriam Lewin, Intermediate/Junior Teams winners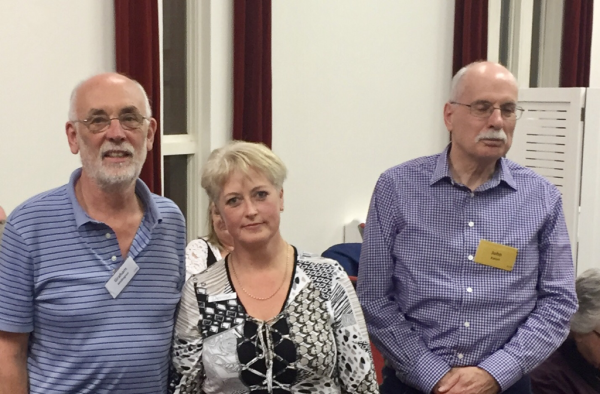 Graham Potter, Denise Barnett and John Black, joint winners of the Intermediate Pairs (missing: Jeremy Morley)
The Mixed Sex Pairs had been previously held at the Karori Bridge Club on the 17th. This event was won by Peter Delahunty and Lynda Rigler(below). This photo might win the prize for the biggest smiles in this update.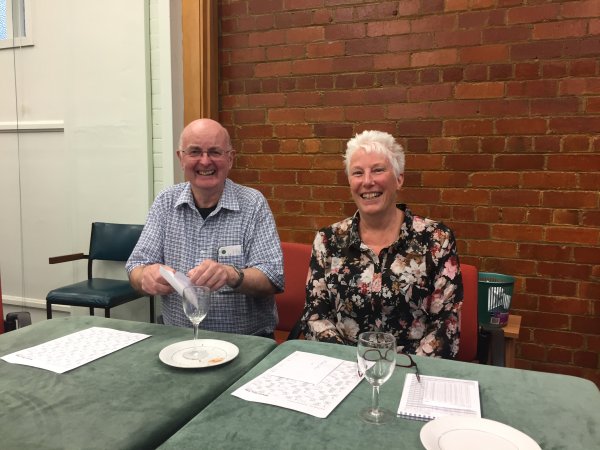 Other Recent Tournament Winners
Graeme Norman and Pat D'Arcy won the Upper Hutt Open Pairs at the end of the same month, with Graham Stronach and Sandy McKirdy second. In the Junior tournament on the same day, Marcus Smith and Edward May showed some consistency, scoring 67% in both sessions for a comfortable win. John McGrath and Loek Strik were second out of the field of 10 pairs.
Similarly, the Hutt Open and Junior Pairs were held on the 21st May. This time, Peter Benham and Brian Cleaver won the Open from Joan McCarthy and Nigel Kearney. Adrienne Dale and Miriam Lewis (averaging 67%, suddenly a popular score in Junior tournaments) took the Junior first prize. Helen Collicoat and Sharleen Grounds were second.
I have the overall winners for two Multigrades; Anthea Black and Nancy Cooney at the Kapi Mana Multigrade on the 7th May, and Sam Ward and Chris Bolland at the Otaki Multigrade on the 28th. While I have acquired a photo of Sam and Chris at Otaki, I'm sadly not much wiser about the other place getters in the other grades. Apologies for that, and I'll have to either set myself up with better communications in future, or else enter more Multigrades.
Interclub 2017
The 10 teams in the Open grade are playing a round robin. In the fourth round, Sutich team from Kairangi beat the strong Henry team for a fourth successive win. Even so, their winning margin of nearly 10 VPs just fell short of putting them in second place. Ker also with four wins and remain in first place.
Willcox, perennial past winners of the Open Restricted grade, have again taken the lead. Craanen from the Hutt club leads the Intermediate grade. Dorbecker from Karori are ahead in the Junior grade, and Horton from the Wellington club lead the four team Novice grade.
Junior League
We have now had six of the thirteen tournaments included in this year's Wellington Region Junior Bridge League. Adrienne Dale and Miriam Lewis are one point ahead of another regular pair, Rachel Blundell and Ann McLeod. The next event is the Karori Junior tournament this coming weekend, with a several week break to the next event in late July.
IP Trials
The Wellington Region has been grappling for some years over the best way to conduct the trials to select teams to take part in the Interprovincial Championship. We have found that teams trials don't attract large fields, whereas running a Swiss Pairs style format (on one day only) will attract larger fields but can have some results that might not be expected on the basis of past form and achievements.
Having won the national event last year, you might think we had the trial format right at last. However, we move on (continuous improvement), and this year we asked entrants to enter as teams or pairs, indicating whether they preferred Teams or Pairs trials. The result was that the Open and Senior teams were chosen through teams trials, and the Women and Intermediate teams from Pairs trials.
Without wishing to give opposing teams too much notice to prepare tactics, Wellington will be represented by the following teams, based on the trials' results. We wish them the best for later in the year.
Open: Kate Davies, John Patterson, Alan Grant and Anthony Ker
Women: Annette Henry, Anna Herries, Mindy Wu and Sandra Coleman
Senior: Lynda Rigler, Peter Delahunty, Patrick D'Arcy and Peter Benham
Intermediate: Jeffry Craanen, Elaine Richardson, David Don and Jim Brough.
Wellington Region Committee Business
In the last update I mentioned that Greg Whitten of the South Wairarapa Bridge Club had joined the Wellington Regional Committee. This turned out to be an appointment of short duration, as Greg has now moved onto the Board of NZ Bridge. Their gain and our loss. It's always good to have a south of the border representative on the Board.
We hope to continue our association with Greg occasionally, all in the interests of good face to face communication with a Board representative.
Kairangi Bridge Club - Building Upgrade
The building upgrade continues. If there is a lesson from the work so far, it is that refurbishing a 30 plus year old building will always be a challenge. One possible downside of the rebuild has happened. The very popular Kairangi Multigrade Teams tournament has been cancelled for 2017. A complicating factor was uncertainty about the scoring systems transferring to an alternative venue, adding to the burden of the extra work of running the usual club programme away from "home" for several months.