All News
WAIKATO BAYS NEWS with Anna Kalma
As I'm into the second week of calving and life is busy on the farm, I apologise in advance for this month's regional round up … it is likely to be shorter than usual, riddled with errors with a few unsubstantiated stories thrown in (but I will draw the line at alternative facts). As "alternative facts" or false news is not allowed, read on to hear about the fabulous tournament held at Te Aroha's new sports stadium in early July.

Calving is also the excuse I use when I'm the only one in the room not to make 3NT with an overtrick like at bridge last night …I find I can get away with this for at least a couple of months before the townfolk get suspicious and realise it's not the cows fault I'm playing less than average bridge.
Nurturing our newest members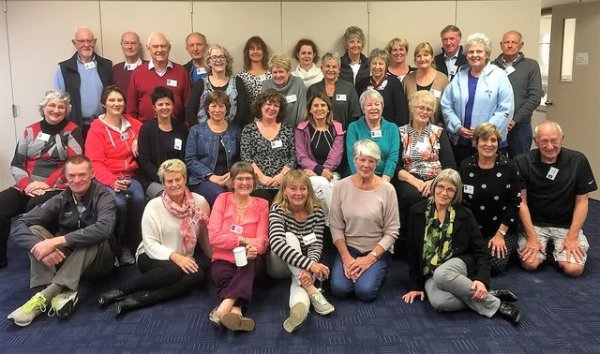 The Tauranga Class of 2017

It is a joyous sight to see big group photos of (youngish looking) graduating players who have survived lessons and seem to be enjoying the camaraderie of their group and looking forward to their real bridge experience.
Lessons appear to be pretty much done across the region and learners are entering the hallowed sanctum of club play. Reports from the clubs indicate that there was good participation in lessons with the expectation that many will become regular bridge playing club members.
It is encouraging though that many of these clubs appear to be smoothing the entry by limiting the amount of boards played, allowing extra time and help at the table and ensuring earlier nights for those new from lessons. Even if it is just for a few weeks it makes that initial transition so much easier for the new player.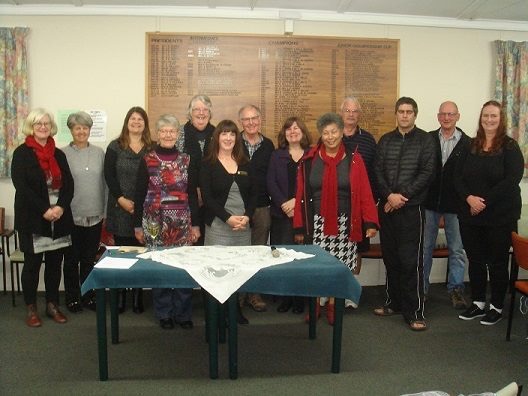 ...and the 2017 Te Awamutu class
"Mini Moos" is a concept which was introduced a couple of years ago by Jane Stearns and Nick Whitten which takes bridge players from lessons around the region and puts them together into a room for an afternoon of bridge… part competition, part instructional and part social. With Jane being distracted by other bridge duties, Nick Whitten from Morrinsville hosted the first Mini Moos in the weekend with 36 keen and fresh bridge players attending. No partners required with an individual movement and ample time to play and discuss the boards. Great to see new players embrace this concept which gives them time with their peers and a sort of introduction to tournament play where players meet others from around the region.
A full room of 9 tables of new players for the first "Mini Moos" session of the year at Morrinsville.

For the record, Karen Young from Cambridge was first, Keith Jamieson of Hamilton 2nd and Judy Frost of Morrinsville 3rd.
Events and Dressing Up
Cambridge also reports on their 'high tea' for over 80s an annual event that gets some of the elder statespeople back into the bridge club. One such person was Joan Hewitt who at 96 stood up at the end of play and thanked the club for inviting her back to play "to a place that holds so many happy memories". Sadly Joan passed away just last week.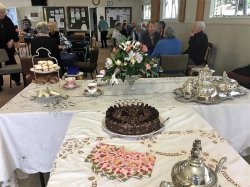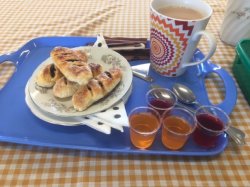 Contrasting catering … on the left silver service at Cambridge High Tea for over 80's and on the right vodka shots and Eccles Cakes provided by Matamata's Beth Vosper for the occasion of her 80th!
More celebrating at Tauranga and Cambridge
Below are more scenes from Cambridge and Tauranga teams events from the past month. Tauranga also hit the milestone of 60 years and had a celebratory dinner with guests including Michael Ware and Alan Dormer.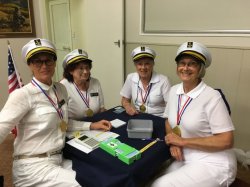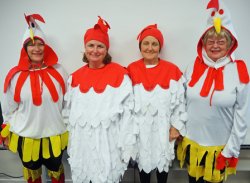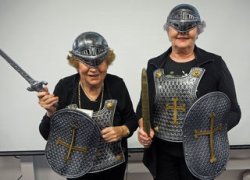 and Peter was there too: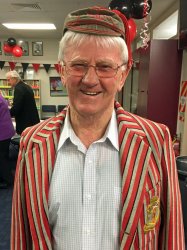 former Tauranga President, Peter Hagan
preparing for the Tauranga 60th Jubilee.
Tournaments
I'm a bit light on coverage about all of those worthy winners and tournaments that have taken part around the region. Some of the ongoing competitions are coming to fruition such as the Junior and Intermediate leagues, Rubber Bridge, Waikato Bays Club Champs, WAPs, TWITs and Bay Pairs not to mention the Cambridge 6s in three weeks' time (Get your entries in fast if you haven't already done so, we are looking forward to another opportunity to dress up). So suspect this will be the flavour of the next round up.
Also for all the Waikato Bays readers …. Please note! Our Waikato Bays committee sponsor people to Congress… if you have played tournaments and haven't regularly been to Congress you might be eligible to self nominate. Or if you want to nominate somebody worthy in your club – we will consider this too.
It's OK, Anna. I am not going to mention your play in 3NT. (I wish I had the calving excuse for the next time I "butchered" a contract. ) The July Round Up cannot pass without mentioning the splendid Spa Town Teams held on the first Saturday of July in Te Aroha. 30 teams were crammed in, 20 in the Open and 10 more in the Multi Grade, but the hospitality and organisation were just wonderful. The Te Aroha Club has rejuvenated itself in recent years thanks to Jane Stearns and the club members themselves, including Anna Kalma. Calving may have produced short term memory loss but it is only fitting to record the huge effort put in by all at the club in respect of this event. In a region, whose clubs often go the extra mile to put on top tournaments, this one stood out. The bridge winners will be recorded in the July Tournament Results at the end of this month. All 120 players were "winners" that day.
Now, you are playing 3NT ...and you hold....
Richard Solomon