All News
Central Districts' News with George MacLachlan
Central Districts' players were well represented at the recent National Congress. Among the more successful were Les Gould and Pieter Verhoek who reached the final of the National Rubber Bridge competition. The region's only winner was Wayne Burrows in the Open Swiss Pairs while the following achieved top 5 placings:
Congress Pairs Colin Carryer- Sandra Calvert (3rd)
BTF Teams Charles Ker (2nd)
Mixed Pairs Colin Carryer (4th)
P A B Teams Charles Ker (2nd)
Same Sex Pairs Dennis Apperley (5th)
Senior Teams Evelyn and Bob Hurley (4th)
In addition, Steve Baron finished a very creditable 8th in the New Zealand Open Pairs where George Masters also made the final. Alister Stuck, Russell Wilson, George Masters, Pam Livingston and Wayne Burrows all made the last 16 of the New Zealand Teams in various teams.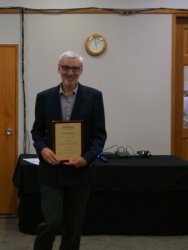 The region's newest Gold Grand Master, Noel Woodhall
with his plague at this year's National Congress.
Tournaments around the region
On the local tournament scene, Taradale's Open Pairs was a low scoring close affair with Claire and Noel Woodhall sneaking home by 0.41%. On the same August weekend, Alister Stuck and Alan Doddridge scored well to win Hokowhitu's Daffodil Day tournament.
The Fullarton Teams was held this year at Havelock North and proved a very worthwhile long trip for Southland's Moss Wylie who teamed up with Wellington's Russell Dive and Waikato's Herman Yuan and Yuzhong Chen to win.
New Plymouth had a weekend of bridge at the end of August. Gary Foidl and Brett Glass secured the Open Pairs with a fine second round 66.19% while Pamela Newson and Campbell Priest scrambled home in the Intermediate Junior Pairs with a second round 52.7%. Just enough as before lunch, they had scored a massive 75.76%. They won by just 2.4% from Glenice Houghton and Carol Mack. Mara Robinson and Jill Burroughs had a great time in the Swiss Pairs winning by nearly 6vps.
The lead-up to Congress saw Liz and Blair Fisher and Russell Wilson- Alister Stuck win the Napier Open Teams while brother and sister Michael and Liz Wilcox won Levin's Multi-Grade Swiss averaging over 15 vps per match. Colin Carryer- Sandra Calvert were successful at Hawera's Open Pairs and Ron Janes and Rob Armstrong powered home in Gisborne's 8b Open with a second round 66.96%. Julia and Peter Watson won Waipukurau's Swiss Pairs.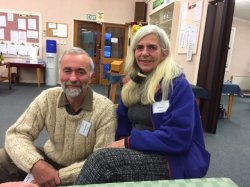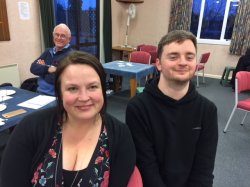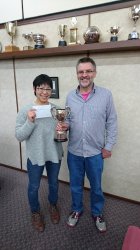 Levin Swiss champions, Michael and Liz 7th at Levin, young Wellington players Swiss experts, Clair Miao and
Wilcox. Andeana Pilalis and Sam Ward Wayne Burrows, successful in
Hamilton and Palmerston North
"Swiss" to the fore
After Congress, it was Clair Miao and Wayne Burrows who won Palmerston North's Swiss Pairs. Have you noticed the number of Swiss Pairs events held… New Plymouth, Levin, Palmerston North, Waipukurau. Swiss Pairs seems to be a popular way of playing. Levin had 22 tables.
Hokowhitu turns "25"
The 17th September saw Palmerston North's "other club" , Hokowhitu, celebrate its 25th anniversary. Present and past members celebrated with a friendly session of bridge and a catered dinner.
Recognising Club Stalwarts
Stalwarts are a necessary part of any well-functioning club. At Levin there are several. One such is Brian Green. Always a card player, Brian took up formal bridge lessons in 1988 under the tutelage of Alex andTrish Dixie. When asked who had influenced him to learn bridge, he gave the name of another stalwart of the Levin club , Dorothy Mackay (past President, Life Member). Brian has held every Office in the Levin club except that of Tournament Secretary -- but to make up for that he is currently on his second spin as club Treasurer. He has a particular interest in the very important role of mentoring/encouraging the new players.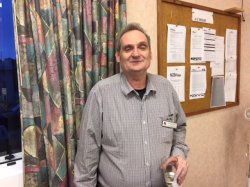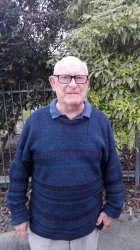 Brian Green, after directing Levin's Wally Duncan, Wanganui's great servant
Multigrade
Wally Duncan is a stalwart of the Wanganui club. He took lessons in Wanganui in 1971 under the tutelage of Bill Bird. There were about 25 in the group at that time and a few of them are still playing regularly. Wally particularly remembers Bill Bird and his wife putting him through a baptism of fire one Saturday night during a social bridge session. Whatever Wally bid, the Birds would double. It was done in good humour at the time but he recalls vividly being aware of how little he actually knew when first starting out as a novice player. For the Saturday social bridge occasions, the women would turn out in their finest long dresses and the men dressed in dinner suits and ties. Smoking was allowed in those days!
About 25 years ago Wally became an instant Secretary following an overnight committee re-shuffle. From there he became Treasurer for 10 consecutive years. Now a Life Member, he has taken the learners lessons for several years and recently completed a 2-year stint as President.