All News
Inter-Provincial Time is Near.
There's no wind-down to the end of the year for an important group of our players as the week-end of November 25th-27th approaches, the Inter-Provincial Championships, being held at the Wellington Bridge Club.
There are seven regions taking part in 4 categories, 112 players in all. It will be the 51st consecutive year of the Open division Championships. The Intermediate event has been running since 1978, the Women's event since 1986 and the Seniors' since 2000. This will be the tenth year of the Dougal McLean Trophy, awarded to the region with the overall highest finish over the four events.
Dougal McLean was a very keen Wellington bridge player and bridge administrator for some 30 years. He wrote a lot about the game and was a true enthusiast in the nicest way. He was both Treasurer and President of NZ Contract Bridge Association. The cup was named in his honour after he died in 2008 by NZ Bridge. The results from all four categories are combined to produce the overall winning Region. The current holders are Wellington Region and they will have home advantage as they fight to keep the magnificent trophy at their club.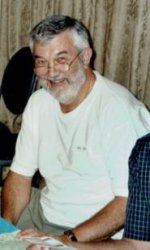 Dougal McLean
There will be live coverage of the event via BBO, and regular news, views, photos and video clips to keep players nationwide up to date on the progress of their teams.
The competing players are now being profiled on the New Zealand Bridge Facebook page. Follow the stories and support your Region. Press the dark blue " f " icon at the top of the Home Page on this website, to be transported to the NZ Bridge Facebook page.
Click here to view the teams and System cards if you are interested
Richard Solomon