All News
WAIKATO BAYS NEWS with Anna Kalma
Winners of the Waikato Bays Junior and Intermediate Leagues were decided in October. For each competition, points are awarded for turning up to play, placing in a participating tournament (6 events in the Juniors and 9 in the Intermediates), as well as extra points for getting over 50% in a session. The competition has proven successful in increasing participation at Junior and Intermediate events and it was great to see 19 tables at the final intermediate tournament for the year in Cambridge.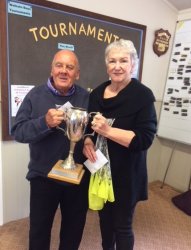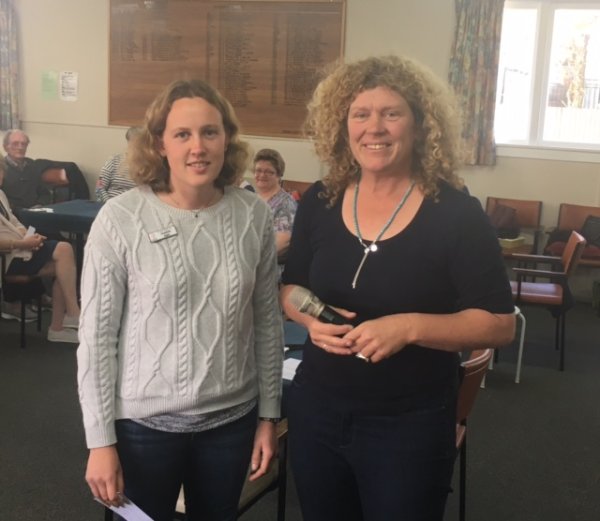 Mike Nicholson and Carol Cullen from Mount Maunganui shared the spoils for the Intermediate League (and are seen here on the left clutching the Allan Barclay Trophy) while Junior winner Charlotte Jager (the young one on the left) from Te Aroha is shown accepting her cheque from WBRC member Anna Kalma.
The Christmas Season seems to have come early this year – with the first of the festive tournaments taking place in Thames. The tournament coincided with the towns Steam Punk festival and it was nice to see a few locals dressed for the occasion ….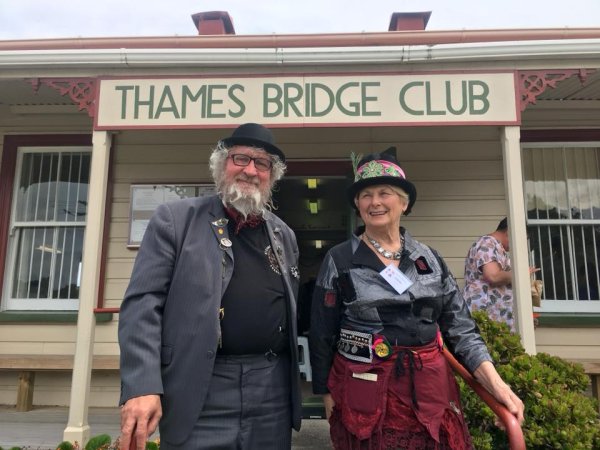 Grant Platt and Estelle Cashmore of Thames get into the Steam Punk spirit at the Thames Xmas Party … apparently they have set the bar for next year which could be interesting.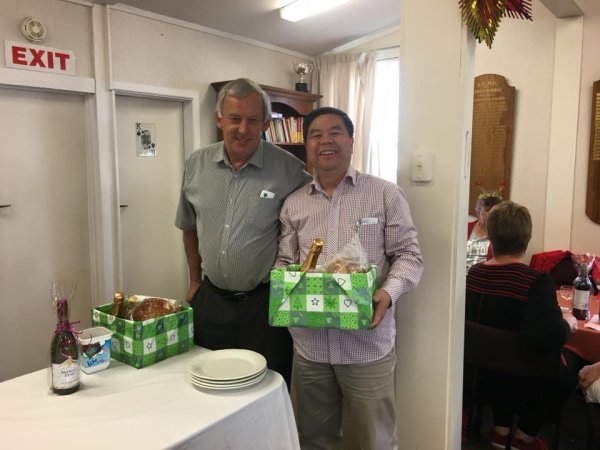 Steam punk might be a step too far for Grant Jarvis and Gary Chen but they look pretty chuffed with their box of goodies they picked up by winning Thames Xmas.
Te Awamutu also held their Xmas Party which was won by Hamilton's Gwyn Lobb and Richard Fletcher.
Our two super clubs (Hamilton and Tauranga) hosted major events over the past month. Hamilton put on their Labour Weekend Congress tournament and Tauranga hosted the National Teams in late November.
Winners from 22 teams in the Hamilton Labour Day Congress were Michael Ware, David Skipper, Grant Jarvis and Ian Berrington while the Consolation Swiss Pairs were won by locals Gary Foidl and Brett Glass. The Open Pairs was won by Andi Boughey and Matt Brown while Math Verhaegh and Saty Satyanand won the Intermediate Pairs.

Meanwhile the Tauranga National Teams concluded after two days with team Yule in top spot (Kathy Yule, Ian Berrington, Fuxia Wen and Ken Yule) over the 25 other teams.