All News
WELLINGTON REGIONAL NEWS with Paul Maxwell
Inter-Provincial Teams – Dougal McLean Trophy STAYS IN WELLINGTON
The 2017 finals, held at the Wellington Bridge Club, ended earlier this week. Waikato Bays started well, and then Wellington had a good Sunday, going on to win with strong performances in all categories, with three second placings and one third place. Here's the NZBridge report. Press here:
Thanks to Jane Stearns for sending us the photo of the collective Wellington Region teams and captain, Nigel Kearney, who is on the right.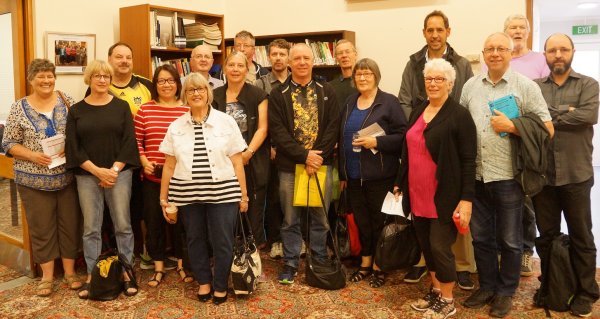 Local Tournaments
South Wairarapa held their Multigrade around the time of my previous update. Kathryn Gough was kind enough to provide me with a summary. An extract follows.
"We had a very successful tournament with 38 pairs coming to Greytown to play Bridge for the day! The 19 tables were made up with 28 Junior players, 32 Intermediate players and 16 Open Players. We felt that the timing of our tournament being so close to Congress may have been the reason for the low turnout of Open players. On the other hand we were thrilled with the Intermediate and Junior numbers. We were very well supported by our own club (37 players) and our Masterton neighbours (25 players) Other players came from Palmerston North and various Wellington Clubs.
The popular winners were Margaret White, one of the top players from South Wairarapa and her nephew Butch Evans, a Junior player from Kapi Mana. The only tournament that Butch plays is our Multigrade with his Aunty Margaret. They are both extremely competitive... "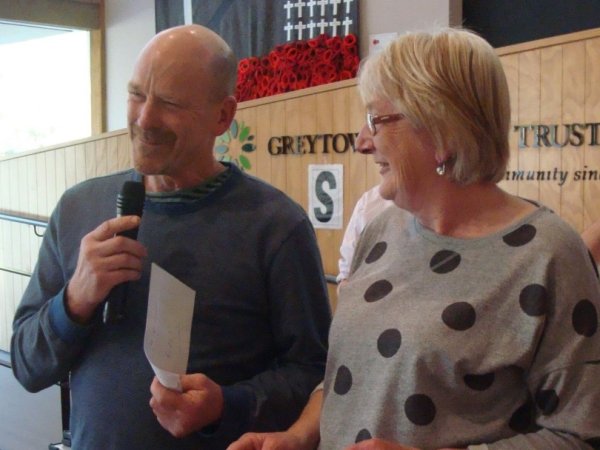 Butch Evans and Margaret White

Luke Kelly and Chris Bolland were second. Open partnership winners were Jill McLean and Barry E Smith (4th overall). Top intermediates were Marion Long and Diana Roseingrave( 7th overall), and top Juniors Frances Tacon and Cathy Penney (11th overall).
Multi Grade Time at Paraparaumu
The results from the Kena Kena Rest Home Multigrade Tournament at the Paraparaumu club featured many Paraparaumu players. Lynda Evans and Michael Stace were second overall (out of 44 competing pairs) and first in the Open/Other section; Alice Henke and Lois Anderson were first in the Intermediate section; and Barbara Mador and Lyn Berry were second in the Intermediate/Junior section. 20 of the 44 pairs competing had at least one Paraparaumu Bridge member. George Maclachlan and Anita Thirtle were the overall winners.
The Kairangi Bridge Club held a three night Open tournament over Labour Weekend, Friday to Sunday. This was a first as a new tournament for this long weekend, similar to the Wellington club's Suzanne Duncan Xmas Pairs. You can play any night or all three nights. Kate Davies and John Patterson, after a slow start on Friday, won the event, with Mindy Wu and John Wilkinson second.
The Wellington Main Centre Teams were held the following week. First of the 18 teams (Don't ask me how I know there were 18 teams!) was the Dravitzki team of Russell Wilson, Alister Stuck, and Sandy and Rod Dravitzki.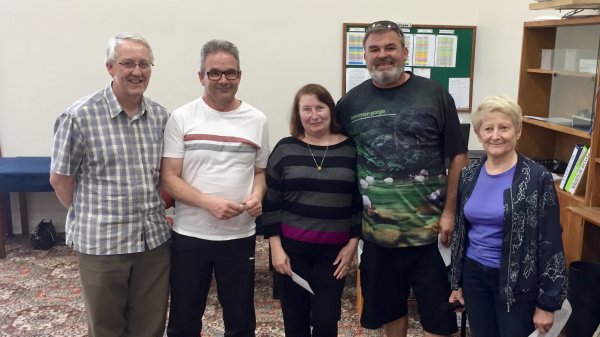 Main Centre Teams winners, Russell Wilson, Alister Stuck and Sandy and Rod Dravitzki along with
Regional Secretary, Joan Waldvogel.
There was also a prize for the highest scoring team with a total of 750 or fewer rating points. The winning team members here, and 10th place overall, were Phil Revell, Ruth Brucker, Tani Blackburn and Nan Wehipeihana.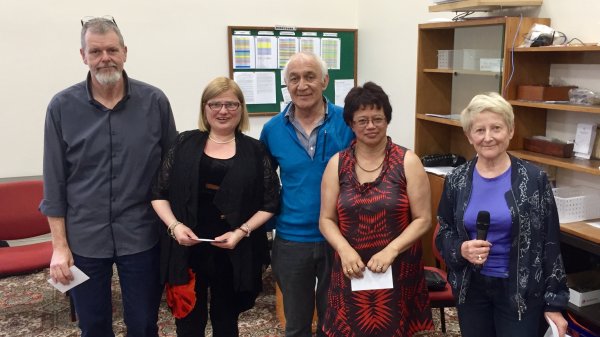 Phil Revell, Ruth Brucker, Tani Blackburn and Nan Wehipeihana, and, once more, Joan Waldvogel
Another Multigrade, this time at the Upper Hutt club. Peter Benham and Graham Potter (OI) were first, Phil Revell and Maciej Szczesny (OJ), and John Joseph and Ian Fowler (II), were second and third. Peter and Dorothy Drake (JJ) were the top Junior - Junior pair. (You should now be able to decode the OI, OJ and similar!)
While not qualifying as a local tournament, the Babich New Zealand Wide Pairs had some locals achieve good results. Perhaps the most noteworthy prize was for the Top Pair below the Intermediate Grade. John and Margaret Bath, playing at the South Wairarapa Club, scored over 64%.
The Waikanae Intermediate and Junior Pairs were held on the 12th November. Alan Jennings and Alwyn Courtenay headed off 25 other pairs, with Mira Trifunovic and Graham Potter second. There was also a good turnout of 18 pairs in the Junior event. Anne Ricketts and Nicky Bradley were clear winners with two scores of 65%.
On the 19th November, Masterton held a Multigrade Teams tournament, where an "Open" Pair play their peers, while their, lower graded, teammates play their peers at the other table. As with the Waikanae Juniors, there was a very clear winner. The team in question had Chris Bolland and Luke Kelly featuring once again in the Wairarapa ( maybe passing through the rarefied air of the hill clears the mind and sets them up for good results? High altitude works for runners.) They played with Mira Trifunovic and Graham Potter as the "below Open" team. The team won all their six matches, with the lowest win being 13.3 to 6.7.

Rubber Bridge
The last regional update had Russell Dive and Anthony Ker about to defend their title in Hamilton. Sadly, it wasn't to be a repeat performance, with Richard Solomon and partner, Carol de Luca, seeing them off in the quarter-finals.
Interclub Finals
We've got through another year of the much enjoyed Interclub competition. Regulars, in the form of teams and individuals, came back to do battle again, settle some scores, and make new friends. Newcomers tried their chances, and if past history tells us anything, they are most likely to be back next year.
I won't repeat all the detailed results, which can be found at http://www.wellingtonregionbridge.nz/interclub.html. Look under the 9th round heading. Congratulations to the Annette Henry team, repeating last year's win in the Open grade. The Smith team from Masterton overtook the experienced Willcox team for the Open Restricted title. The Craanen and de Roo teams will collect the Intermediate and Junior trophies.
There were many other winners, as our organiser, Tony Sutich, went through permutation after permutation, such as matching some winning Novice teams against some not so winning Junior teams, and setting up Plate and other events. There were therefore challenges for all teams. Many teams ended up in a tight group, competing against three or so equally performing teams over the final three months. What more could a bridge player hope for than such a competition: evenly matched fields, 24 boards in two sets of twelve, once a month, on a Friday night?
Once again, Vil Gravis prepared some detailed notes on interesting hands of the final night. These are aimed at Intermediate and Junior players, and can be found on the above link at the regional website.