All News
Auckland News by Douglas Russell
Greetings from the "Big Smoke". As the weather turns less inviting, the appeal of spending several hours indoors with like-minded friends playing the game we love becomes even more appealing. Quite a light period for tournaments in the Auckland area, as a number of major events took place elsewhere. However, two names appear more the once on the winners' podium.
Back at the beginning of February, John Wang and Jeter Liu won the Franklin Open Swiss Pairs, and John later teamed up with Hank Ping to win Auckland's Bell Taylor Pairs; the Women's Eileen Taylor Trophy at this dual competition went to Steph Jacob and Linda Cartner. Also at Auckland, Steve Boughey and Matt Brown registered another victory for the extended Boughey clan at the Waitangi Day Pairs. Another dual winner was Cheryl Winsor (incidentally, Howick's first Grand Master – congratulations Cheryl), first with Neil Beckett at Orewa's 8B, and later at Papakura with Gina Hsu in their Open event. The latter club's Intermediate competition provided a first ever tournament win for North Shore's Jason Howard together with Hafizur Khan. Finally,a very popular win for Trudy Lange and Rachel Goffin at Howick.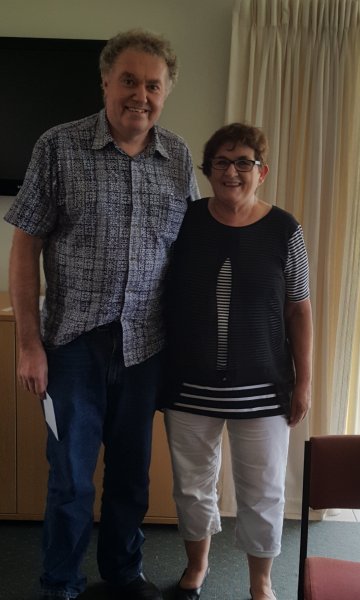 Orewa winners, Neil Beckett and Cheryl Winsor. Cheryl is
Howick Briidge Club's first grand-master.

In other bridge "goss", we were very sad to see the Auckland Club's Manager of the past 4 years, Deborah Tangney, depart on a well-deserved OE. Debbie leaves a Club in good heart, having introduced tablets for scoring and overseen the recent interior painting. However, we are delighted to welcome her replacement, Clare Wade. Clare comes with a strong background in business and membership organisations, and also accounting and HR. Clare has already shown her commitment to the Club and the game by enrolling in our Beginners' lessons.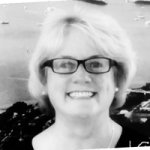 The new Auckland club
manager, Clare Wade.

As we are a bit light on other news, I thought that I would make some comments about teaching in the Auckland area and in general. Many clubs have recognised that a sound teaching programme is one way in which we might increase interest in the game and therefore sustain our memberships. Both individual clubs and the region through our local Bridge Mate, Jan France, have therefore put a great deal of effort into promotion of our game and its teaching, the latter through newspaper, radio and cinema commercials.
And this seems to be paying off. Not all clubs have begun their Beginners' lessons as yet, but those who have done so have seen a marked increase in interest. At East Coast Bays, for example, the 2017 class produced 38 new member applications. Meanwhile, at the Auckland Club Beginners' lessons have just begun, with no less than 57 joining the first class from about 70 who expressed interest. At the North Shore Club, Improvers' lessons have been running for 4 weeks, with an average attendance of 42. And many many thanks to all those teachers at all clubs who give of their time, often without any reward other than the satisfaction of seeing others get caught up in the fascination of this beautiful game.
As I have now been involved in teaching both Beginners and Improvers for over 2 years at two large clubs, perhaps I might offer some comments that others might find helpful. First, we often say by way of promotion that the mental stimulation offered by our game can be beneficial in staving off the onset of dementia – the "use it or lose it" argument. While this may be partially true, some recent research suggests it is also as much the social interaction with like-minded people that confers this benefit compared with, say, Sudoku or cryptic crosswords, which are very solitary pastimes, and we should maybe emphasise this aspect more forcefully in our publicity.
Second, let us be very clear who our audience is. Although we would very much like to attract younger players into the game, the indisputable facts are that the typical enrolees into Beginners' bridge classes are middle-aged, usually from a professional background, and often in a couple looking for something challenging to do together after retirement and reduced family commitments. At Beginners' lessons they hope to find out if Bridge fits the bill. This fact should inform our approach to teaching in contrast, say, with school or university students. In particular, we should be strongly aware that such people can get very frustrated when they "don't get it" – they think "I have been a successful lawyer/doctor/company CEO – how come I am having such difficulty with a mere game?"
For this reason, in the initial stages in particular our approach to teaching is much more important than the detailed content. Thus we might not introduce what most of us would think of as superior methods, and instead opt in favour of simplicity and consistency. In this way, we are more likely to retain the interest of waverers while giving the more committed enough of a taste to recognise that the game is truly fascinating.
A good example of this approach is responding to an opening of 1NT. Virtually all seasoned players would have some system of Stayman plus transfer bids in their armoury. However, beginners have enough difficulty bidding the suits that they do have in a sensible way, as opposed to artificial bids like 2♣ or transfers. One of the happiest outcomes of teaching the simple "take out into a 5-plus card suit at the appropriate level with an unbalanced hand" as per the NZ Bridge lessons arises when the more perceptive learners see the holes in these methods; "how do we locate a 4-4 major fit?", for example, or "what do I do with an invitational hand with a five-card major?" That is the time to say "stay tuned!"
Well, after that little sermon I thought that I would ask that feline curmudgeon Biritch the Russian Blue for his thoughts about the teaching of bridge. Not surprisingly, he is of the opinion that you either have it or you don't, and that all the teaching in the world will not make a silk purse out of a cat's ear. However, Biritch himself will only use a very simple and natural system, and does not have much time for over-sophisticated methods; in a more helpful moment, he said "teach 'em something basic and give 'em plenty of time to absorb this thoroughly before moving on." Amen...or as Biritch might say...purrfect.