All News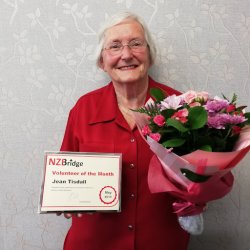 Jean Tisdall - Oamaru.
This month's Volunteer is a committee member at the Oamaru Club who frequently does that bit more. Over then to Frances Sheehy, the Club President:
"On behalf of the Oamaru Bridge Club, I would like to nominate Jean Tisdall for Volunteer of the month.Jean is on our committee but she goes that extra mile. Apart from running and organising our Teams events for the year,Jean sorts out the programme for the year and looks after our bronze division.
A week before the start of bridge for the year she phones all our bronze division players and invites them for a wine and cheese evening and encourages them to bring their programme with them so they can fill in their book for the year with partners. This is very successful as it gets them all playing each week. I went along to this evening on a Monday night and would estimate that 90% of our Bronze players took this offer up. So another successful year for the Oamaru Bridge club, thanks to Jean."