All News
Otago-Southland News with Moss Wylie
Freeland Team Blitz Winton Open Teams.
April 14th saw 10 teams compete in the 5A Winton Teams. Only one local team took part. However, the local club put on a good spread of tasty treats. Paul Freeland- Margret Perley and Arleen Schwartz with Chis Ackerley led from start to finish winning with a round to spare. Bradley Johnston's team, also from Dunedin, came 2nd. Greg Buzzard earned the rank of Grand Master after his team finished 3rd. Well done Greg on achieving this milestone.
Big Weekend In Invercargill.
The ILT Murihiku Teams and Pairs were held April 28/29th. The Licencing Trust generously sponsored Invercargill's premier tournament. A hearty lunch was provided both days through their generosity along with good prize money. Craig Rogers did an excellent job of directing both days.
11 teams (5 Invercargill, 4 Otago, one each from Gore and Queenstown) played the12 board, 5 round Swiss on the Saturday. The bridge was competitive with the top teams battling hard for the honours. Vicki Bouton/Brad Johnston and Sam and Glenn Coutts had a strong finish to knock the Freeland team (Winton victors) from 1st to 4th with a 19 imp win. This allowed Moss Wylie/Bruce Batchelor and Geoff Eyles/Harry Shepherd an easy win. Vickie's team took home second prize, with Kevin Farnden/Wyn Jones and Donna Ruwhiu - Kristen Collins round out the prize list in 3rd.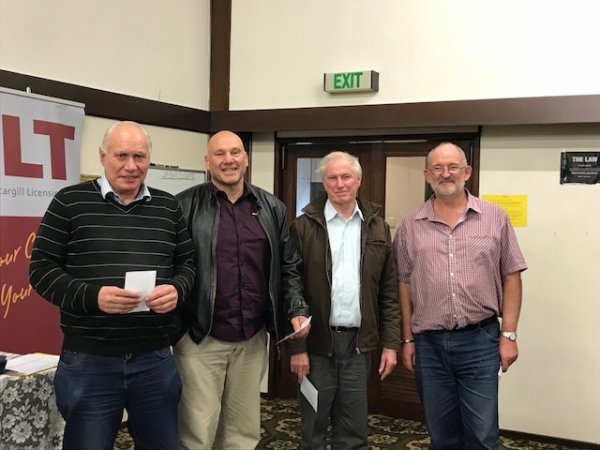 Teams winners in Invercargill: Bruce Batchelor, Moss Wylie, Geoff Eyles and Harry Shepherd....
24 pairs play 60 boards over two sessions on the Sunday. Kevin Skoropada paired up with Anne Somerville to romp home with 68% in the second session. Murat Genc and Arleen Schwartz finished a distant 2nd. Third place went to ever present pair Jean-Oliver Begouin and Ernie Sutton of Queenstown.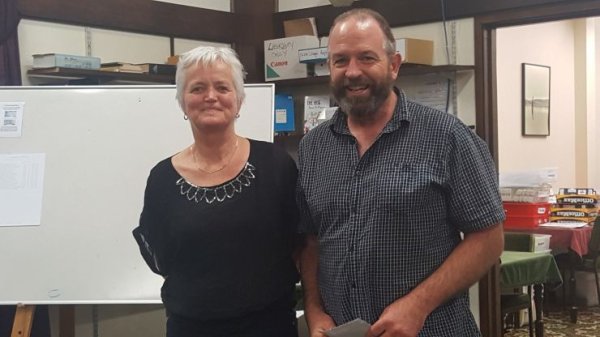 and Pairs winners: Anne Somerville and Kevin Skoropada
Inter-Provincial Trials a Non-Event
May 12/13th saw 16 pairs take the opportunity to represent their region in the Teams Championship to be held in Auckland at the end of the year. A round robin consisting of 7 board matches was used to decide the Open, Senior and Women's team. It is my opinion that a trial should be a trial. Firstly, 7 board matches are a farce. 12 board rounds are a minimum to get a fair result against opponents. One board in a 7 board match can swing the whole match by 8 vps either way. Secondly, it doesn't make sense for Open contestants to trial against Senior and Women due to the random results that occur. Top players struggle in mixed fields when they play good bridge only to be robbed by opponents who, for example, bid a slam making on four finesses. The question must be asked why many of the top Otago Open players don't trial under the present format. Personally, the trial is two days of uncertainty.
The good news is that Paul Freeland is now to be on the Regional Committee. Hopefully, he may be able to improve the methodology. The successful pairs from the trials were:
Open: Phillip Hensman-Hamish Ryan and Sam and Glen Coutts
Women: Kristen Collins- Donna Ruwhiu and Anne McGregor- Marilyn Jackson
Seniors: Lorraine Peacock- Marilyn Noye and Dennis McCaughan- Michael Atkinson
The Intermediate trial was held on May 12 with Darrell Sidon-Theo Jordens and Pam Hodgkinson-Judy Russell successful out of the 10 pairs trialling.
Te Anau Proves Popular
A widespread contingent of bridge pairs descended on Te Anau on May 19th for their annual Open B tournament. 17 tables packed the bowling club room for the 50 board affair. Proceedings started with a welcoming morning tea and finished with supper supplied by the locals. Hamish Ryan (Queenstown) continued his good form with Annette Fea to win comfortably. Ron and Diane Evans of Winton were 2nd with Invercargill pair, Debbie Cooper - Kate Ramsay 3rd.