All News
Top of The South News with Jenny Pomeroy
The last couple of weeks have seen a good few records broken (and not the only thing broken!) in Top of the South. The Inter Provincial Trials hosted once again by Marlborough had 8 ½ tables of hopefuls in the Intermediates; plus a stand in pair (thank you Christine Holdaway and Neil Burrell) to avoid a phantom. I believe that TOTS was tops for trialists! And Kaikoura were tops in TOTS with 7 trialling, the highest per club membership. (Chris Marshall has worked out that if every club put up the same numbers of trialists per member we would have had 58 tables!)
While the Intermediates battled it out on one side of the room, the Women, Open and Seniors did battle on the other. Some closely fought contests across the weekend with the following going to represent our region in Auckland at the end of the year:
Open
| | |
| --- | --- |
| Robin Young and Carolyn Wood | Marlborough |
| Peter and Jenny Story | Kaikoura |
Senior
| | |
| --- | --- |
| Maurice Carter and Jim Jessep | Marlborough |
| Steve Gray and Lindsey Guy | Nelson |
Women
| | |
| --- | --- |
| Freda Herring and Jocelyn Wallace | Westport |
| Sherryn Malthus and Lynette Eden | Nelson |
Intermediate
| | |
| --- | --- |
| Thomas Pyatt and Peter Bone | Nelson |
| Wayne Smith and Stuart Grant | Westport/Kaikoura |
Both Wayne and Stuart lost their partners to Open Grade and so have joined forces. (Stuart's regular partner Pam Whitehead is Kaikoura's first Open player – go Pam.)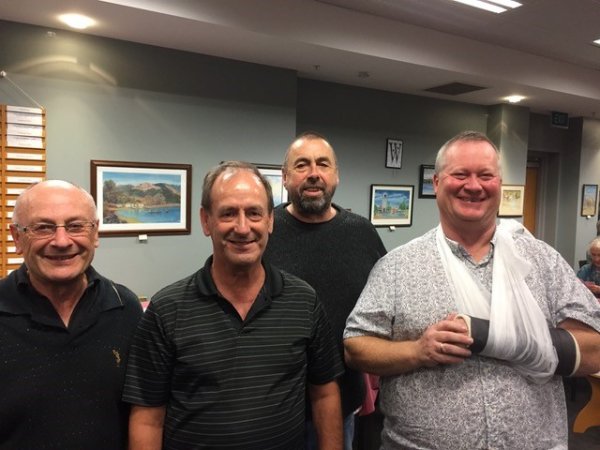 The successful Intermediates: Stuart Grant, Tom Pyatt, Wayne Smith Peter (broken!) Bone.
The following weekend Kaikoura hosted a fabulous weekend with their 8B on the Saturday and Interclub Intermediate and Junior Competition on the Sunday. A record (surely this is a record) 33 tables for the 8B. Calmly and ably directed by Craig Shanahan. We were a bit noisy at times! I am quite sure that the road being open and the interclub the following day helped draw the crowds, but the main reason for such a turnout is that Kaikoura put on such a great weekend! A brilliant set up, we were fed and watered well, and on the odd occasion that your mind might have wandered from the cards, we were blessed with a wonderful view over South Bay. It was a huge team effort from the whole club. 33 tables for a club of less than 40 members: WOW. It was the first outing at a tournament for many; I am sure they got the bug. It was a lovely introduction.
A "WOW" WEEKEND AT KAIKOURA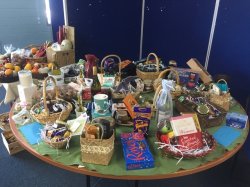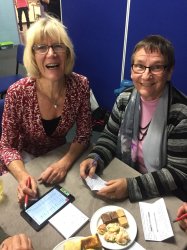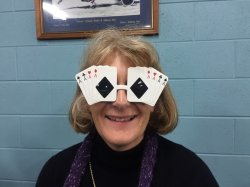 So many raffle prizes Pam Whitehead and Jenny Cooper, with her raffle prize
Carolyn Wood..just having fun.

The top positions were:
1st Peter & Jenny Story
2nd John Fechney & Maurice Carter
3rd Adrian Abraham & Rebecca Osborne
The following day saw the Intermediates and Juniors from 8 clubs battle it out in their own grades for a combined score to take out the TOTS Interclub title. It was close to the very end. At the start of the last round there was less than 5VPs separating the top 5 teams and only 0.02VPs separating 2nd and 3rd, all of which added to the excitement.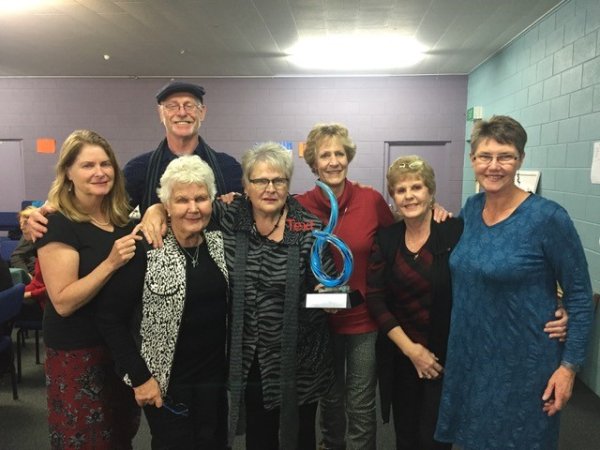 The winning Nelson team: Helen Barker, Barbara Liebezeit, Mike Fitzsimons, Bee Campbell, Anne Shearer, Lesley Rogers and Val Fitzsimons (absent Steve Aitken).
Nelson's consistency, 3rd in both grades, led to their overall win. For many of the Juniors it was their first exposure to Teams play. Even travelling away to a tournament; they'll be back for more. The combined duo of Ed Roggeveen, director and Chris Marshall, scorer, plus Kaikoura's hospitality and organisation made for a fantastic, friendly but competitive day. Everything a weekend of bridge should be. Thanks.
OTHER TOURNAMENT NEWS
Motueka Intermediate Pairs in early May was also a sell out crowd. 16 full tables calmly directed by Helen Robinson, with players from across the region plus Ashburton and Kapi Mana Club. Stuart Grant and Wayne Smith took out top honours (setting them up nicely for the following weekends IP Trails); Lesley Pincombe and Claire Welch second and home duo Janet Howell and Chris Sutton came in 3rd. A special mention to Sandra Smith and Monique Wightman who had a cracking afternoon winning the N/S section.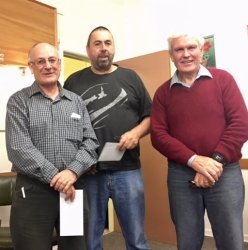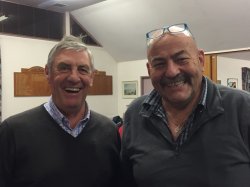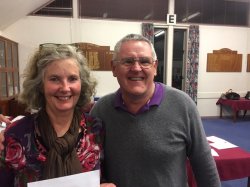 Motueka Intermediate winners, Stuart Grant Hearts winners at Nelson: 3rd in the Nelson Diamonds Grade were
and Wayne Smith with club President, Kevin Hill and Wayne McCoy Anne Baker and Chris Henry
Phil Donaldson.
Nelson's 5A on 9 June also had a great crowd. 22 tables, ably directed by Jo Price, who enlisted her husband, Alan as a caddy, helper and general gopher. Top prize to Barbara Fechney and Robin Young but smiles across the board for the winners and placers in all 3 grades:
| | |
| --- | --- |
| Spades | Hearts |
| 1st Barbara Fechney Robin Young | 1st Kevin Hill and Wayne McCoy |
| 2nd Pamela Dravitzki and Sheila Beggs | 2nd Glenys Tyler and Wendy Coburn |
| 3rd Ray Cannell and Toby Gordon | 3rd Jill Ireland and Jo Gear |
| 4th Carol and Roger Minchin | |
| | |
| --- | --- |
| Diamonds | |
| 1st Doug Sarkies & Robyn Gordon | |
| 2nd Allan Mulligan & Kathy Mardon | |
| 3rd Chris Henry & Anne Baker | |
Some more Nelson successes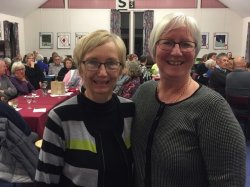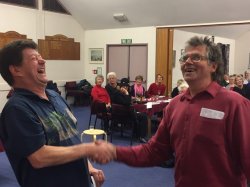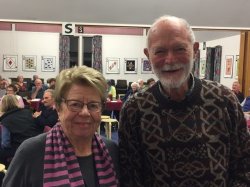 Glenys Tyler and Wendy Coburn Toby Gordon and Ray Cannell Carol and Roger Minchin
They look pretty happy with their result... .....and so do Carol and Roger

St Johns Charity Tournament Richmond
$1230 was raised for St John's Youth on 6 May by Richmond (and Nelson) bridge players. In their annual event Richmond Club hosts an afternoon of bridge for which the St John's Youth prepare, serve and clean up the afternoon tea. Table fees, bar profits, raffles, donations and on this occasion sale of eggs all go the St Johns kids. Good on them – they are competing in a regional and national event and will use the money towards their travel costs. They did it brilliantly and we the players had a very relaxed afternoon. Winners on the day were St Johns themselves: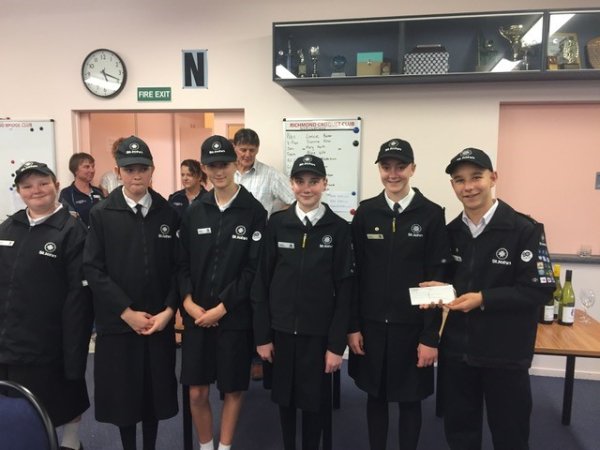 The hard workers at Richmond
Other News
Lessons are underway across the region, 15 learners in Westport, 14 Kaikoura, 8 in Golden Bay (including Zoe (12) and Paige (10) Langford, whose father Simon has been playing for 6 years), 18 in Nelson and a number in Richmond. Kaikoura's Izzy Green and Rosemary Hargreaves who only learnt last year have just won their Monday Tournament – outright. Top effort.
Golden Bay are at last nearly in their new premises; lessons are already being held at the recently opened Rec Centre and club sessions will shift at the start of July.
High scores abound in Marlborough with Viv Murray and Julita March leading the way with 76.15%, and both Ed Roggeveen and Alison Graham and Tony Oberdries and Chris Henry have 75% to their names. Marlborough Club Champions for 2018 are Maurice Carter and Jim Jessep, senior players with plenty of successes over the years, but this is the first Club Champ win as a partnership. Elva Adams and Kathy Dowling came 4th overall and took out the newly created Intermediate Championship. Marlborough have also purchased Bridge Tabs in preparation for the South Island Pairs, 20A in Picton on 7 & 8 July.
and finally our TOTS Champion League Leader Board………….positions:
Westport's Wayne Smith continues to dominate the Intermediate Grade, while the Hebberds, Ron and Shirley from Marlborough are joint leaders of the Junior Section. However, at only half way through the year and plenty of tournaments ahead, there is still everything to play for.