All News
Top of The South News with Jenny Pomeroy
Tournaments abound at this time of year and over recent weeks we have had two of the bigger ones. Picton hosted the South Island Pairs on 7th July and most recently, Sunday 12th August, Richmond Club hosted the Howorth Cup, Top of the South's Interclub. (The South Island Pairs was covered by a special report on this website.)

The Howorth Cup has been on the go in one form or another since 1956, when Mickey Howorth, a member of the Victoria League of Marlborough Bridge Club, donated the cup for an inter-club competition in the Seddon Shield Districts. All nine clubs in Top of the South entered this year; it was a delight to have the recently affiliated Greymouth Club on board. Competition was tough, with little in the top placings throughout the day.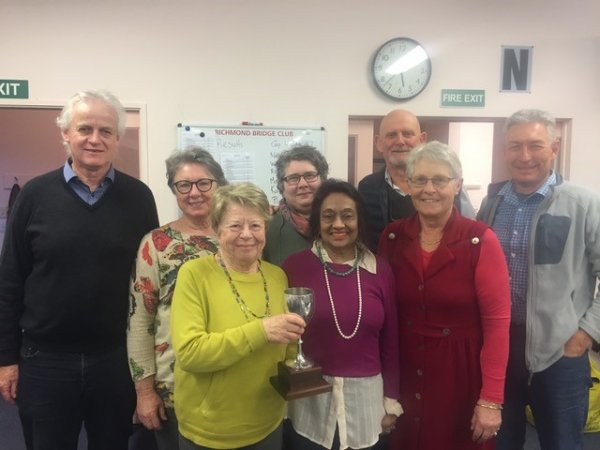 Congratulations to the Nelson Teams of Adrian Abraham, Susan Hinkley, Carol Minchin, Rebecca Osborne, Sita Monaghan, Tony Hinkley, Lindsey Guy and Steve Gray on winning the 2018 Howorth Cup, with Westport 2nd and Richmond 3rd.

Richmond's Hello World Swiss Pairs took place the day before. Full house with 48 pairs. Swiss Pairs is always a popular format and the travellers enjoyed making a weekend of it. Congrats to:
Spades:
1st Carolyn Wood & Robin Young (1st overall)
2nd Maurice Carter & Tony Oberdries (2nd overall)
3rd Steve Gray & Lindsey Guy (3rd overall)

Hearts
1st Chris Marshall & Lynn Callaghan (4th overall)
2nd Ruth Allison & Steve Aitken (6th overall)
3rd Linda Dow & Raewyn Taylor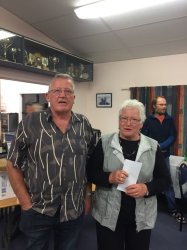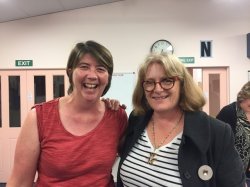 Lindsey Guy and "electric" player, Chris Marshall and Lynn Callaghan Jenny Pomeroy and Jenny Cooper, 1st in
Steve Gray, 3rd in Spades. winners of Hearts Grade Diamonds Grade


Diamonds
1st Jenny Cooper & Jenny Pomeroy (5th overall)
2nd Ann Shearer & Helen Barker
3rd Margaret Marshall & Lesley Pincombe

Clubs
1st Sue Glue & Michelle Gunn
2nd Valerie & Mike Fitzsimons
3rd Cliff Jones & Margaret Waterman

Top in Clubs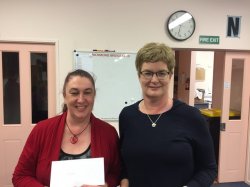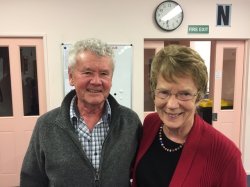 Michelle Gunn and Sue Glue Mike and Valerie Fitzsimons Cliff Jones and Margaret Waterman

Special thanks to Ed Roggeveen for his superb and calm directing of the whole weekend, the Richmond Club for hosting, the dealers who had a late night on Saturday (Swiss on Saturday, Teams on Sunday = a lot of boards!) and Steve Gray for his tireless contribution, organisation and on this occasion his role as club electrician!
Motueka's Margaret Tally Open took place in Riwaka School on 30 July, again a great turn out, 46 pairs. Pam Dravitzki and Kathryn Brookes had a spectacular morning session, 75.82%, which put them as firm favourites. They delivered, coming second in the Howell section with 59.17% and taking the day as clear winners, 3% ahead of Adrian Abraham and Sheila Beggs. Congratulations also to Caroline Gatenby and Julia Armstrong who won the Clubs section and were 8th overall.
1 Spades Pam Dravitzki & Kathryn Brookes

2 Spades Adrian Abraham & Sheila Beggs
3 Spades Ruth Allison & Sita Monaghan
1 Hearts Tony & Susan Hinkley

2 Hearts Steve Aitken & Celia McKechnie

3 Hearts Toby Gordon & Judy Honeybone

1 Diamonds Mary Hamilton & Vicki Adnams

2 Diamonds Jude Edmondson & Suzan van Wijngaarden

3 Diamonds Anne Cegarra & Mary McCallum

1 Clubs Caroline Gatenby & Julia Armstrong

2 Clubs Alex Rutherford & Alan Mulligan

3 Clubs Barry Simpson & Clive Thomas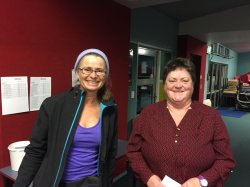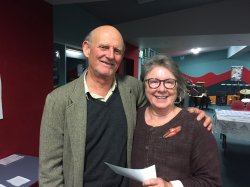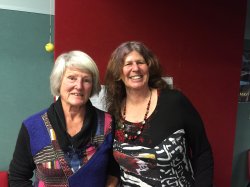 Pam Dravitzki and Kathryn Brookes Tony and Susan Hinkley Mary Hamilton and Vicki Adnams
Spades Grade winners Top of the Hearts Grade They won the Diamond Grade.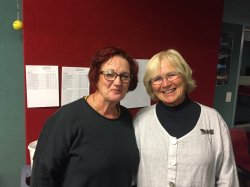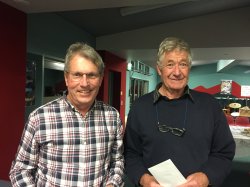 Caroline Gatenby and Julia Armstrong Alex Rutherford and Alan Mulligan Barry Simpson and Clive Thomas
(the three successful pairs in the Clubs Grade.)
20 Pairs battled it out at the Nelson Juniors on 30th June. Won by Marina Gosnell and Cindy Holden, which was a fitting farewell for Cindy as she & her husband head off to Darwin for 5 years to be closer to family.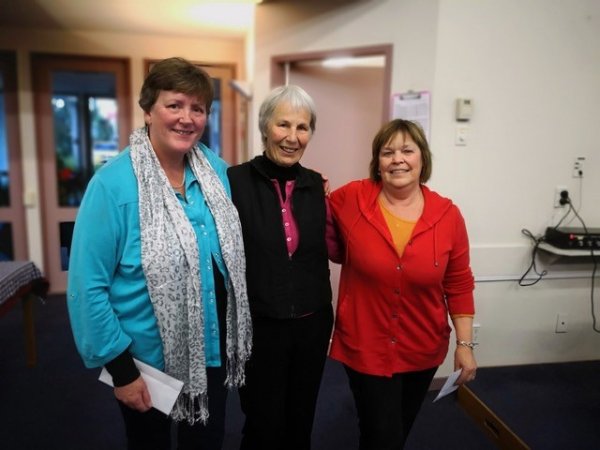 Cindy Holden, Helen Robinson and Marina Gosnell.
and 23rd June Richmond's NBS Open Tournament. A smaller turn out on this occasion, which made for a very relaxed day.
Spades
Robin Young and Carolyn Wood

Adrian Abraham and John Penny
Jocelyn Wallace and Freda Herring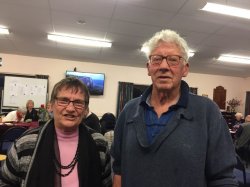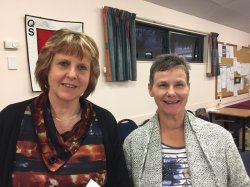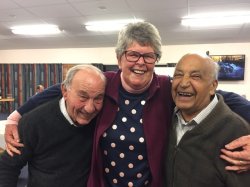 Carolyn Wood and Robin Young Vicki Russell and Jane Worthington Geoff Sutton and Doug Sarkies with Lyn
1st in Spades. 2nd in Hearts Carrodus. Geoff had the start time wrong.
Lyn was on hand to fill in.

Hearts

Ruth Allison & Celia McKechnie
Vicki Russell & Jane Worthington
Wayne Smith & Richard Parkinson
(Wayne's partner was sick so Richard flew in for the day! Thanks Richard)
Diamonds
Karen Daly & Tad Krogulec
Allan Mulligan & Steve Aitken
Peter Bone & Tom Pyatt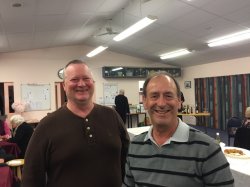 Peter Bone and Tom Pyatt,3rd in Diamonds
Other News
Golden Bay are finally in their new club rooms at the Golden Bay Shared Facility, and marked their first night with a fun night which saw a couple of out of towners make the journey over the hill to be part of it.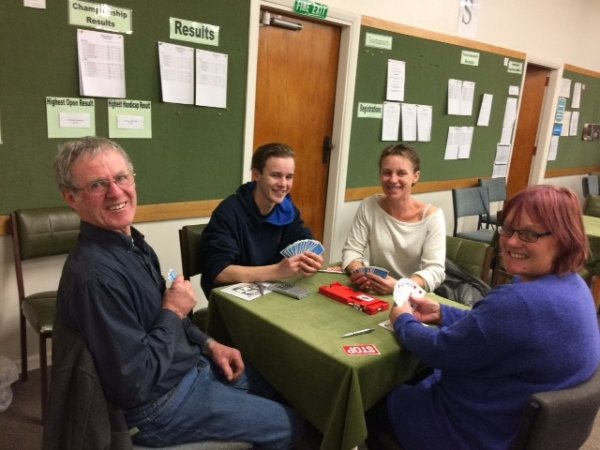 Three generations at Motueka - Malcolm McLeod, Sebastian and Katrina Mataric, along with Maxine Carrington.
Motueka for the first time ever have three generations of one family playing – Malcolm Macleod and daughter Katrina Mataric and grandson Sebastian Mataric.Last year father and daughter Malcolm and Katrina took out the club's Junior Championship.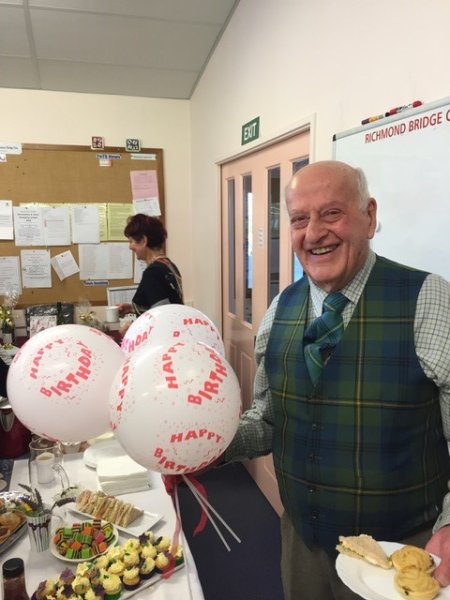 Ewan Johnstone, celebrating 90 years.
Richmond's Ewan Johnstone celebrated his 90th birthday at the club on 21st June. His daughters put on a lovely afternoon tea for us all. And the top spots are being fiercely contested in both the Junior and Intermediate Champ League tables, with Marlborough's Ron and Shirley Hebberd 1 point ahead of Nelson's Barbara Liebezeit in the Junior League and Westport's Wayne Smith on 40, 5 points ahead of Nelson's Steve Aitken in the Intermediate.