All News
Central Districts News with George McLachlan 1
Thanks to Allan Joseph (Wellington) and his able assistant Bryan Green (Levin) there could soon be a clutch of newly qualified Club Directors in the region. Candidates from New Plymouth, Hawera, Wanganui, Palmerston North and Levin have been meeting at the Wanganui club rooms for a series of tutorials during September/October in preparation for the written exam to be held at the end of October. Allan and Bryan have invested a tremendous amount of time in preparing these lessons and all candidates have been highly impressed with the professional style in which the material has been presented. Many thanks to Allan and Bryan for making the meetings so interesting. Good luck to the candidates.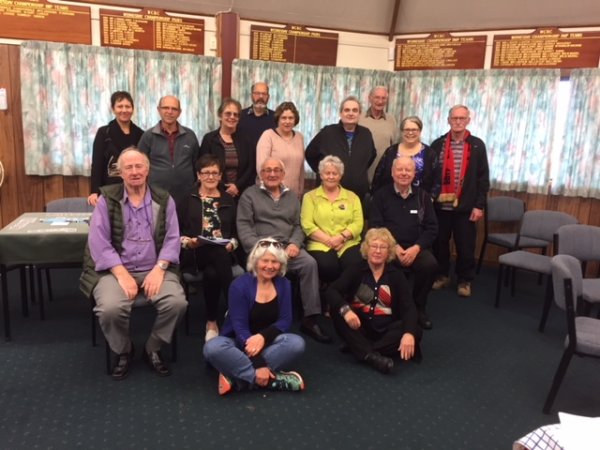 Director Training in Wanganui
The Palmerston North club held its annual "Spring Fling" fun day of bridge last month. Nobody remembers who won the bridge but everyone remembers the effort many of the players made in dressing up for the occasion. Second prize went to Frances Legg who looked every bit a witch . But the winner was an elegantly attired woman who turned out to be up-and-coming intermediate player Jack James. ..love the shoes, Jack..!
SPRING FLING PALMERSTON NORTH WAY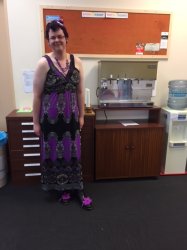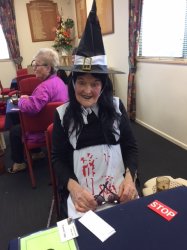 Jack James "witch for the day" Frances Legg
Hawera recently held a charity tournament in aid of St Mary's Church . The winners were brother and sister Malcolm McDonald and Valerie Cook.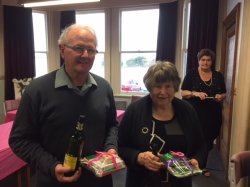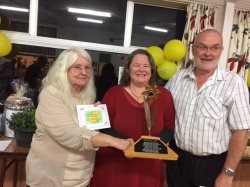 Malcolm Mcdonald and Valerie Cook Jan Whyte and Ken Bateman receiving their prizes from
the Cancer Society representative.

Hokowhitu club held the annual Daffodil Day tournament in August and a large field took part, as always. The cream floated to the top and Jan Whyte/Ken Bateman had a comfortable win.
NEW PLYMOUTH WINNERS (August 25th/26th)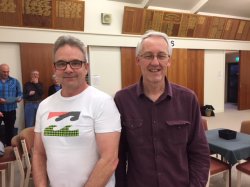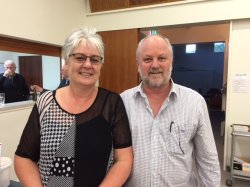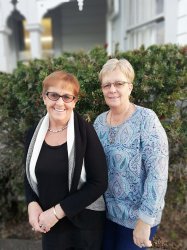 Alister Stuck and Russell Wilson, Sandra Calvert and Colin Carryer, Carol Mack and Jill Burroughs
Open Pairs winners Swiss Pairs winners Intermediate Pairs winners with a 62.5%
(winners of all 6 matches) average.

Winners at Levin Multi Grade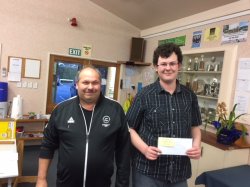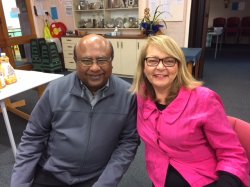 Mark Robson and Jack James Rowan Rewela and Janine Fenelon
(top Mixed Grade Pair) (top Intermediate Pair)
Other recent tournament winners include:
Fullarton Teams (New Plymouth) Alan Grant, Anthony Ker, Michael Ware, Tim Schumacher.
Gisborne 8B Open Pairs Jean and Robin Bennett
Hastings Open Pairs Scott Smith and Michael Ware
Waipukurau Swiss Pairs Charles Ker and Lorraine Stachurski
Palmerston N Open Swiss Pairs Charles Ker and Nigel Kearney
"Gold" and "Silver" at the National Congress

Many Central Districts players attended this year's National Congress. It was "Gold" for Alister Stuck who was presented with his Gold Grand Master Certificate while Russell Wilson has become a Silver Grand Master. Wanganui had nine players present including Steve Baron, now a Grand Master, who finished 9th in the New Zealand Pairs and Robyn and Don Nightingale who were runners up in the National Rubber Bridge tournament.
Other excellent results for Central Districts players at the National Congress were:
Congress Pairs 3rd Carolyn Yeomans and Jan Whyte
New Zealand Teams The following players all reached the quarter-final stage: Alister Stuck, Russell Wilson, Evelyn and Bob
Hurley while Wayne Burrows reached the semi-finals.
Intermediate Pairs 2nd Julian Herbert and Trevor Gane
Same Sex Pairs 1st Charles Ker
Point A Board Teams 2nd Charles Ker
Restricted Swiss Pairs 2nd Gayle Leader and Morgan Booker
Congratulations also to Philip Beale who has also become a Grand Master.