All News
Babich Wines New Zealand Wide Pairs winners
Celebrating Their Success
Here is a chance to see those who were successful in this year's Babich Wines New Zealand Wide Pairs celebrate their success. First up, the overall winners, Brett Glass and Gary Foidl who led the way with their great score of 73.61%.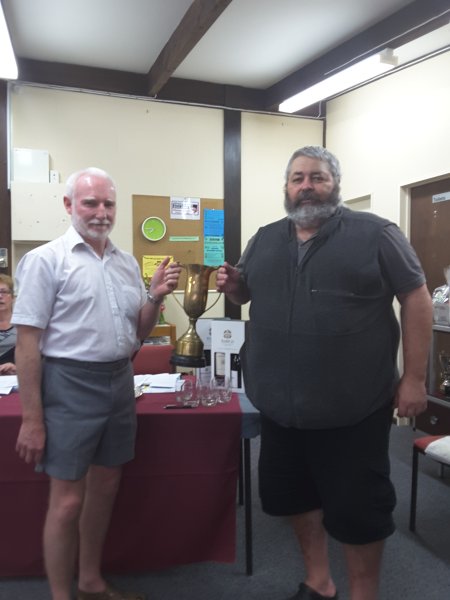 Brett and Gary with the event trophy.
Just behind Brett and Gary were Upper Hutt's Linda Bitchener and Charles Anderson. Apparantly, they were not going to play in the event but agreed to fill in at the last minute to avoid the club having a phantom. To add to the joy of their success was the fact they had never played together before! 71.99%. Not bad for a first effort. Maybe they should have a few more games after that score....although they are unlikely to improve on their first attempt!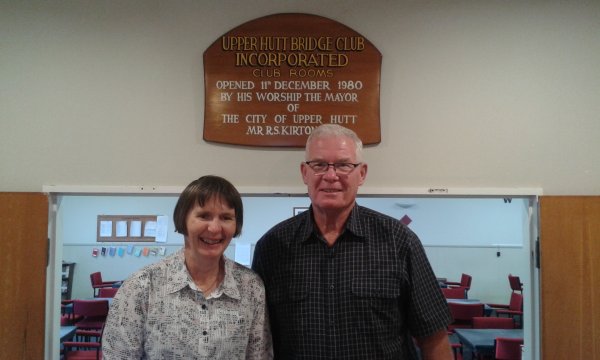 Linda Bitchener and Charles Anderson...71.99% on debut!
71% for third place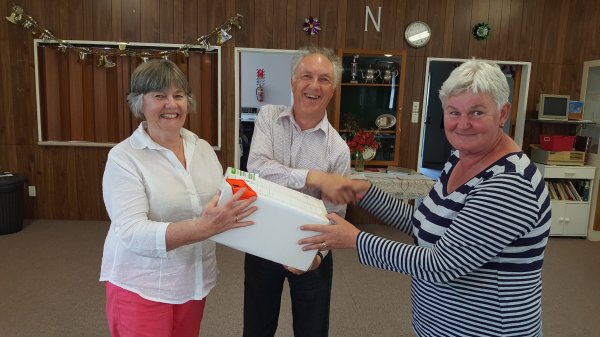 71.38% is a pretty good session score but it was only good enough for 3rd place. Here, Anne Baird-Horner
and Tim Horner receive their wine from Otaki committee member,Jo Cairns (right).

Meanwhile, at Thames, Jena Robinson and Alex Barshai had played for many years together in this event. They were delighted this time to score 69.66%, a score which saw them finish in 4th place overall.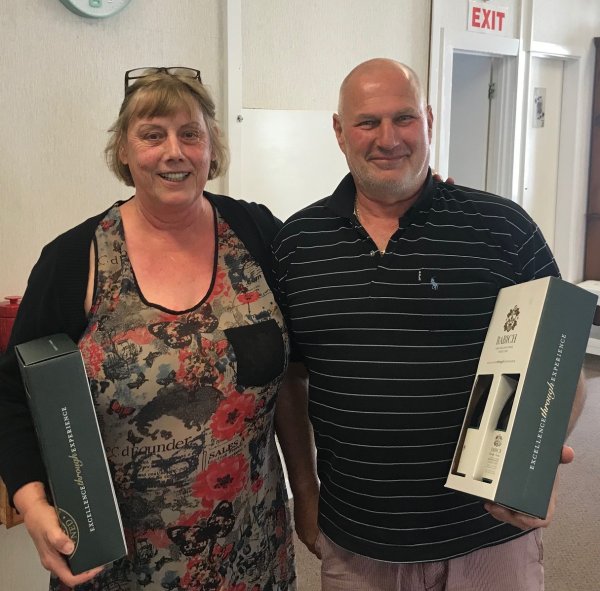 Jena Robinson and Alex Barshai, Thames
and in 5th place with 69.58% were Royle Epsom's Kinga Hajmasi and Andrew Michl: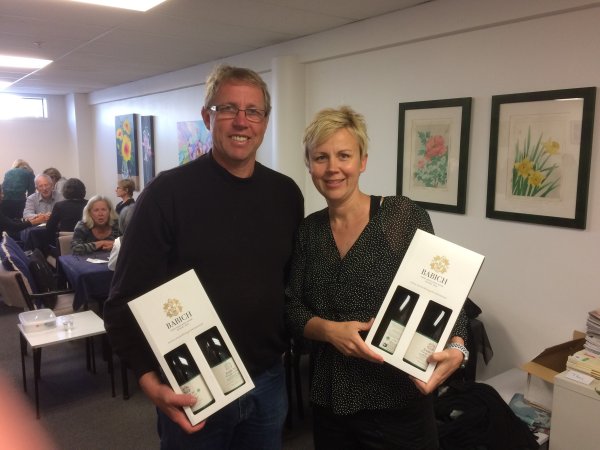 Andrew and Kinga
TOP BELOW OPEN PAIRS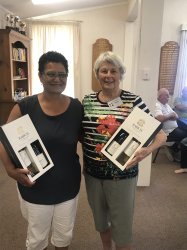 A nice setting near Kaikoura for Anne Grant Sabrina Peters and Estelle Cashmore
and Lynne Anderson to enjoy the rewards of their armed with their prizes after scoring
68.72% round. 67.51% at Thames.

Extra Below Open prize awarded thanks to Pianola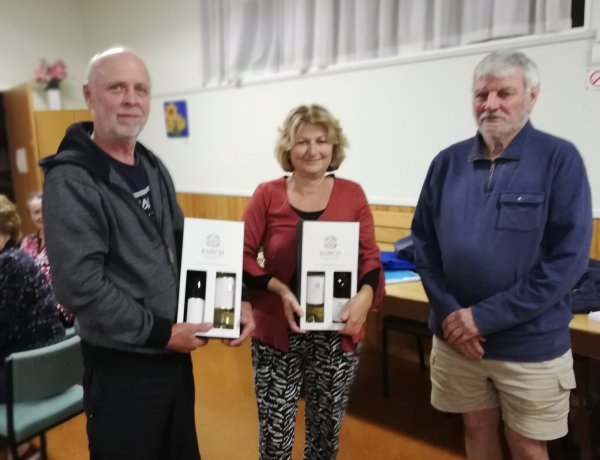 The Waiheke Bridge Club was the setting for Barry and Sue Belin to score 67.48%. Barry and Sue
have had strong connections with that club (as well as East Coast Bays) in recent years but
have moved north and are now helping a small club at Mangawhai Heads where Sue, a qualified
director,is teaching and running the club. Here they are featured with Bill Adams from the Mangawhai
Club. Bill is the son of the late Lindsay Adams, former Editor of New Zealand Bridge Magazine.

JUNIOR PRIZES .....and the most average.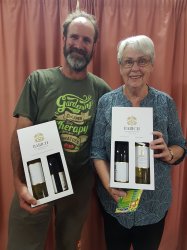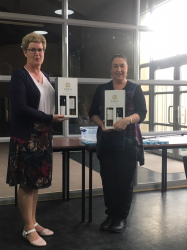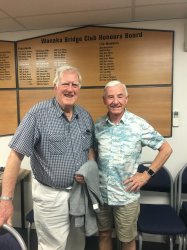 Top score by a Junior pair was achieved A touch under 60%, 59.97%, for 49.97% was the closest score to 50%,
by Toby Schweikert and Lesley Keuning Sue Glue and Michelle Gunn who achieved by Dennis Pezaro and John
at Taihape, an excellent 60.29% played at Greymouth. Hogg (above) at Wanaka and
Pat Cantrell-Pary and Walt Crawshaw
at New Plymouth. They too received
Babich wine.

We hope everyone enjoyed this event, which went nationwide...well, almost. All seven regions were well represented though there was one area almost unrepresented. Next year, it would be lovely to see at least one club from the Bay of Plenty. We had a heat at Rotorua but not one down the coast from Waihi to Whakatane. They love their bridge in these parts. We hope they might join in this event, help raise something in the region of $8,000 for New Zealand Bridge Foundation and have fun in the process. Until November 1st 2019....
Richard Solomon