All News
Auckland News with Douglas Russell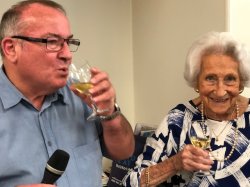 Welcome back to our wonderful world of bridge; Biritch the Russian Blue and I both wish you a Happy New Year, and a successful 2019. Read on and see for whom the birthday celebrations at the Auckland Bridge Club were for.
Despite the summer break, there seems to have been quite a bit going on in the region. Way back in October, our newly crowned Gold Grand Master Steve Boughey teamed up with Blair Fisher to take Auckland's Wes Dodd trophy, and later on in January with Andrew Tarbutt at Waitemata; on the same day, local club members Heather Jack and Ira Turvey won the Intermediate section at North Shore, with compatriots Andy and Chris Coon running out Junior winners.
As always, early November featured the Babich Wines-sponsored New Zealand Wide Pairs; Kinga Hajmasi and Andrew Michl were top in our region, finishing 5th overall nationwide. Later in the same month, Johanna Perfect and Hamish Brown won the Open section at Orewa, with Alec Isaacs and Hafizur Khan taking the honours in the Intermediates. Hafizur later paired up with Rosemary Jackson to win the Hibiscus Intermediate, where the Open winners were Peter Green and Chris Mold.
The ever popular Auckland Inter-Club ended with North Shore, Franklin and Auckland Club taking the honours. In the 16 team Junior section, North Shore Cardinals won by over 42vps, in the process scoring about one third more vps than the second placed team. Congratulations to Terrey and Ken Durbin, Adrienne Reid, Brian Murfitt and Chris and Andy Coon. Franklin's Intermediate team had a nervy final night but won their 22 team section by 3 vps. Congratulations to Kevin Birch, Linda Thornton, Roni Bistricer, Julie Quilty and Darren Old. Meanwhile Auckland Palmer took their honours in the 9 team Open section by about 18vps, the winners being Barry and Glenis Palmer, Julie Atkinson, Patrick Carter, Mark Robertson and Sylvester Riddell. This is a first rate event every year and a great credit to its organisers and directors, Tony Morcom and Peter Bowyer. The 2019 event starts on Friday March 9th. Make sure your club enters teams.
Our newest Senior International, Malcolm Mayer, also had a pair of wins, first with Owen Camp in November's Auckland Thursday tournament, and later with Duncan Badley winning comfortably all three sessions at the Auckland 3-nighter sponsored by Babich Wines. The other of the very popular holiday 3-nighters at Papatoetoe was won by Geo Tislevoll and Tony Jiang.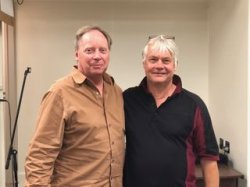 Malcolm Mayer and Duncan Badley, first
winners in 2019

In November, Alice Young and Kevin Hsu prevailed in the East Coast Bays Restricted, with the Waitemata 3A going to George Sun and Gary Chen, and the simultaneous 5B to Heather Robertson and Ming Hi. The Interprovincial Championships at the Auckland Club were probably the biggest event of this period. Auckland and Wellington shared the four divisions, with the former taking the Womens and Seniors and the latter the Open and Intermediate. However, Wellington had the better of their other placings, and ran out overall winners to retain the Dougal McLean Trophy.
WINNING AUCKLAND-NORTHLAND INTER-PROVINCIAL TEAMS IN 2018

THE SENIORS THE WOMEN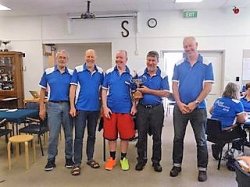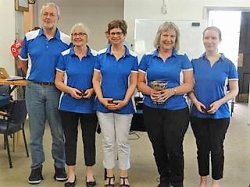 Douglas Russell (chef de mission), Barry Palmer, Douglas Russell, Linda Cartner, Glenis Palmer, Carol Richardson
John O'Connor, Neil Stuckey and Peter Hensman and Andi Boughey

Fancy Dress at Akarana...but was there singing too?

The Akarana Christmas party was a jolly affair, with many entering fully into the Christmas spirit and dressing the part. For the second year running Kinga Hajmasi won the best-dressed award (pictured here receiving her session prize with Andrew Michl). However, Richard Solomon won the biggest round of applause when he declined to join Pamela Nisbet in a duet on receiving their overall winners' prize.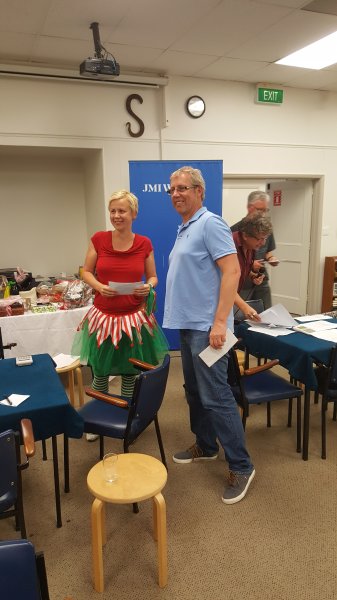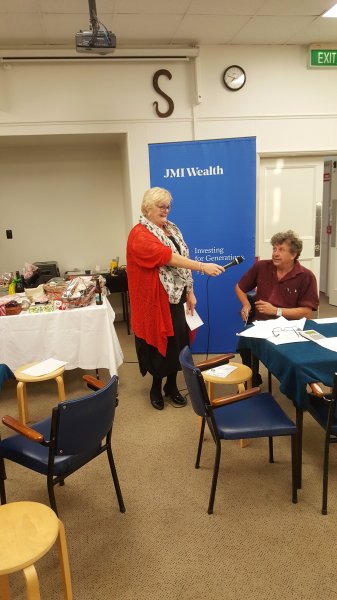 Kinga Hajmasi is right into the Christmas spirit at the No, he will not sing! He left that job to his bridge partner
Akarana Party Tournament, pictured with bridge partner, at the Akarana event, Pamela Nisbet. Rumour has it that
Andrew Michl if he makes it to 103 (see the feature below) and wins a
tournament at that age is that he will test his vocal chords!
Please keep him honest!

A GOOD READ
For those looking for a good read about the origins of our game, I highly recommend "Bumblepuppy Days" by Julian Laderman ("Bumblepuppy" was apparently an early derogatory term for a less than competent card player). This book traces the history of the development of trick-taking card games, from whist through bridge whist to the duplicate game we now know. It contains some fascinating facts for you; did you know, for example, that in an early form of scoring a bid of 2

ranked higher than 6

? And for those of you who were always curious (was there anyone?), you can discover the origin of Biritch's obscure name. Many thanks to Bev Morris for lending me this great book.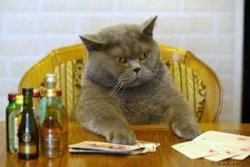 And talking of Biritch, here is a hand (paw?) from a recent tournament that showed all his teeth, claws and just about everything else. Most Wests ended in 4

after North pre-empted in diamonds and East bid spades, but not all of them managed to cope with the 5-0 trump break. However, one foolhardy South decided to double Biritch in this contract; of course, the Whiskered Wizard was having none of that, and promptly redoubled. Lesson for the unwary: do NOT tell Biritch where all the missing trumps are.
Board 21




North Deals




N-S Vul

| | |
| --- | --- |
| ♠ | Q 8 7 2 |
| ♥ | — |
| ♦ | K J 10 7 6 3 2 |
| ♣ | 8 3 |

| | |
| --- | --- |
| ♠ | 5 |
| ♥ | A J 9 7 5 4 |
| ♦ | A Q |
| ♣ | A Q 10 5 |

| | |
| --- | --- |
| ♠ | A J 10 9 4 3 |
| ♥ | 8 3 |
| ♦ | 8 4 |
| ♣ | K 7 2 |

| | |
| --- | --- |
| ♠ | K 6 |
| ♥ | K Q 10 6 2 |
| ♦ | 9 5 |
| ♣ | J 9 6 4 |
North got off to the slightly unfortunate lead of a club; reading the cards "purrfectly", Biritch rattled off his four clubs to discard a diamond in the dummy, cashed the

A and ruffed the queen in dummy. Next came the

A and a spade ruffed in hand to complete the first 8 tricks for our hirsute hero. With West and South each now holding just 5 trumps, Biritch exited with a low trump to dummy's 8, won South's forced trump return and exited with a trump a second time. South was now end-played to concede the last two tricks, giving Biritch 11 tricks, a toxic +1080 on the traveller, and an opportunity to bare his notorious smile.
103 and loving her Bridge

Finally, a belated happy birthday to Sunday Millar of the Auckland club, who turned 103 years young just before Christmas. Sunday still plays several times a week and drives herself to the club. She is living proof of the case put forward by Professor Samantha Punch, of Strathclyde University and several times a guest on the weekly Bridge Zone radio show hosted by Barry and Mereana, that playing bridge keeps you young and fit better than almost any other mental activity.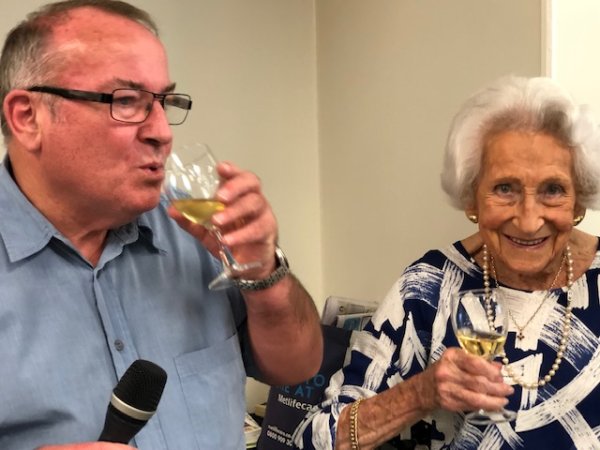 Auckland Club President, Murray Weatherston toasts 103 years young Sunday Millar