All News
Auckland News with Douglas Russell
It's a funny old game. When we first start out on our Grand Journey To Becoming A Good Player, we are inclined to grab tricks wherever we see them and hope something miraculous happens to give us the remainder that we need, whether as declarer or defender. A few steps along the road, and we learn to bide our time a little and try to set up our necessary extra tricks. But once in a while the beginner's approach is what is needed. Take a look at this hand. The bidding is likely to proceed 1

from West, 1

from East, 3

from West, 4

from East, leaving you on lead with the following assortment as South (cover up the other hands if you want to test yourself).
Board 4




West Deals




Both Vul

| | |
| --- | --- |
| ♠ | 8 7 5 |
| ♥ | K 2 |
| ♦ | J 9 8 7 5 3 |
| ♣ | 3 2 |

| | |
| --- | --- |
| ♠ | A Q J 6 |
| ♥ | A 7 5 |
| ♦ | 2 |
| ♣ | K Q 9 6 5 |

| | |
| --- | --- |
| ♠ | 10 9 4 2 |
| ♥ | Q 10 |
| ♦ | K Q |
| ♣ | J 10 8 7 4 |

| | |
| --- | --- |
| ♠ | K 3 |
| ♥ | J 9 8 6 4 3 |
| ♦ | A 10 6 4 |
| ♣ | A |
You are reluctant to lead either of your aces, and the

K certainly does not look right, so you try a middling

. Disaster! This gives declarer easy access to his hand to try a successful

finesse and claim 10 tricks in short order. Alas, simple works best. Cash your two aces and then switch to a heart – declarer cannot get back to hand without letting your partner in to lead a club and give you a ruff. I was on lead with the South hand with Biritch the Russian Blue as my unforgiving partner, and I did not find the killer defence. Needless to say, I was given short shrift, despite the fact that of the 33 declarers in spade contracts all but three made ten or more tricks.
Anyway, back to bridge in the real world. At our first event at East Coast Bays back in March, Jessica Morris scored her first ever Open win in partnership with the redoubtable Michael Whibley, while Takaya Yanagisawa and Julie Hawkes were successful in the Intermediates. Well done, Jess.
Down South to the Mt Albert Intermediate and Junior, where Steve Moore and Graham Duhs won the former and Birgit Cameron and Suzy Hails the latter. Back over the bridge to North Shore's very popular Swiss Pairs (please can we have more of this format?), and Paul Carson and Bill Humphrey continued their successful season by winning all 7 of their matches and the trophy. On the same day, local club members Kevin Hu and Mike Hickey emerged triumphant in the Howick combined Junior/Intermediate competition.
Into April, and the Waitemata Open Pairs was an event remarkable for high scores, with Steve Boughey and George Sun just winning out with a 67.12% average from Matt Brown and Andi Boughey on 67.07%. Steve writes: "There was a blitz of high scoring at the Waitemata Pairs in early April. In fact, you needed to score a 70% if you wanted to be in the top three places. Andrew Tarbutt and Richard Stuart set the pace with a 70.68 in session one. That was eclipsed by a 71.19 by Matthew Brown and Andi Boughey in the second session. But the event winners were Steve Boughey and George Sun, who put together a 70.23 in the second session to go with a score in the mid-60s in session one. I can't imagine there's ever been a two-session tournament, where three pairs posted scores in the 70s." The next week Hibiscus Coast held an Open/Intermediate event, with John "Socks" O'Connor and Alan Dormer winners in the former and Jan Bennett and Ming High in the latter.
The big event of this period was the annual Easter Congress, superbly hosted by the Auckland Bridge Club. In the 10A Open Pairs, Hamish Brown and Johanna Perfect squeaked with the narrowest of margins on 174.59 over the three sessions from Malcolm Mayer and Rachelle Pelkman on 174.55, while North Shore's Rhonda Graham and Ilona West collected the Intermediate Pairs prize. The Open Teams saw a remarkable turnaround; with 10 teams to play in the Monday final after Sunday's qualifier, the team of Blair and Liz Fisher with Gary Chen and John Wang just squeaked home in 10th place. However, they won all four matches in the final with ease, including big wins over the top three qualifiers, to run out easy winners. Congratulations to Blair on becoming NZ's youngest ever Gold Grand Master. The Monday 3A walk-in was topped by Tom Jacob and Brian Mace.
Easter Winners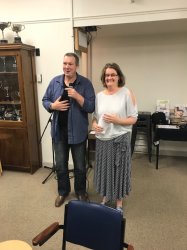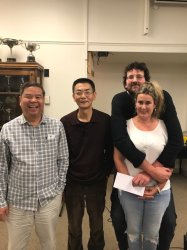 by a whisker, Hamish Brown and Johanna Perfect and a "Houdini" act from Gary Chen, John Wang,
in the Open Pairs Liz and Blair Fisher in the Open Teams
Two nice things to report from the Congress, one commented on earlier in these pages. Master point trophies were awarded to Michael Ware and Grant Jarvis, who qualified for the newly established ranks of Platinum and Emerald Grand Master respectively, and team uniforms were formally handed over to our international players. And a big round of applause for our super caddy Briar Coleman, daughter of assistant director Paul; Briar not only promptly did everything she was asked to do, but also anticipated players' needs in terms of boards, bidding cards, etc.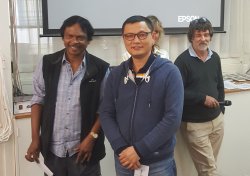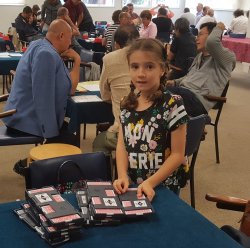 Prem and Gong, the top pair at Franklin The most helpful caddy, Briar
Two of the very popular Restricted Pairs to report on. First at Franklin where Gong Yunfei and Prem Soundranayagam emerged victors, and then onto Howick, with Gary Chen and William Wang the winners. Auckland's Anzac Pairs again saw Rosie Don and Michael Courtney triumphant, and the May Hedgerow Pairs was again won by Malcolm Mayer and Owen Camp.
Winners from the Inter-Provincial Trials
The Inter-provincial Trials for the Auckland/Northland region were held at the Auckland Club, and produced the following teams. In the Open division, international stars Matt Brown and Michael Whibley led virtually from start to finish, ending up with a huge lead of over 33 VPs from the rest of the field. However, it seems that they will be unavailable for the final so that the winning team should be David Dolbel and Denis Humphries and William Wang and James Yang.
In the Women, Matt's fiancée and future mum-in-law Andi Boughey and Carol Richardson were also clear winners by over a match from Christine Wilson and Fuxia Wen. The Seniors event was a much more closely contested affair, with any of half a dozen pairs in contention entering the second day; eventually Pru Robertson and Mark Lynn ran out winners ahead of some highly fancied pairs, with Barry Palmer and Neil Stuckey following just 1.5 VPs behind. And for the Intermediates, Takayo Yanagisawa- Sandra Pearce and Barbara Imlach-Annette Martin make up the team. Congratulations to all and best of luck in the event itself in Christchurch in November. Here is a hand from the event that stumped just about every declarer.
Board 20




West Deals




Both Vul

| | |
| --- | --- |
| ♠ | A Q J 10 8 6 |
| ♥ | A 2 |
| ♦ | 10 9 2 |
| ♣ | 9 7 |

| | |
| --- | --- |
| ♠ | 4 2 |
| ♥ | 10 9 |
| ♦ | K J 6 4 |
| ♣ | K J 10 8 3 |

| | |
| --- | --- |
| ♠ | 9 3 |
| ♥ | Q J 5 4 3 |
| ♦ | 8 7 5 |
| ♣ | 6 5 2 |

| | |
| --- | --- |
| ♠ | K 7 5 |
| ♥ | K 8 7 6 |
| ♦ | A Q 3 |
| ♣ | A Q 4 |
Deep Finesse says that the 6

or 6NT can be made on any lead from the South seat, and that a minor suit lead is required to beat it if played by the more likely North. However, in neither case is the winning line at all obvious. I had to run the hand through the GIB analysis facility to work it out, and the required play left me gobsmacked. See if you can find it and send it to me at douglaskeithrussell@gmail.com if you wish .I shall give the full analysis next issue.
Intermediate and Junior Championships in Auckland Region
Our Regional Committee is initiating Intermediate and Junior Championships to be run over different events from mid- June to October. This is an individual competition in that there will be just one player as a winner from each category. There are likely to be attendance points as well points for finishing well. You must play with a partner the same grade as yourself. The first event will be the Intermediate and Junior events at Waitemata on 15th June. Please see the Regional Committee's website for other events..and encourage Juniors and Intermediates to take part.
The 10-night Auckland Interclub competition is now in full swing. At this early stage, Akarana are leading from Auckland Carter in the Open, Franklin Green from Waitemata in the Intermediate, and Mt. Albert Jane from Auckland – Could B's in the Juniors.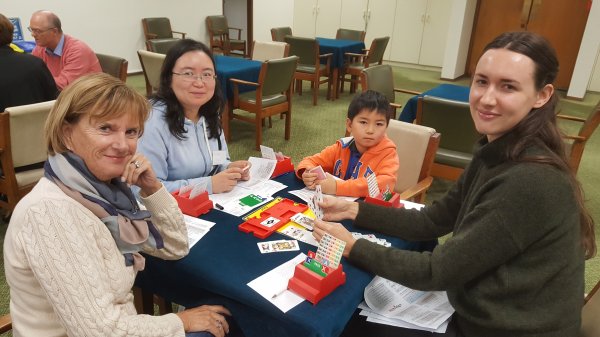 And finally a positive sign for the future. 9-year-old Alex Shan has been a regular attender with mum Holly at the Auckland Club's beginners lessons. Here he is just about to embark on a cross ruff with all the flair of a seasoned pro.