All News
The APBF international event is fast approaching. With our international squad starting to make their way overseas, we start our pre-event warm up by meeting some of the international players. Today we catch up with Denis Humphries from the Akarana Bridge Club. Denis has been playing bridge for 50 years. He is in the Bridge Masters team heading to Singapore.
Denis recalls his physics teacher when he was in the then 6th form introducing him to the game. As an accredited student, he found himself with quite a bit of blank time on his hands and was taken off to cut tracks at Mt Ruapehu with other students. His physics teacher taught a few students to play. He had played a lot of cards at home, but never bridge. When he went to University he wandered into the card room and saw people playing bridge. He kibitzed a bit, read a few books, and ended up playing there. Much later in life he was surprised to find his physics teacher a neighbour of his.
Denis was born in Wellington. He attended Portland Primary School, just outside of Whangarei, Birkenhead Primary, Milford Primary, then Takapuna High School and onto Auckland University, where he studied mathematics. He is a retired school teacher – but still does some relief teaching in maths. He lives in Rothesay Bay on the North Shore and his home club is Akarana.
The APBF in Singapore is not Denis' first outing for New Zealand. He represented NZ in the Open Team in 1991, 1992 and 1993. He played in the APBF in Singapore in 1993.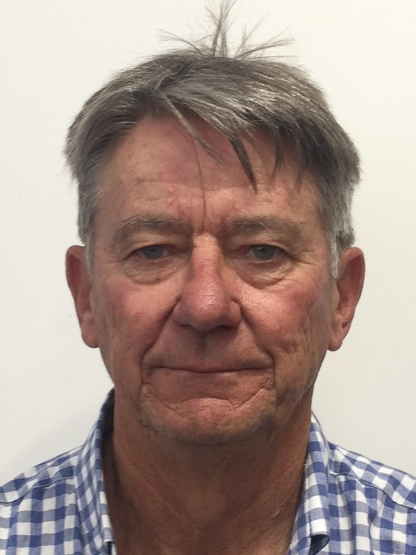 Denis plays a transfer system with his international playing partner David Dolbel. They first played together in 1980. There were breaks as children arrived, and in fact their first children – two sons – were born virtually the same day.
Denis' top tip for the club player is to learn the basics well and don't get too complicated. Keep it simple and enjoy it.
Denis wanted to thank all of the club players nationwide for their contribution towards the costs of the international squad. He acknowledged he has been the beneficiary of assistance on more than one occasion and is extremely grateful to the everyday player who helps with the costs of overseas events.
Denis' favourite vegetable is round green beans and his star sign is Pisces.
His main motivation in getting back to the international playing scene has been his daughter, Susan, who has now represented New Zealand many times. He hopes to catch up to play with her in one of the final events in China after representing New Zealand later in the year. He is hoping to stand firmly behind the New Zealand flag on this occasion. His recollection on his second outing for his country was the ignominy of having to line up behind the Australian flag. "They are so similar" according to the then organisers. He is sure Singapore will come up trumps at the opening ceremony next week.
The gruelling round robins begin for the Bridge Masters on Tuesday 11 June at 4.30pm NZT. Tune into BBO for all the action from Singapore.
Jane Stearns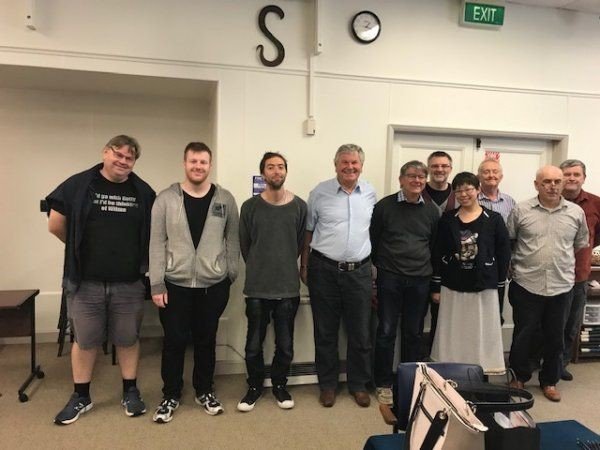 Michael Ware, Matthew Brown, Michael Whibley, Michael Cornell (Bridge Blacks), Denis Humphries
(Seniors), Wayne Burrows, Clair Miao (Mixed Blacks), Brian Mace, David Dolbel and Tom Jacob (Bridge Masters)