All News
Chris Glyde – Franklin.
Chris has been nominated by the committee of the Franklin Bridge Club. These are the words of Secretary, Jenny Colgan:
"Chris is current Computer Manager for the Franklin Bridge Club in Pukekohe and has done this for the last five years excluding 2016 when he was Club President.
He quickly became one of two resident Franklin Bridge Club CompScore2 experts (the scoring software). Chris' CompScore2 skills are recognised across the bridge community and he has been happy to help other clubs when they have moved to this software. As Computer Manager, Chris is also responsible for upgrading hardware and software as necessary, and managing the Franklin Bridge Club website.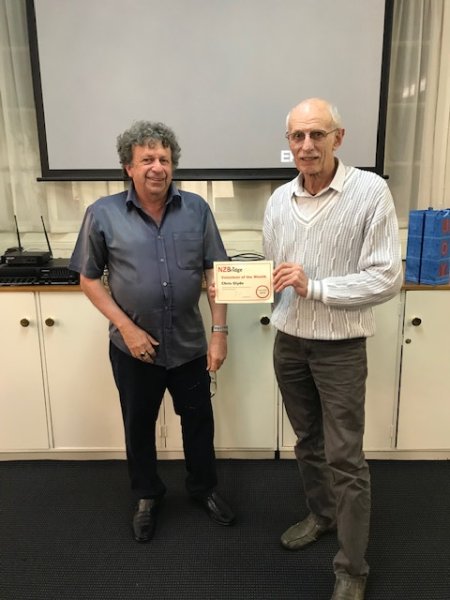 For the first time, I have been able to present the Volunteer of the Month
award myself. It was neat being able to do so to Chris, who works so hard
and so cheerfully for our home club.

He has run the scoring for almost all of the Monday and Wednesday club nights as well as all club tournaments – both internal and external.
Chris is also involved in the Directors' Training Programme, teaching our trainee directors how to set up, run, close off and post results for a session.
Chris is also a key trainer for our club, involved in Beginners and Improver Training held every Thursday Night. He has been doing this for the last three years. When the Beginners lessons finish, he and the Training Development Manager continue with supervised play.
Chris regularly makes time to play with new players in our regular club event programme and is always willing to help any player with queries answering queries in a most sympathetic and enthusiastic way.
He is a truly valued member of our club."
As a member of the Franklin Bridge Club, I am personally aware of the great voluntary contribution has made to the Club, and continues to do so. This award is richly deserved.

Richard Solomon