All News
Otago- Southland News with Moss Wylie
News from the Deep South.
With the National Congress just around the corner, many pairs took the opportunity to get in some practice at Alexandra on the 7/8th September. The bridge was held at the RSA club while the Alexandra Bridge Club builds new premises. Their new premises will replace the property they had in Clyde and will hopefully be up and running in time for their next tournament in January.
On the Saturday, 12 teams played a 6 round Swiss to decide a winner for the 5A teams event. The runner up team comprised Phillip Hensman and Hamish Ryan from Queenstown, along with Kristen Collins and Donna Ruwhiu from Dunedin. The experienced partnership of Chris Ackeley and Arleen Schwartz teamed up with Margaret Perley and Paul Freeland to win.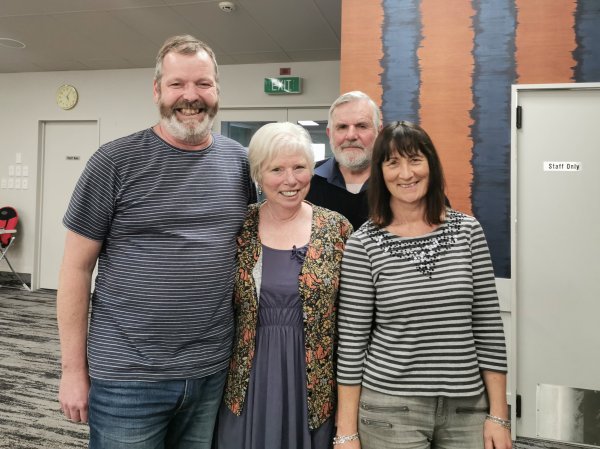 Paul Freeland, Arleen Schwartz, Chris Ackerley (rear) and Margaret Perley
Was the fact that he and Arleen were pipped for second in the Pairs the reason that Chris could not
produce a smile? Margaret and Paul had plenty to smile and be happy about this weekend.

Sunday saw 14 tables play the 5A Pairs. Margaret Perley and Paul Freeland got off to a great start in the first session with 69% to continue their good form. They did enough in the second session to hang on to a slender lead. Unfortunately for Chris and Arleen, they got pipped at the post by Kevin Skoropada and Anne Somerville who finished second by 0.1match-point. This was a great result for the Invercargill pair. Kevin and Anne will hopefully continue on their strong showing in Hamilton when they contest the New Zealand Pairs.
The Balclutha Club saw a good turnout on15th September with 16 tables playing their Open 8B Tournament. Samuel Coutts and Brad Johnson blitzed the field with over 71% in the first session. They didn't let up in the second session scoring 65%, winning comfortably with a 68% average. Brother Glenn Coutts playing with Cameron Benson were second with a mere average or 64%. So, it was happy days for the" awesome 4some" as they headed back to Dunner's with the booty!
The Balcutha Club put on a splendid day with great nibbles and a handsome supper.
Show Respect for the Precision 1

...or pay the price!

Winton held their 8B Charity Tournament on September 21st. The club was raising money to do up their kitchen. Close to $2000 was raised with 26 pairs enjoying 52 hands of bridge. The club put on a generous supper and the raffle saw whitebait, lamb, wine and many other treats on offer.
The winners on the day were Lindsay Glover and Greg Buzzard with an average of 65%. They were playing Precision.
Board 25




North Deals




E-W Vul

| | |
| --- | --- |
| ♠ | 5 2 |
| ♥ | A 7 4 3 |
| ♦ | 10 8 7 6 2 |
| ♣ | 8 2 |

| | |
| --- | --- |
| ♠ | K Q 9 4 3 |
| ♥ | 8 2 |
| ♦ | 9 4 3 |
| ♣ | K 6 3 |

| | |
| --- | --- |
| ♠ | 10 8 |
| ♥ | J 9 6 5 |
| ♦ | J 5 |
| ♣ | 10 9 7 5 4 |

| | |
| --- | --- |
| ♠ | A J 7 6 |
| ♥ | K Q 10 |
| ♦ | A K Q |
| ♣ | A Q J |
West
North
East
South
Lindsay Glover
Geg Buzzard
Pass
Pass
1 

♣

1 

♠

Dbl
All pass
Everyone is tempted to bid over the strong club. Lindsay and Greg earnt all the match-points after West overcalled 1

after South (Greg) opened 1

. Lindsay, North, doubled to show 5-7( we always say aces are worth more than 4hcps!) and Greg left the double in with his 26 count for minus 500. Great double and pass!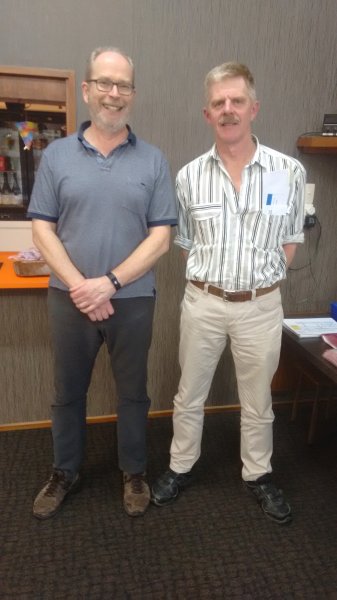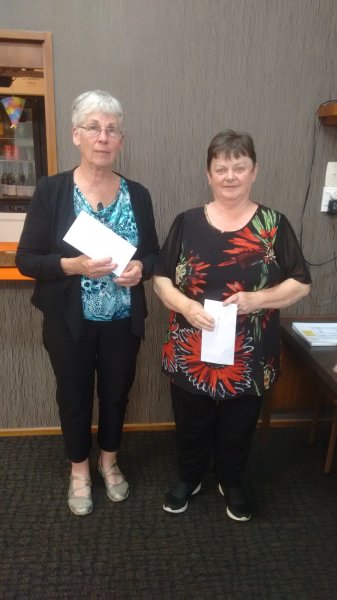 Greg Buzzard and Lindsay Glover... a great double Wendy Clark and Muriel Mathieson, Intermediate winners
and pass.
Local pair Wendy Clark and Muriel Mathieson put in a solid performance to top the intermediate section with 53.5%.
There is a good number (14) of Southlanders playing at the National Congress this year. They include the winners or the Junior section at Winton, Donna Skoropada and Trish Clearwater, who averaged 50%.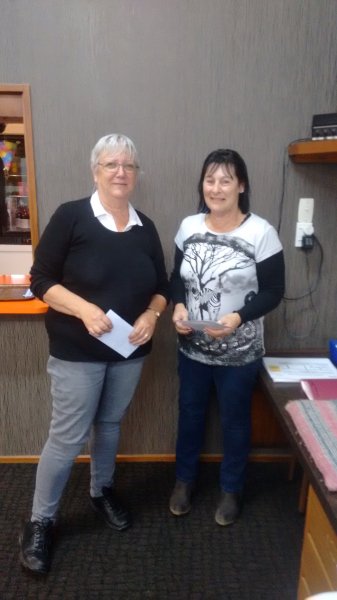 Junior winners at Winton and Hamilton bound:
Donna Skoropada and Trish Clearwater
Thanks to John and Max

Finally, two bridge ambassadors have passed away. For us, to play and enjoy bridge, a lot happens behind the scenes that players never see.
John Mitchell of the Cromwell club gave generously of his time serving as club secretary for over 14 years. John often acted as convenor, director and scorer on club nights. He was a delegate to the regional committee, a tournament director and ran learners' classes for over a decade.
Max Skerrett of the Invercargill Club was a computer wizard. Max developed a programme for match- pointing a bridge session in the late seventies. He achieved the rank of grandmaster, without playing bridge outside the Otago / Southland area. Max, playing with his wife Daisy, won numerous Open Pairs events.