All News
Central Districts News with George MacLachlan
My first New Zealand Bridge Congress Experience by Garry Hodge, Palmerston North.
"A little background on the decision to go to Congress...
Debbie Marcroft, Laura Griffin, Cindy Lowndes and myself decided to join up as a team and try to do well in the Central Districts Inter-Provincial trials held in Wanganui in May. We jelled really well as a team and we were able to win the Intermediate section. As a result of that performance, we made a decision to play in some team events to get some practice. Unfortunately, there are very few opportunities throughout the remainder of the year that are suitable for all four of us. So Congress .. here we come..!
Debbie and Laura had both been to previous Congress tournaments and this was a great benefit to me as I kind of knew what to expect.
Upon arrival at the venue we registered with no hassles and set about preparing ourselves for the first event (Intermediate Teams) the following day.
This is an exciting and sometimes nerve- racking format (you don't want to let your team mates down) and we finished up in 10th place. We let ourselves down in a couple of the matches but I personally learnt a lot and was reasonably happy with the result as there were 26 teams in the competition.
On to the Intermediate pairs. Debbie and I finished 23rd out of 64. We made a few mistakes but again we were reasonably happy with the final result. Quite an experience.
Swiss Pairs. Musical chairs and so much fun... What a great format. This was our worst result. Again, a few simple mistakes and down the room you go.! Great fun.
Overall, I found the tournament to be well organised. The Directors, all the caddies and everyone else were absolutely fantastic. It is so great to get good service and a smile to go with it!
I would recommend anyone who has the opportunity to attend and play at Congress to do so. I wish I had the chance to attend as a Junior and then as an Intermediate as I think it is a great experience. Not only for playing bridge but you learn so much as well as meeting people from all parts of New Zealand and quite a number from overseas too.
A big thank you to Laura and Cindy for teaming up with Debbie and me. I am sure the experience will help when we represent C.D. in the Inter-Provincial finals at Christchurch on the weekend of 23-25 November."
Congress "newbee" and first A Point for Kevin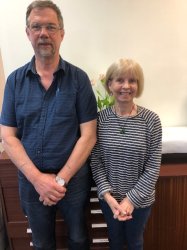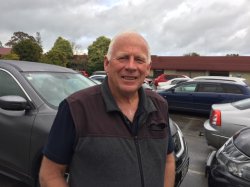 Garry Hodge with Debbie Marcroft Kevin Coombe, with the very first of many
A Points to come

Kevin Coombe is a serious player from Wanganui. This year he attended Congress for the first time. Playing with his daughter, Rochelle, (Te Aroha) he earned his first "A" point. The photograph above shows Kevin in the car park telling everybody all about it!
CD Success Stories from Congress
Pride of place goes to Charles Ker, who partnered his brother Anthony, and came 2nd in New Zealand Open Pairs, 1st in the Multiple Teams and 1st North-South in the Open Swiss Pairs. George Masters' team made the last 16 in New Zealand Teams while Bob and Evelyn Hurley were half of the winners in New Zealand Seniors Teams. Noel Woodhall's team came second in that event. Hawke's Bay's Marit Van Rangelrooy came 2nd in the New Zealand Intermediate Pairs along with her Auckland based sister Bianca.
News from the region

Jan Whyte and Ken Bateman are a very experienced partnership who have enjoyed many successes. They recently won the hugely popular Daffodil Day tournament organised by the progressive Hokowhitu Bridge Club, followed by a win at the Palmerston North Club in the Open Swiss Pairs event.
Wanganui held a Swiss Pairs Open in July (for the first time ever) and 26 tables were in play. This was more than double the usual turnout. At Palmerston North 21 tables were attracted. This is an emphatic indication that Swiss Pairs is the "what to go" with tournaments these days. I am a keen fan myself and I hope that other clubs in our region will replace their traditional duplicate tournaments with the much more dynamic Swiss Pairs model.
Hokowhitu and Palmerston North winners Winners at Waipukurau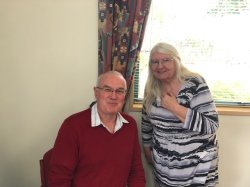 that's Ken Bateman and Jan Whyte Trish Patterson and Julie Haslett
The Waipukurau Bridge Club had a full house for its 8B tournament recently. It was a Swiss Pairs event, of course! Six matches were enjoyed by everyone. Anita Thirtle and George MacLachlan won 5 of them but in Swiss Pairs it's the size of the win that's most important. The Hawkes Bay pair of Trish Patterson and Julie Haslett also won 5 matches and scored a comfortable victory ahead of Palmerston North's Ken Bateman-Zheng Zhang . Ken Carmichael- Penny Cooper were a close 3rd followed home by locals Julia and Peter Watson. It is always a pleasure to attend a tournament at Waipukurau.
There is a good spread of representation from Central Districts clubs heading to Christchurch for the Inter-Provincial finals. Best wishes to all players for an enjoyable tournament. We will follow your results with great interest.