All News
Top of The South News with Jenny Pomeroy
Westport hosted our final tournament of the year on 16th November. Eight out of the nine Top of the South clubs were represented with a good turnout from Christchurch, Rangiora and Ashburton as well.
Ever popular, sold out weeks in advance, but then with the road closure in the Buller there were a few that couldn't get through. Locals stepped up to fill the gaps and others went to extraordinary measures to get there, especially Bevan and Anne Bruce who drove 10 hours!
Nelson Building Society sponsored the tournament, and the local manager appeared at the beginning to welcome us and collect the money. He then found himself playing the first couple of hands – I believe he was one of this year's learners. Another of this year's learners was 12 year old Fred Sanders playing with his mum Kelly. He's good. Westport pulled it out of the bag, 19 tables in two sections, calm directing by Ed Roggeveen, plenty of good bridge and plenty of whitebait.
Results
Spade Grade Winners at Westport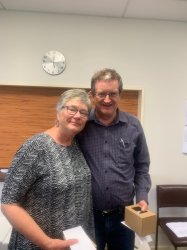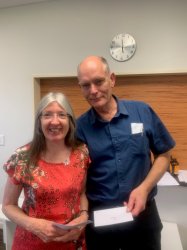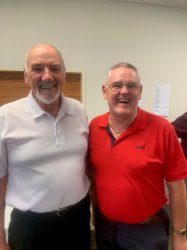 1st Jane and John Skipper 2nd Trish and Peter Downward 3rd Tony Oberdries and Chris Henry
Hearts Grade Winners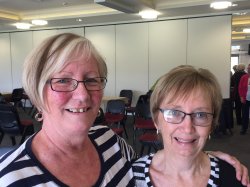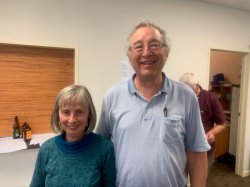 1st Wendy Coburn and Glenys Tyler 2nd Freda Herring and Yvonne Scarlett 3rd Deborah Matthews and Darryl
They finished 2nd overall Dowthwaite

Winning Diamond Pairs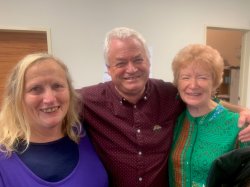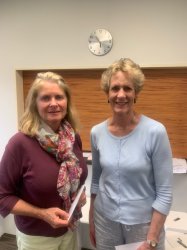 1st Teri Sonal and Charmaine Hanbury Helen Barker and Anne Shearer
Webber (with Ray Curnow) 2nd were Pat Dolomore and Ash Hamilton
Top of the Clubs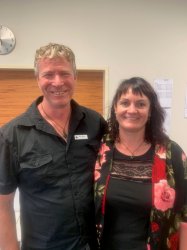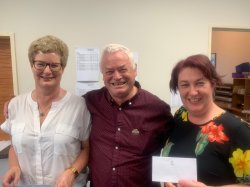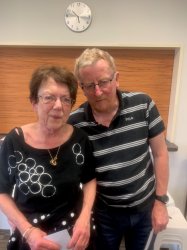 1st David Sewell and Debbie 2nd Sue Glue and Michelle Gunn 3rd Janet Keen and Bernard Chidgey
Seddon- Sewell (7th overall) (with Ray Curnow)
Board 9 of Session 2 was unusual in that every East-West pair bid to 6

making 12 tricks.
Board 9




North Deals




E-W Vul

| | |
| --- | --- |
| ♠ | 8 4 |
| ♥ | 10 7 |
| ♦ | Q 10 7 6 4 3 |
| ♣ | J 9 5 |

| | |
| --- | --- |
| ♠ | A J 7 6 |
| ♥ | K Q 6 |
| ♦ | A K 5 |
| ♣ | A 7 6 |

| | |
| --- | --- |
| ♠ | K Q 10 5 3 |
| ♥ | J 8 5 2 |
| ♦ | J 8 |
| ♣ | K Q |

| | |
| --- | --- |
| ♠ | 9 2 |
| ♥ | A 9 4 3 |
| ♦ | 9 2 |
| ♣ | 10 8 4 3 2 |
It is an easy hand to bid with West launching into Blackwood (or Gerber) after East's opening 1

or maybe bidding a Jacoby 2NT after which East would show a minimum hand with no shortage (4

). Blackwood would reveal an ace (or key card) is missing though were West to ask for kings (or side-suit kings in respect to Key Card Blackwood), they would discover that their partner held the

K. Then, they could bid 6NT with at least a double hold in each suit and score the extra 10 points fo9r making that contract.
Junior and Intermediate League Results
As the final tournament of the year, it also was the last opportunity to earn points for the Harcourts Junior and Intermediate Leagues. It's a great competition, initiated and presided over by our Regional Bridge Mate, Ray Curnow, to encourage Juniors and Intermediates to play in more tournaments. Harcourts have provided extremely generous sponsorship. A success all round.
The Junior League threw up an interesting result with Sue Glue, Michelle Gunn and Mike and Val Fitzsimons all tying for 1st place. Can't say fairer than that! The Intermediates saw Anne Baker in first place, Kathy Dowling 2nd and Jenny Pomeroy 3rd. Thanks, Ray, for all the work you put into this, especially the higher mathematics post tournaments!
Intermediate League Winner Joint Junior League Winners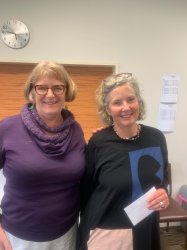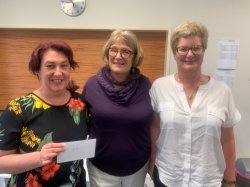 Ann Baker (right) Michelle Gunn and Sue Glue
(both photos with Regional Secretary, Jenny Cooper)
National and local Teams' events at Nelson
The previous weekend Nelson hosted the National Teams. 28 teams from Kerikeri to Invercargill and in between. Nelson must be congratulated on such a successful weekend. Tall order for the club but all participants have to agree they did it extremely well. Particular thanks have to go to William Rush, our dealer. We need Ray's higher mathematics to work out how many boards he dealt.
Nelson also hosted the Michael Green Trophy, on 3rd November. This is an interclub teams competition between Motueka, Richmond and Nelson, for those with Certificate of Proficiency or no rank to introduce them to teams play. Lovely afternoon, run by Lindsey Guy. The Nelson team of John McDonald, Paul Nistor, Rose McDonald, David Porter, Pamela Smith, David Cartwright, Debra Lee Pioch and Janice Jolly were victorious.
Michael Green Winners Top of the South Inter-Provincial team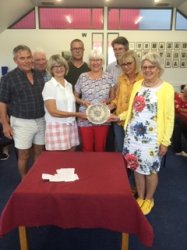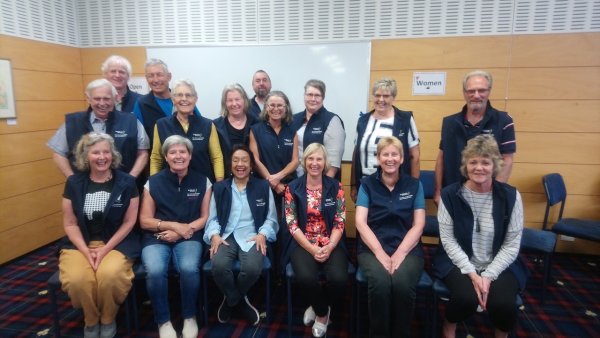 Nelson, the winning Michael They represented Top of the South at the I/P Championships
Green winners
The IP Teams have just returned from a very enjoyable weekend in Christchurch and extend our congratulations to the Wellington Region. The best performing TOPS team were our Intermediates who finished 3rd. Our other teams recorded two 5ths and a 7th in the seven region competition.

Club Championships
Club Champs are coming to a close. Some clubs don't announce their winners until their prize-givings. So, I don't have a full list but for now congratulations are due for the following: Richmond -Adrian Abraham and John Penny and Nelson's Sita Monaghan and Sally Moore.
Christmas Parties and holiday bridge are the focus of the next few weeks. Wishing everyone a good one.