All News
March 2020
Viv Hill: Geraldine.
Our nomination this month comes from the Geraldine Bridge Club. Like all clubs large and small, Geraldine relies on its volunteers like Viv Hill. This description of her contribution comes from Club President, Leslie Graybill:

"We have several people who we would like to nominate but one at a time for now. Firstly we would like to nominate Viv Hill. This was an easy choice. She is a long standing member of the Geraldine Bridge Club and is one of those amazing people who has, over the years, always stepped up and nothing has been too much trouble.
She has been a member of the Geraldine Bridge Club, as near as I can tell, from 1989. That's 30 years of dedicated service to our club. She served on the Committee for 21 years, including 16 years as Secretary/Treasurer. She has been convenor for the last two years, has learned the computer scoring for our weekly Wednesday and Thursday sessions and fills in as required.
She has always been willing to help with the lessons and has spent many hours patiently trying to make better bridge players out of the learners. If that isn't enough, she has also audited our books at end of year since 2016. This is a fairly bare bones description of all the things she has done to support and improve our club. She is so well deserving of this recognition.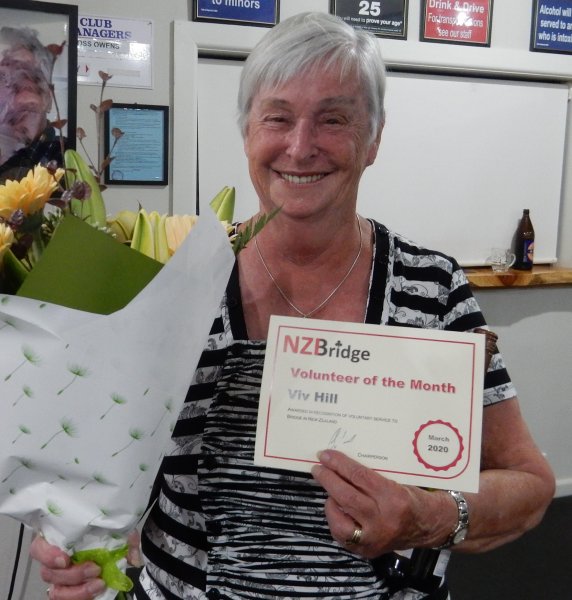 Viv Hill
Thank you for this opportunity to help us recognize our hard working volunteers."
Richard Solomon