News archive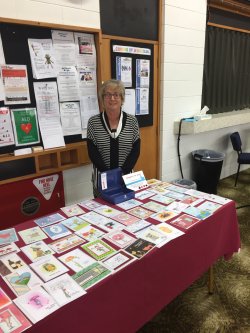 August 2017 - Cynthia Clayton (Hamilton) - Card player and maker.

Cynthia has been involved in Bridge for over 40 years, first playing, then teaching in Hawkes Bay before moving to Rotorua and then on to Hamilton. She is a Silver Grand Master meaning she knows how to play the cards.
She can not only play them but can make them too! However, we are not talking about packs of cards.
She started making cards as a hobby and it quickly became her passion.
There are so many reasons to make cards; birthday, friendship, special occasions or just for fun. Cynthia also has a passion for Bridge and the development of Bridge at all levels. So what better way to help than to raise money for Youth Bridge?

So, six years ago cards made by Cynthia were sold at National Congress and clubs throughout New Zealand. This effort initially raised $6000 and then another $2000 for the Hamilton Bridge Club.

When a card is purchased all the money goes to the Bridge organisation specified. Cynthia's cards will be available at Congress. Please support her as all proceeds for these sales will go to Youth Bridge.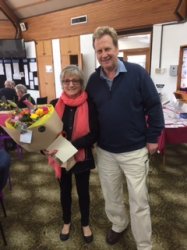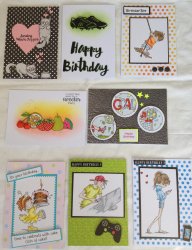 Cynthia, with Hamilton Club President, Nigel Gresson, some cards

with flowers and certificate.

Thanks Cynthia, for all your hard work.
If you would like to sell Cynthia's cards at your club in aid of Youth Bridge, please contact me and I will see if she can supply some to you. Alternatively, take a look at the National Bridge Congress. ..well, not just a look but a purchase or three. The cards are delightful.
Richard Solomon richard.solomon@nzbridge.co.nz