All News
LOOKING AHEAD TO CONGRESS 2019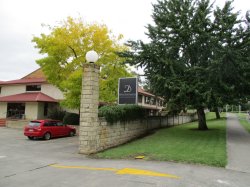 NEW ZEALAND NATIONAL BRIDGE CONGRESS 2019
We want to tell you about some changes that will take place at the 2019 Congress. We also want to thank all of you who took part in the survey during or just after this year's Congress. We really appreciate your thoughts about the way the Congress operates. We have acted on some of the suggestions made. In other respects, your views reinforced our own views on how the National Congress can be improved. We appreciate equally the comments of those who came to Congress in 2018 and recent years along with those who did not come and the reasons given why they did not come.
Thank you also for giving us information about where you stayed, how much you ate and spent and where. This information is very useful for and hopefully will go towards retaining our 2018 Platinum Sponsor, Hamilton City Council.
So, here goes. Firstly, the dates and venue:
Saturday 28th September 2019 until Saturday October 5th 2019. (National Youth Teams and National Rubber Quarter Finals on Friday September 27th 2019.) at: Distinction Hotel, Hamilton.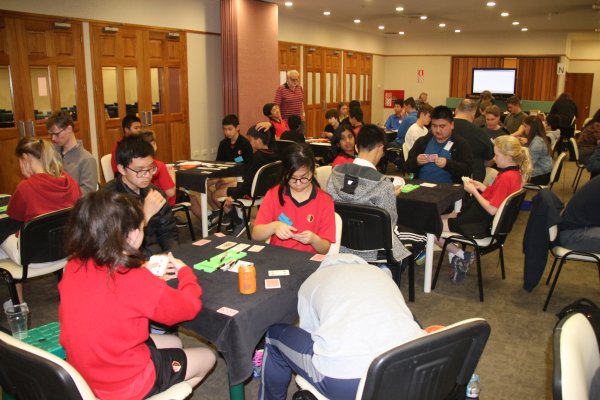 2018 National Youth Teams

South Island Travel Subsidies. While there will be no change in respect of the rates of those South Islanders coming for the full Congress, the subsidy for those coming for either New Zealand (Restricted) Pairs or Teams packages will be simplified into just one rate. This will simplify the booking form.
New Weekend Package. This will be of interest to those who may have to work during the week but who would like to play at the weekends. In the past, this has been quite an expensive option, costing $265 to play in the New Zealand Open/ Restricted Open Pairs and one of the Swiss Pairs events. Now, you can get 4 days' bridge (including Monday if you wish) and Friday night/Saturday Swiss for just $180.00 all up.
Other than a reduction in the New Zealand Open/Restricted Open Pairs price to $160 (a $30 saving), registration fees will be as per 2018.
Session Start Times.
Many players commented on the variable start times each day leading to some confusion. So apart from Day 1, the final and Plate of New Zealand Pairs and the New Zealand Teams qualifying rounds, all morning session will start at 10am.
The daily start times will be as follows:
| | | |
| --- | --- | --- |
| Day 1 | Saturday: | Midday |
| Day 2 | Sunday: | 10.00am |
| Day 3 | Monday: | 10.00am (9.30am NZ Pairs Final/Plate) |
| Day 4 | Tuesday: | 9.30am (Teams) |
| Day 5 | Wednesday: | 9.30am (Teams) |
| Day 6 | Thursday: | 10.00am |
| Day 7 | Friday: | 10.00am |
| Day 8 | Saturday: | 10.00am |
NB: for Days 4 & 5, play will finish no later than 7.30pm. Evening play is therefore reduced to just Thursday and Friday (and Monday for those in the Back to The Future Teams competition final). The start time on the final Saturday will no longer be at 9.30am but will be at 10.00am.
Introduction of separate New Zealand Junior Pairs. For many years, Junior Rank players have had to play in with Intermediate players, prizes being awarded for top Junior Pairs/Teams. From 2019, there will be a New Zealand Junior Pairs, to be run alongside the New Zealand Intermediate Pairs, both events taking place on the Friday morning (October 4th). If successful, we may introduce other Junior only events at the following year's National Congress.
Change around of events on the Thursday and Friday. Thursday used to be "Teams" Day at Hamilton….and after a couple of years' gap, it will be so once more. Similarly, all the Pairs events (Mixed, Same Sex, Seniors, Intermediate and the new Junior Pairs) will all take place on the Friday morning and afternoon. Thus, all the Teams events will be three session, all in one day… Intermediate and Senior Teams and…
Welcome back to Multiple Teams. Point A Board is a good and different type of event…but it is time for a change. So, welcome back to the Multiple Teams where one of your pairs sits North-South and the other East-West. It's a Pairs movement but IMP scoring…and, naturally, you do not play against your teammates! We hope you will enjoy the change. The event is a 3-session event on Thursday.
New Restricted Open event. The New Zealand Restricted Open Teams will be introduced to run alongside the Swiss Qualifying stage of The New Zealand Open Teams (Tuesday and Wednesday). It will run, Swiss style, as a 10 round x 14 board event. The eligibility rules will be the same as for the two existing Restricted Open events, that is open to players of National Master or lesser ranking.
Staying at the Distinction Hotel? You will need to either give your credit card details to secure a booking or else pay one night in advance to secure a booking. This is now a requirement of the Distinction Hotel.
The disco will return. Dance away once more on the final night after the prize-giving dinner.
Eligibility for Senior events. We will revert to the WBF criteria of players having to be 61 or over any time during 2019 rather than at the start of the event.
Prize Money will be reviewed so that prize payments reflect the relative importance of each event.
Hotel Restaurant and Bars. The hotel management will seek ways to reduce queuing in the restaurant and will also establish extra bar areas to reduce queues at the bar.
Playing Area. The hotel management will seek to improve the lighting in the playing room. Several players commented that the existing lighting was inadequate.
So, that's quite a few changes coming up. We hope you find them positive and will add to your enjoyment at the National Bridge Congress. It's not too early to do a bit of planning….others are!
Richard Solomon (on behalf of the New Zealand Congress Organising Committee).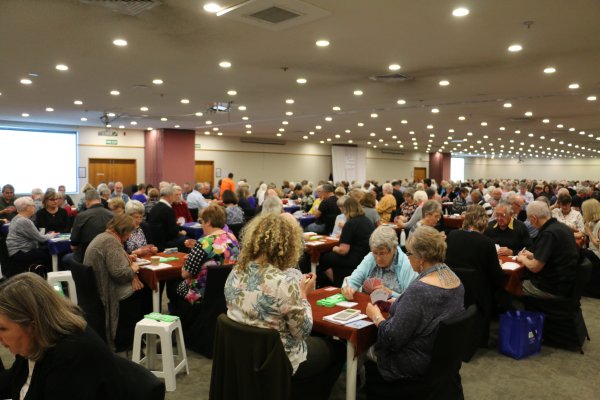 As in 2018, we hope to see a room full of ridge players doing what they enjoy best.