All News
Wellington News with Paul Maxwell
The Christmas Cheer event, run by the Wellington Club on behalf of the Regional Committee, is a transition point for the many tournament players who take a break over the holiday season. For those who don't, there will be the three -day Suzanne Duncan pairs on the 27-29th December.
This year's Christmas Cheer was held on the 8th December. Graham Stronach and Sandy McKirdy came first, with Dale Lacey and Robyn Freeman-Greene not far behind. Katherine Gough and Martin Connolly of the South Wairarapa Club were the top Intermediate pair. Mariusz Tumilowicz and Maciej Szczęsny, who will make further appearances in this update, were the top Juniors.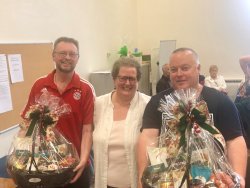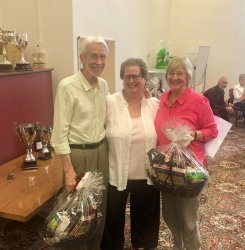 Graham Stronach and Sandy McKirdy, Christmas Cheer winners Second placed,Dale Lacey and Robyn Freeman-Greene
with Wellington Club President, Margaret Curnow

We managed to give out many prizes because the field of 60 pairs was split over two rooms. Players of all grades were encouraged to enter, and the Wellington Club put on a serious raffle. So, you might have won a session prize in your room, or a prize for the various grade combinations, or for a top six place, or for being lucky.
If you eat, you won something as well. Mindy Wu's catering was as good as you would expect from someone with a great reputation to maintain and who wanted to leave us with good memories while she is off exploring the world in 2019.
If that wasn't enough:-
Trophies and more Trophies
Xmas Cheer is also when the Regional Committee hand out their trophies. We also aim to recognise some of the national achievements of local players. This year, we had to mention the Inter-Provincial win, third in a row.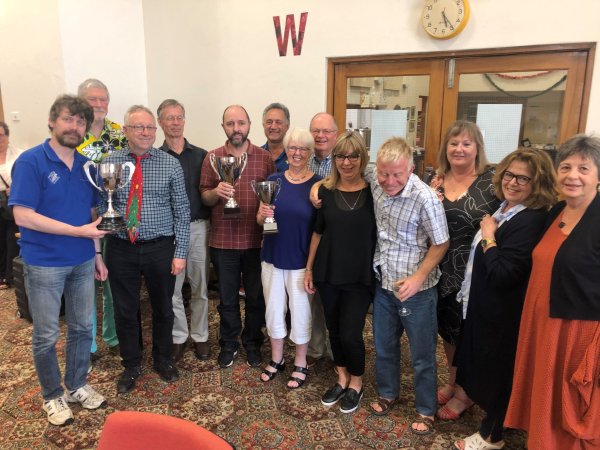 13 of the 16 winning Wellington Inter-Provincial champion team were present at the Christmas Cheer.
We can also see the Dougal McLean overall trophy held by Nigel Kearney, and the Open and Intermediate
trophies which Wellington won, held respectively by Anthony Ker and Margaret Dick.
We also celebrated the national Rubber Bridge win, which also was a repeat win for Wellington. This time, it was Martin Reid and Peter Newell, who also picked up our local winners' cup as a consequence of their progress to the national title.
We have three similar but slightly different ways to find the "top" player in each of the three official grades. Anthony Ker again won the salver for the most A points in local events. Anthony and partner Kathy also came 6th in the Xmas Cheer. The photo of Anthony and Kathy below shows them with a rare sighting of the Easter Bunny out of season.
Graeme and Margaret Dick jointly won the Intermediate salver, awarded using a 5,4,3,2,1 points system for local Intermediate pair events.
The Junior League prize is decided using a scoring system devised by Tony Sutich. (Some might think it has more bells and whistles than the scoring system of Contract Bridge itself.) This prize, which comes with money as well as fame, was won by Maciej Szczęsny. In his path to the top and with some wins in other events, Maciej now has enough masterpoints to rule himself ineligible for the Intermediate award next year. He'll be in the Open Grade. Tony's scoring system also allows for some other prizes, all part of encouraging Junior players to give tournament play a go.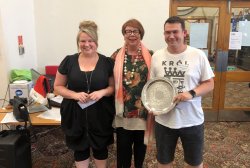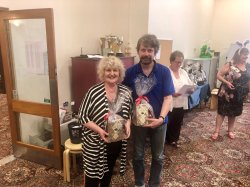 Junior League second placed, Andeana Pilalis and Kathy and Anthony Ker and an unseasonal
winner, Maciej Szczęsny either side of local Wellington Easter bunny!
Bridge Mate,Katherine Gough.

We also have a few trophies for the winning teams in the local Interclub competition. It's beyond me to find and list all the players in the successful teams, but there's a detailed set of results here. (http://www.wellingtonregionbridge.nz/interclub.html) Martin Rew is taking over from Tony Sutich as organiser next year. We are also looking forward to using the new scoring machinery recently developed and tested by Chris Jared.
Our newest trophy is the cup for the local club championship. This second year, all but one of the 12 local clubs entered teams. We introduced an Open Restricted group into the mix, and this was well received. The Hutt Club did a great job running the day. Karori proved to be the top club of 2018.
Local Competitions
Graham Potter and Suzanne Duncan won the Paraparaumu Multigrade on the 30th September, being the top Open/Intermediate pair. Naciye Bagci and Christina Mander were the top Open pair, Laura Griffin and Tony Clear the top Intermediate pair, and Yvonne Fisher and Desley Wilson the top Junior / Intermediate pair.
Mariusz Tumilowicz and Maciej Szczęsny came first in the Kapi Mana Intermediate, from Miriam Lewin and Adrienne Dale. Locals Rod Ferguson and David Hazelhurst, in third place, headed off another 55 pairs.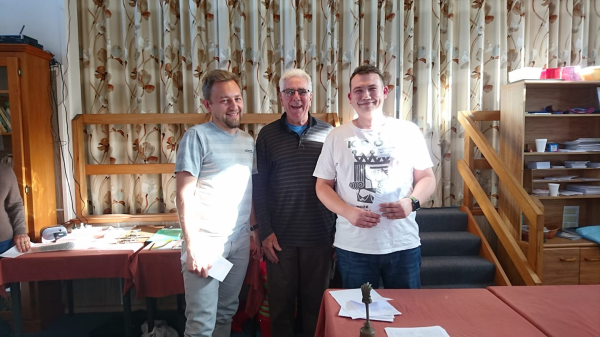 Mariusz Tumilowicz, Kapi Mana Committee member, Alan Savage and Maciej Szczęsny
The Kairangi Bridge Club ran their second Labour Weekend 5A Open Pairs with 21 pairs playing all three nights. Anthony Ker and Russell Dive left the field far behind, their average over the three nights being over 7% ahead of the second placed Mariusz and Maciej of previous mention. This is an impressive result for these two Juniors as they ended up ahead of many strong pairs.
The Waikanae Club held separate Intermediate and Junior pairs on the 11th November. There were 27 pairs in the Intermediate and 20 in the Junior. Mariusz and Maciej played in the Junior, winning from Sally Broadhurst and Sue Storer. In the Intermediate, Andrew Smith and Margaret Curnow had a strong second session result to win from Cath Cooper and Valerie Cranfield.
Masterton held a Multigrade Teams tournament while the 15A National Teams Tournament was on at the Wellington club. The Bolland team (Chris Bolland, Luke Kelly, Graham Potter and Mira Trifunovic) were the first of the 22 teams, going through unbeaten and with some convincing wins.
Thanks to Paul and to all the other Regional correspondents who go to considerable effort to report on news and bring photos of those who make the news. I hope you enjoy reading the varied reports of what is happening around the country. We will have a break after Christmas and return once more towards the end of January. Richard Solomon