All News
Canterbury News with Max Robb
Here is a review of recent tournaments.
Canterbury Charity Pairs.
Some strong pairs fronted for this annual charity event. Neil Hawkins and Richard Lapthorne continued their good form with session results of 65% and 62% to top the standings. It was a very nice surprise to see the new pairing of Anna Bullen and Jane Morris top 60% in both sessions too, to come a commendable second. Kathryn Tennant and Bruce Anderson teamed up again for the first time in a while, to come a clear third.
In the Intermediate event, Catherine Fitchett and Julia Thomas topped the pool and in so doing clinched the Canterbury Region Intermediate title for the series of tournaments run by the Canterbury Regional Committee.
Christchurch Holiday Pairs
This tournament is run over 3 nights at the height of the holiday season. Once again I was surprised and pleased that 39 tables (156 players) fronted for this. Other clubs in the region might take note that people seem to like to play in the evenings rather than the day during the summer season.
Two surprise pairs showed up on the first night, Mary and Donald McKenzie, whom we haven't seen for a while, and Sue and Ian Southen who have been regular attendees at the club ever since. Their scores of 62% and 57% reflected their years of experience.
Shirley Newton and Jenny Wilkinson could do no wrong, scoring 72% for the first session. Peter Oakley and D'Arcy Preston had a nice 66%, but my nicest surprise was the 64% scored by relative newcomers Sam Gurney and Caroline Casey, great results by these three pairs.
But in this very strong field of club members, you had to average over 60 to be in the hunt. Mary and Donald took first place with an average of 65%, one percentage point ahead of John and David Skipper, and another point back to Shirley and Jenny. Neil and Richard must have marvelled that their average of 63.4 was only good enough to come 4th!
Intermediate Regional Pairs Trophy
In this tournament Catherine Fitchett and Julia Thomas were the best of the Intermediates and this clinched their place at the top of the Regional Pairs competition.
Looking the top 10 results, Julia and Thomas shared 1st with Margaret Fraser 3rd and Daryll Dowthwaite 4th. We also commend Margaret for participating in all 23 of the regional tournaments of 2018.
Junior Regional Pairs Trophy
Jean Rath and Mike Bunce shared the honours in this competition for the year. Robyn Howie headed a group of 4 Temuka players to come 3rd. Congratulations to these new players to the tournament scene.
Geraldine All Grades Tournament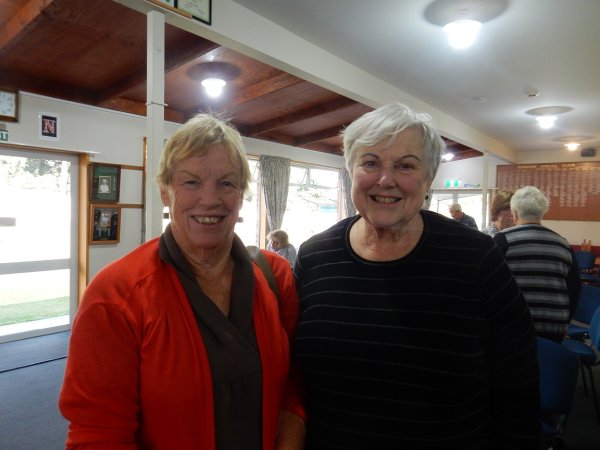 Overall winners at Geraldine, Lesley Andrew and Kay Nicholas

Division A
| | | |
| --- | --- | --- |
| 1. | Kay Nicholas- Lesley Andrew | 125.18 |
| 2. | Eamon Jackson – Darcy Preston | 118.82 |
| 3. | Peter Mountain- Frances Sheehy | 115.32 |


Division B
| | | |
| --- | --- | --- |
| 1. | Grania McKenzie- Jane Neave | 124.61 |
| 2. | Sally Croy- Tracey Bruce | 118.40 |
| 3. | Phyl Hyndman- Beverly Dryden | 104.72 |
Division C
| | | |
| --- | --- | --- |
| 1. | Raylene Phillips – Beth McIlraith | 107.73 |
| 2. | Mark Hyde – Caren Hampton | 95.44 |
| 3. | Judith McBreaty – Sandra Coulter | 93.28 |
South Island Teams [ 20 A points]
I don't usually report events outside Canterbury, but when I arrived at my club one night, some members of the club were enthusiastically congratulating some of the winning team.
The South Island Teams always attracts players from across both islands, and 13 teams of note duly gathered in Dunedin. Always hopeful to do well, Jenny Wilkinson, Shirley Newton, Tim Schumacher and Tony Fitzgerald started well, only lost one match, and went on to win the tournament by just 0.2 of a vp. Congratulations to the team of John Skipper, David Skipper, Jane Lennon and Alan Grant who came a creditable 3rd.
and looking ahead...

The region can look forward to two mini-congresses in the next while. Timaru always run a well organised event. This year it is on the 23rd and 24th of March. After a suggestion from the Regional Committee, the Christchurch Club has changed its format for the Easter teams/pairs events. They are being run over three days instead of two. This means the tournament has a "Gold Coast" flavour where bridge is only played over two sessions a day, leaving time for socializing. I'm sure the players will enjoy this more relaxed routine. So come on all you players. Please put both these events on your calendar.