Pen Pictures and Anecdotes
Val Bell and Bridge-playing friends
as related by John Wignall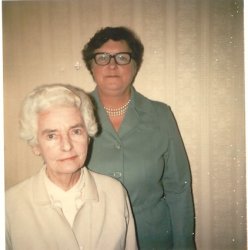 Val Bell with regular partner Nola Mather
Val was a good player who was married to Renton Bell, a successful Christchurch dentist. At the time that Val was playing lot of bridge, her husband sought solace with his nurse. Talk about a woman scorned - it was a very acrimonious divorce. She brought an action against the nurse for "alienation of affections" - one of the last cases brought in New Zealand. Renton Bell eventually married the nurse. Val went on to play nationally and internationally with Nola Mather, but before that had a spell with Florence Wilkinson (Wellington) and Ann Oakley of Christchurch. Ann was brought up in Wanganui as a member of the Isaac family, one member of which came to Christchurch and set up Isaac construction. Lady Isaac is now a benefactor of many good causes in Christchurch. Ann was the wife of Peter Oakley who is one of organisers of Bridge Player Live - the English version of BBO. He works with Nick Justice son of Edmond Justice who used to play bridge at Crockfords. He was a chemist who turned his business to rubber manufacturing and made his money from condoms.
In 1968 New Zealand teams were sent to compete in the Australian National Championships. The women's team (pictured below in their finery) of Val playing with Florence Wilkinson, Eileen Taylor and Zelda Morris together with Jocelyn Hutchinson and Ailsa Hollis fared particularly well. As well as winning the Women's teams, Jocelyn won the Women's individual and Ailsa was 4th, those two won the women's pairs and Eileen and Zelda were 3rd. The New Zealand Open Team (sometimes referred to as the "Men's" team) finished 2nd.
In 1971 she played in a test match against Australia with Ann Oakley as her partner. Together with Hollis/Hutchinson and Taylor/Morris they won two tests. In the same year she and Ann, Hollis/Hutchinson were joined by Jean Hutchison and Gladys Palmer to finish second in the FEBF. In 1972 Val and Nola Mather, Jocelyn Kinsella (previously Hutchinson) and Helen Thompson and Lydia Eckersley and Dorothy Hopkins contested the FEBF finishing 3rd. In 1973 the team was Val and Nola, Eileen and Zelda and Lydia and Dorothy. They played Bermuda Bowl qualifying in Sydney and the FEBF in Singapore finishing 5th. In 1976 Val and Nola with Taylor/Morris and Marion Hill and Frances Ewington again contested the ANC. Later that year the same team was to win the FEBF held in Auckland. In 1978 the Australian women came to Christchurch and Val and Nola played with Rosalie Cunningham, Stella Seeker, Eileen Taylor and Jan Cormack. Val's last recorded effort was at the FEBF in Tokyo in 1979 where with Cormack/Lorraine Rotherham and
Doreen Gravis and Heather Goldstone they finished 8th.
Val and the victorious 1968 team
From Left: Jocelyn Hutchinson, Baden Wilson, Ailsa Hollis, Bob Hudson, Zelda Morris, Bert Pickering, Les Schneideman (npc), Bruce Bell, Eileen Taylor, Rex Evans, ? Wiliknson and Doug Thomson.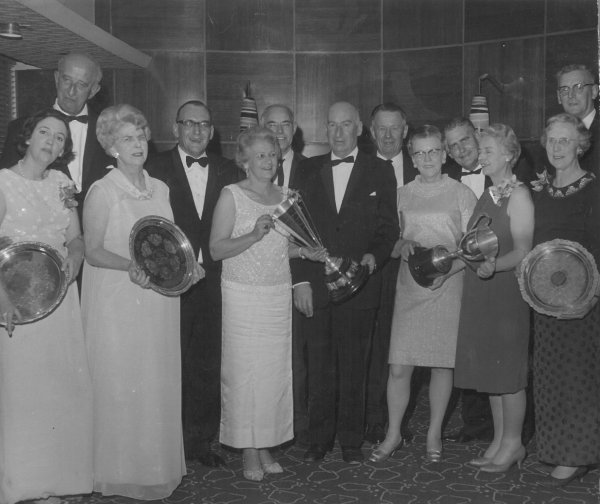 On her death in 1993 John Wignall penned the following obituary for his Bridge column in the Christchurch Press: