NZBF - NZ Bridge Foundation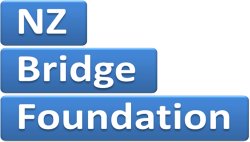 The New Zealand Bridge Foundation was established on the 7th September, 2009 and is a registered charity and not-for-profit organisation. The Trustees and Secretary/Treasurer work for the Foundation as volunteers and are keen Bridge players who want to ensure our funds are well managed and growing in order to support many aspects of the game.
Our Vision:
Enriching the lives of New Zealanders through playing a mind sport.
Our Mission:
To support bridge players, volunteers, teachers and coaches at all levels; from encouraging more young people to learn the game through to the care and support of our senior citizens.
Chairperson: Derek Evennett- email Click here to meet the Trustees
Trustees:
Peter Bowyer
Dennis McKinlay
Jonathan Westoby
Angela Royle
Secretary: Alister Stuck - email
Audited Financial Statements

NZ Bridge Foundation 31 Mar 2019.pdf

NZ Bridge Foundation 31 Mar 2020.pdf